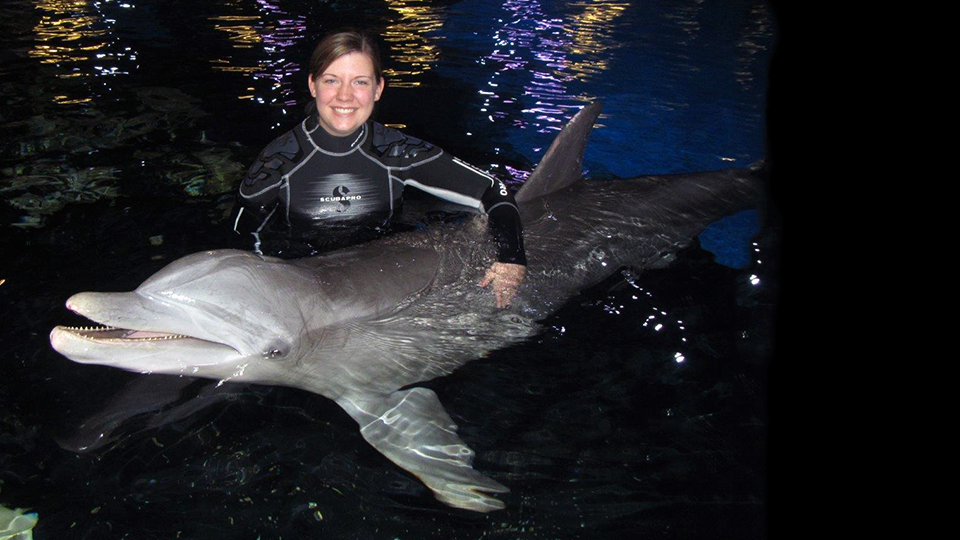 Marine Mammal Intern, The Seas with Nemo and Friends, Epcot Center, Walt Disney World
Major: Marine Sciences
Explore doing research with your professors, like I did: it opens up so many doors!
The Proof Is In Our People
Why Julie Chose Rider
Julie has dreamed of a career in marine science since she was nine years old. "I watched a TV special about orca whale trainers, and I was hooked. I knew immediately that was the kind of work I wanted to do," she says.
When it came to choosing a college, Julie had two criteria: she wanted to major in marine science and commute from home. Rider met both those standards, plus "offered me a scholarship that convinced me to enroll," she says.
Rider's Impact on Julie's Success
For two years, Julie participated in student-faculty research with Dr. Paul Jivoff, who is nationally known for his work with blue crabs and their reproductive biology. "I initially did lab work, dissections and established protocols," says Julie. In Summer 2012, a grant allowed her to do actual field research. "Thanks to Dr. Jivoff, I gained real, hands-on experience in a very competitive field.
Continued Success
While at Rider, Julie also volunteered at Adventure Aquarium in Camden, NJ, meeting with visitors as part of its Guest Experiences program. When she applied for the marine mammal internship with Epcot Center, that experience — coupled with her research work at Rider — caught the eye of Disney personnel.
"Working at Disney is a dream come true," says Julie. "I love what I do here." Disney is a leader in the rehabilitation of endangered manatees before they are returned to the wild. Julie's job includes maintaining the manatee environment, feeding them, and doing presentations to visitors.
She's also working with The Seas' bottlenose dolphins, where she's involved with their food preparation, learning training behaviors, and assisting in dolphin research sessions.
"My internship ends in this summer, and I've applied for additional opportunities with Disney. I'm definitely planning to continue my career in marine science or a related field. Working at Disney only confirmed this is what I want to do."
230
Julie competed with 230 applicants for just six positions at Disney.

1000s
Numbers of blue crabs Julie tagged during her research at Rider with Dr. Paul Jivoff.
Working at Disney is a dream come true. I love what I do here.
Marine Sciences