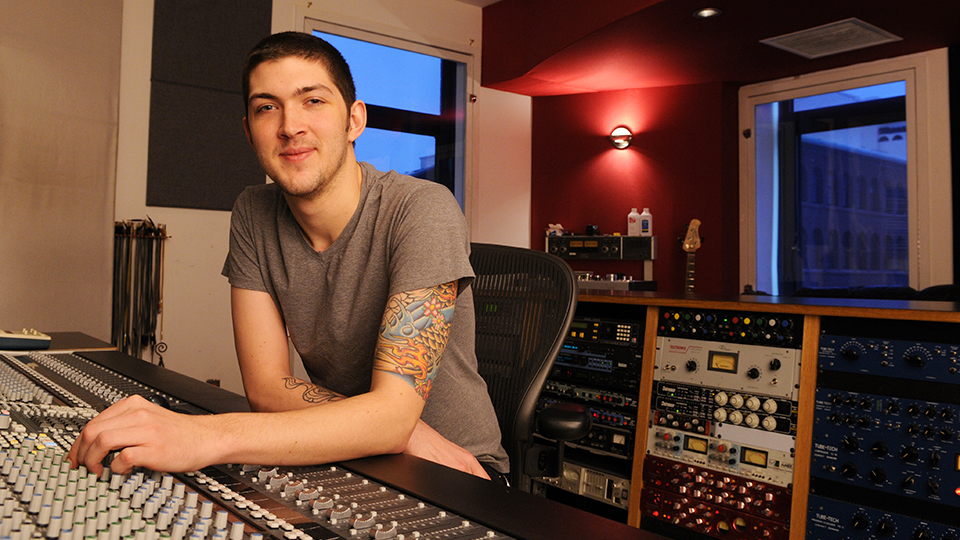 Audio Engineer and Music Producer, The Cutting Room Studios
Major: Music
Rider's great faculty opened my eyes to a world of possibilities.
The Proof Is In Our People
Why John Chose Rider
John has loved music for as long as he can remember, and he knew he wanted to make music his career. When he was looking for schools, he wanted to find a school that gave him the chance to explore his musical horizons. "Rider gave me the chance to earn my music degree, while offering the diversity of musical experiences with classes in theatre and film. I was able to move across both the Lawrenceville and Westminster campuses, and make the most of my musical abilities." John knew music would be his life-long passion, but was searching to understand how he could make it his career. "Rider offered the flexibility other schools did not and that gave me the chance to learn about all of the things I was interested in."
Rider's Impact on John's Success
John's career goals were formed during his time at Rider. "Dr. Hess offered a course that was new at the time covering Hip Hop in American Culture." The coursework in the class, and the inspiration of his professor helped John's future come into focus. "I now work in the hip hop industry – recording and making music with people I used to pay to see in concert and on TV." John's first job started with an internship he landed while at Rider. He took that opportunity to work his way up the career ladder and went from intern to head engineer in a very short span of time. "I never thought I would be at this point in my career so fast."
Small Classes - Big Impact
As a student in the Music program, John took several classes that would soon become the new Popular Music Culture program and appreciated the class sizes and personal attention Rider can offer. "The small class sizes made a huge impact on me and I still keep in touch with some of the professors I met during my very first days at Rider." It was the personal approach from his professors that helped John learn and grow, while allowing him to take part in life at Rider.
"Dr. Burton and Dr. Hess cared a lot about what they do and they cared about the students, they encouraged discussion in the classroom and got us all involved."
Making Music on Campus
"I was in the composer forum at Westminster and a member of Alpha Psi Omega on Rider's campus and completed multiple independent study projects where I formed a group of musicians that performed my original music. Those experiences gave me a great start in the music industry."
Independent Writing
John took the opportunities the music program offered to write music for Rider Dances, and to write and perform two independent study projects where he formed a group of musicians that performed his original music. One study project focused on modern musicians and technology, the other on Hip-Hop music and western classical music theory.
Continued Success
After graduation, John immediately went into the recording industry yet continued his studies to further his expertise. He earned an additional certification in Audio Recording and Production from the Institute for Audio Research in New York in 2012. Combined with his degree from Rider, John has the knowledge he needed to find his dream job. "I want to keep doing what I'm doing. I am starting to work with bigger clients and that gives me the chance to grow my career. "
John knows the music industry is in constant motion and those in the industry are constantly looking for new business models. Thanks to the diversity of musical training John received at Rider, he feels prepared for the future. "The music industry is changing so rapidly – and I know I'll need to grow and adapt. There is a tremendous amount of potential there for anyone entering the Popular Music program that has the creativity and a strong work ethic." When looking back at his time at Rider and his accomplishments to date, he credits Rider. "Rider gave me the confidence to succeed."
---
Interested in speaking with John Gratton?
John can be reached by e-mail at: [email protected]
Active Beyond Music
During his time at Rider, John was an active member of Alpha Psi Omega raising money for a charity called Ryan's Hope. John also found time to travel to Canada, the United Kingdom and Amsterdam.

3
The number of independent study projects John had the opportunity to be a part of.

"New Ways to Play: Technology and 21st Century Musicianship"
"The Voice of Hip-Hop: New Methods for Musical Analysis"
Music for Rider Dances
The music industry is changing so rapidly – and I know I'll need to grow and adapt. Rider gave me the confidence to succeed.
Music