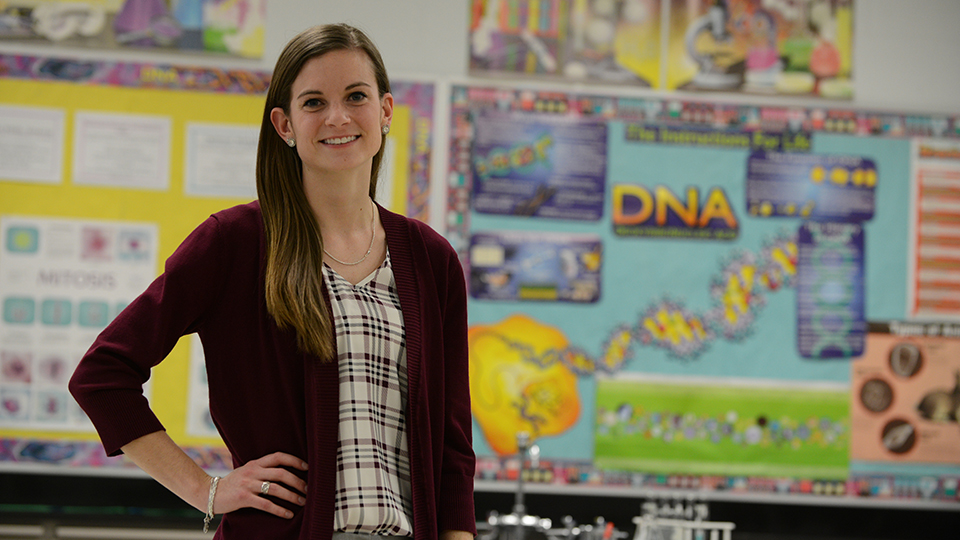 Biology Teacher, Princeton High School
Majors: Biology, Secondary Education
Minor: Special Education
My lab experience had a tremendous impact on me. It's where I learned how to think creatively and critically about science. It definitely made me a better teacher.
The Proof Is In Our Students
Why Jennifer Chose Rider
It was the strength of Rider's science and education programs that first attracted Jennifer. "I knew the faculty was great and they did great things," she says. "I knew I'd have the opportunity to develop a relationship with professors. I knew that interaction would be important."
She also was excited at the ability to graduate with two degrees: a Bachelor of Science in biology and a Bachelor of Arts in secondary education.
Rider's Impact on Jennifer's Career
What Jennifer didn't expect was the opportunity to participate in Rider's Freshman Science Honors Program and work in a research lab. "I was hesitant because it was such a commitment, but I ended up loving it. It impacted my teaching and my investment in the sciences. It turned out to be instrumental to everything I did and what I'm doing now."
Throughout her four years at Rider, Jennifer worked in Dr. Julie Drawbridge's developmental biology lab. She also became involved in the Science Learning Community, where she later mentored freshmen science majors. She also mentored students through the Summer Science Institute and tutored students throughout the year in biology, genetics and physics. "It showed me how students really learn and think. And, it helped to solidify my career choice," she adds.
Continued Success
As an education major, Jennifer had five different field experiences at middle schools and high schools. "My field experiences were great. They opened my eyes to other teaching methods and strategies and gave me hands-on experience in interacting with students," says Jennifer. "It also confirmed my career aspirations."
Jennifer completed her student teaching at Princeton High School where she was later hired as a ninth grade biology teacher. "I'm very satisfied and am working in a great school district," she says.
Involvement
As a Rider undergraduate, Jennifer was involved in four honor societies and nine clubs. She also served in eight leadership roles in these organizations.

In the Lab
Jennifer spent four years working in Julie Drawbridge's lab studying frog embryos, their kidney development and internal chemical factors. She also presented research from the lab at two conferences. "My research experience was life-changing. It changed my perception of science and how I teach."

5+1
Jennifer had field experiences at five different middle schools and high schools and received a job offer shortly after graduation. She's now teaching ninth grade biology at Princeton High School where she completed her student teaching.
"Rider had a tremendous impact on my career. It shaped me as a professional, a scientist and an educator."
Biology, Secondary Education