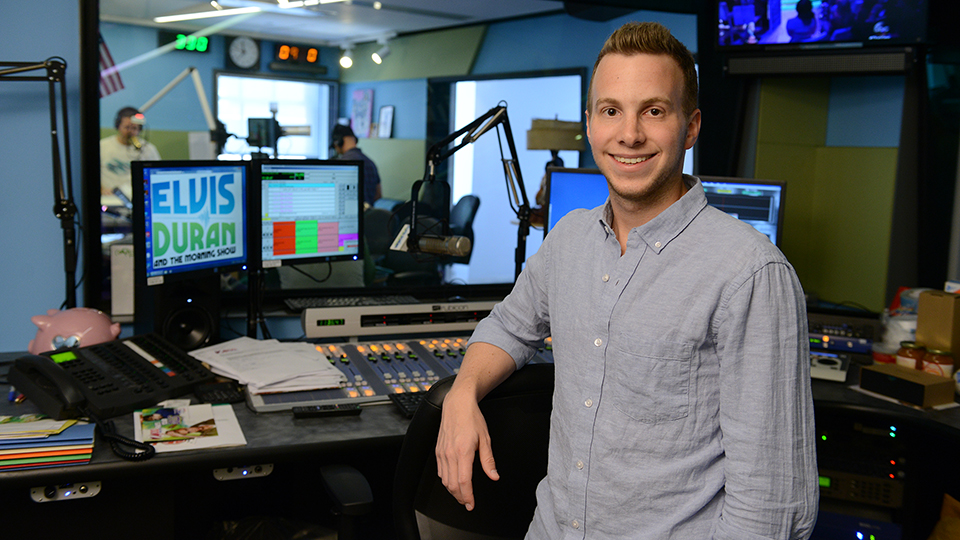 Producer, Elvis Duran and the Morning Show
Major: Filmmaking, TV and Radio
I'm amazed when I look back at all the hands-on experience, radio shows and internships I had. Rider gave me the freedom to experiment, to explore and to learn.
The Proof Is In Our Students
Why Jake Chose Rider
Drawn to Rider's Radio and TV program, Jake visited campus during his senior year of high school. He met with Scott Alboum, advisor for the Rider University Network (R.U.N.), and toured the student-managed TV station while on campus. "I saw the TV studio and I was blown away. I was in TV heaven. They told me I could get involved with the studio right away and that's exactly what I did."
As a freshman, Jake immediately started working behind the scenes on two R.U.N. TV shows. But he also quickly became involved with the campus radio station, 107.7 The Bronc. "Getting involved my freshman year was key. It gave me the opportunity to find out right away what I like to do and what I wanted to pursue as a career," he says.
Rider's Impact on Jake's Career
Jake soon became creator/host/producer of the "Tuff Luck" radio show. "It was incredible that I could have my own radio show and do whatever I wanted to do — as a freshman!" says Jake. "I learned how to work the equipment and gained experience talking about whatever. I had tremendous creative freedom."
Also as a freshman, Jake landed a position at The Bronc as an intern/producer of "Turfs Up," working directly with outside co-hosts in producing a landscape design show. That experience led to a programming internship the fall semester of his junior year at the classic rock station Q104.3 in New York. By the spring semester, he was working in New York as a production intern at the top-ranked Elvis Duran and The Morning Show — a position he held through his senior year. "Those were great experiences. Everything I'm doing now I learned as an intern," says Jake.
As an upperclassman, Jake also added two more titles at The Bronc: production director and paid program director. "I took advantage of all four years at Rider. My on-campus experience was half of my résumé," says Jake. "I learned so many new programs and skills. The hands-on classroom experience added to my learning. And my one-on-one with professors created bonds that led to other opportunities."
Continued Success
Jake graduated from Rider in May 2015 and within months was offered a full-time job as a producer at Elvis Duran and The Morning Show. It was a newly created position and he was the only candidate considered. "I love my job! It's exactly where I want to be. It's cool to be starting a full-time professional job and already know everyone there," says Jake.
Experienced
Jake had three internships while attending Rider — one during his freshman year and two during his junior year. The third internship at Elvis Duran and The Morning Show lasted through his senior year — and led to a full-time job offer.

5+2
Jake held five positions at Rider's radio station, 107.7 The Bronc during his four years at Rider. He also held two positions at Rider University Network (R.U.N) TV station.

A Radio First
As producer of The Bronc's "Turfs Up" show, Jake planned and executed the first-ever live radio broadcast at the Philadelphia Flower Show.
Rider is the reason I have this great job. I had so much fun and acquired an insane amount of experience there. Now, I'm living the dream!
Filmmaking, TV and Radio