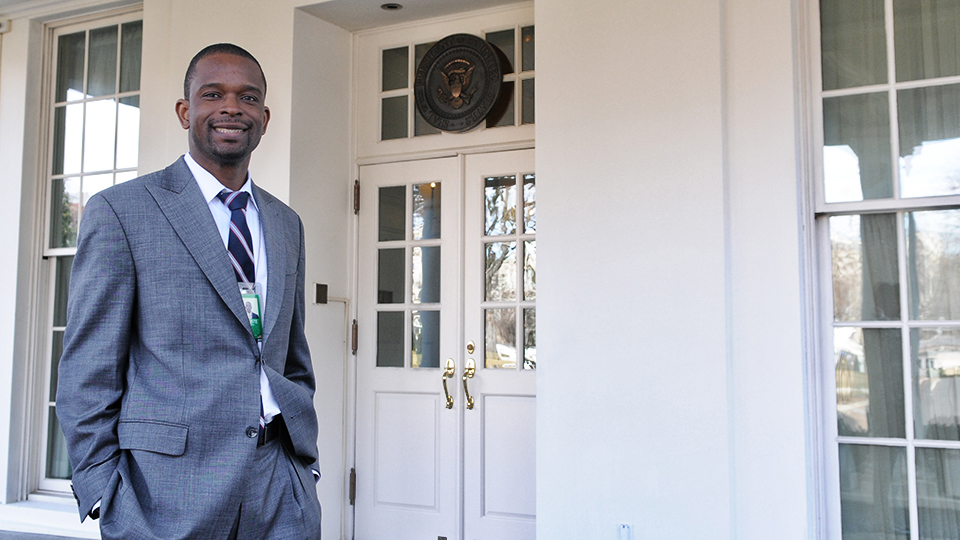 Principal Deputy Director of Scheduling, The White House
Majors: Elementary Education, American Studies
Every day, walking into work, it's a 'pinch me' moment.
The Proof Is In Our People
Why Greg Chose Rider
Greg didn't even consider going to college until his senior year of in high school. His original plan was to take up auto mechanics like his father, but Joseph Lorjuste encouraged him to go to college and learn something different. Greg took a closer look at Rider, where his sister Marie Lorjuste-Gonzalez '98 and brother Reginald Lorjuste '00, were both part of the Educational Opportunity Program (EOP).
Greg met with Rubin Joyner, director of EOP, who encouraged him to focus on improving his grades and SAT score in order to be admitted. "Rider was my one and only choice," Greg said. "I fell in love with it because Rubin didn't know me, but he took a chance on me. He gave me an opportunity. I felt like it was the right place for me."
Rider's Impact on Greg's Success
At Rider, Greg was involved with EOP, the Black Student Union, the Student Government Association, Phi Beta Sigma Fraternity, Inc. and Campus Ministry, where he met faculty and staff who became mentors. He learned how to plan events and manage meetings, and gained confidence when talking to people. "I came into Rider wanting to get a degree in Education so I could teach. I walked out with that degree, but also some collective experiences as a leader. I knew that if I put my mind to it and worked hard, I could accomplish anything."
Continued Success
When Barack Obama was elected in 2008, Greg was appointed one of the associate directors of scheduling for the president. Since then, he has been promoted twice — most recently as a senior scheduler at the White House. In this role, Greg is one of three professionals who plan the day-to-day details and logistics for President Obama's domestic and international events. "I love my job so much — everything we do becomes a part of history," said Greg, remembering the day he worked on coordinating the ceremony when President Obama accepted the Nobel Peace Prize. He hopes to share memories like that one with his future students. "My dream job is to actually become a principal."
---
Related News
Why I Serve: Gregory Lorjuste, Deputy Director of Scheduling for Obama
One of his favorite tasks is coordinating events at which everyday Americans can meet their commander-in-chief.
2 Months
Time it took Greg to get his first full-time job out of college through the Corporation for National and Community Service.

3 Through the School of Education, Greg gained classroom experience at elementary schools in Trenton, East Windsor and Lawrenceville.

Flying Air Force One
Greg has traveled to 22 countries while planning trips for President Obama. He's accompanied the President aboard Air Force One on tours of countries such as Cambodia, Ghana, Italy, Russia, Turkey and Norway.
I knew that if I put my mind to it and worked hard at it, I knew I would accomplish anything.
Elementary Education, American Studies