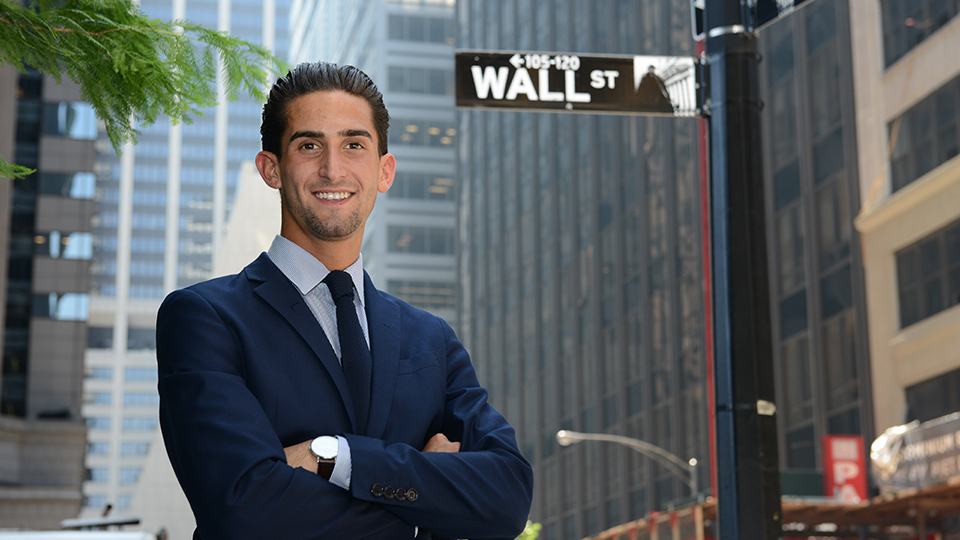 Business Manager for COO of Fixed Incomes/Debt Operations, Deutsche Bank
Majors: Economics, International Business, Global Studies
I took advantage of every opportunity Rider had to offer.
The Proof Is In Our Students
Why Alex Chose Rider
Alex visited Rider at the suggestion of his sister, a high school guidance counselor. He already knew it had a good business school. What impressed him most was the immediate connection he felt with the tour guide and the admission counselor he met with privately. "It's a great feeling when you know people really care about you," says Alex. "I knew instantly Rider was where I belonged — a school where I could get to know professors on a personal basis with a support system that would be there for me."
Rider's Impact on Alex's Career
Although Alex knew he wanted to study business, he was uncertain about his career path until he met with management professor, Dr. Gene Kutcher, who suggested Economics might be a good fit. "Taking that first Economics class made me realize how much I like financial markets. Having a professor encourage me to take that class and explore it as a major changed my life," Alex says.
Dr. Kutcher, who became his advisor, also encouraged Alex to become involved in Rider's DAARSTOC (Developing Administrative Abilities and Resources through the Synergistic Training of Organizational Competencies) program. "DAARSTOC was a great experience. I developed interpersonal skills and real-world business skills that I use today."
Alex added International Business as a major and, during his sophomore year, made a pivotal decision to travel on short-term faculty-led study trip to China. "It was an eye-opening experience and a real game changer in my career. A lot of what I'm doing today in business goes back to that trip to China."
Over the next two years, he traveled to a dozen more countries for study abroad and personal enrichment — including five months spent studying Australian economic policy and international economics in Queensland, Australia. He also added a third major — Global Studies — and joined Rider's successful Model UN team with the encouragement of Rider professors. "I took advantage of every opportunity Rider had to offer," says Alex.
Continued Success
As a Rider undergrad, Alex completed three internships, including one with Mercedes-Benz in business development and another with Morgan Stanley in private wealth management. After three months, he was hired as a part-time employee working on economic sales projections for Mercedes-Benz.
Despite his triple major, study abroad trips and internships, Alex graduated a semester early in December 2014. By month's end, he had three job offers, including a position as data analyst with Morgan Stanley in New York City. He worked there until July 2015 when he took a job as business manager at Deutsche Bank on Wall Street. "It is a dream come true to be in this position at my age in a job that combines my passion for international cultures, travel and business. It's all because Rider helped get me here."
14 The number of organizations and activities Alex participated in during his years at Rider. He also held five leadership positions and held campus jobs as a tour guide and peer mentor.

12&3
The number of countries Alex visited while attending Rider. Alex earned college credit for three of his trips: a short-term study abroad trip to China, an independent study trip to England and Ireland, and a five-month long study abroad trip to Australia.

3+1
As a Rider student, Alex held three internships — including positions with Mercedes-Benz and Morgan Stanley. After three months, Mercedes-Benz hired him as a part-time employee.

3
Alex had two job offers before graduating a semester early in December 2014, and received a third job offer before the New Year. After six months with that company, Alex moved to Wall Street for his "dream job" at Deutsche Bank.
"I fell in love with Rider the second I drove onto campus. It was exactly what I needed — a smaller college environment where I could excel and showcase my talents."
Economics, International Business, Global Studies