Engaged Learning 101 for Students: An Overview to Earning Your Engaged Learning Transcript
Think of your Engaged Learning experiences as points that add up steadily each semester, which are collected and displayed on your Engaged Learning Transcript (ELT). All students earn points in the same way, by taking an approved course, by participating in approved experiences, or by completing community service hours.
Courses: The credits associated with a course equate to points, up to a max of 3 points per course. For example, GLS 285 earns 3 credits or 3 points; EDU 451 can earn up to 6 credits but no more than 3 points no matter how many credits you earn.
Experiences and Service Hours: Time you spend participating in an experience or performing community service earns points based upon the number of hours of you complete. The scale for earning points is as follows:
20-49 hours completed = 1 point
50-99 hours completed = 2 points
100+ hours completed = 3 points
---
How Many Points Do You Need?
Beginning with the Fall, 2017 semester, all undergraduate students, including transfer students, must participate in earning Engaged Learning points. It is a graduation requirement.
Freshmen must earn a minimum of six (6) points spread across at least two different engaged learning categories.
Transfer students with fewer than 31 accepted credits also need to earn 6 points spread over at least two categories
Transfer students who bring 31 or more accepted credits need to earn 3 points spread across two categories*.
*See the Fall 2020 Special Updates Page for a proposed change to your requirement.
How to Earn Your Engaged Learning Points
You will find a wealth of Engaged Learning opportunities to pursue at Rider, both on- and off-campus, that will complete your Engaged Learning Transcript.
IMPORTANT: Only courses taken at Rider University and experience or service hours performed while a Rider University student are eligible to earn points towards your Engaged Learning requirement. Courses taken at other institutions do not earn points. Experience or service hours performed before your first term attended or when you are not an active student at Rider cannot be counted to earn points. You must be an active Rider University student who can submit experience or service hours in BroncNation at the time you are performing the service. Experiences and Service Hours submitted outside of your attendance at Rider will be denied.
How do I see my progress towards completing the Engaged Learning graduation requirement?
DegreeWorks records your progress towards graduation for all of your academic requirements, including Engaged Learning. Log in to myRider for an at-a-glance review. DegreeWorks displays your progress towards core, major, minor, and Engaged Learning requirements.
Download a PDF of the above guidelines: Engaged Learning 101: Guide to Your Graduation Requirement
Your Engaged Learning Transcript
Each time you request us to send your academic transcript, your Engaged Learning transcript will also be included as a companion document. The ELT provides prospective employers, graduate counselors and others with a deeper understanding of who you really are, beyond your academic accomplishments.
While your journey will be uniquely yours, the transcript will display your courses and experiences similar to the following sample transcript: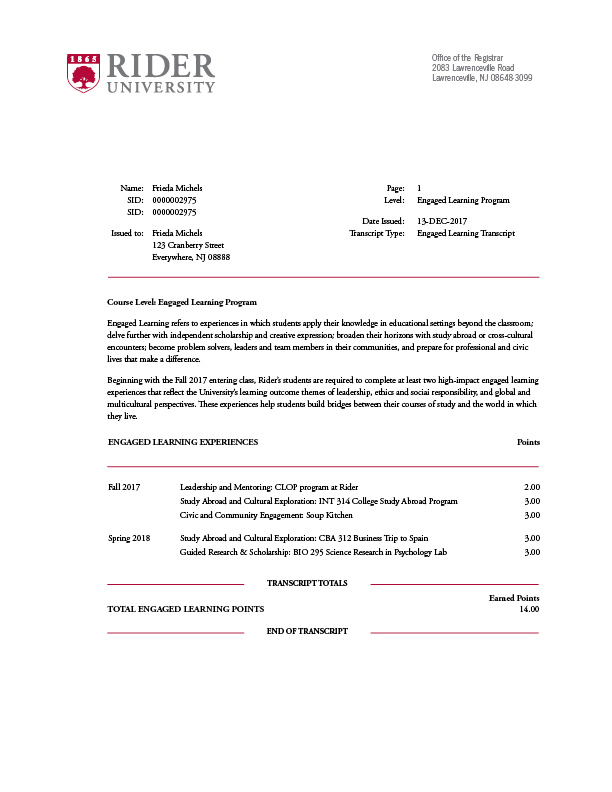 To Learn More
For information or assistance with BroncNation contact Allie Koury, Coordinator of Student Involvement, at 609-896-5000 Ext. 7106 or [email protected].
For information or assistance with Engaged Learning contact Sandra Ober, Engaged Learning Coordinator, at 609-896-5000 Ext. 7055 or [email protected].
Always include your Bronc ID in all correspondence.