Launching in Fall 2023, the Inclusive On-Ramp to [email protected] aims to help fill the projected gap in cybersecurity workers by providing students who did not study cybersecurity or computer science at the undergraduate level with the foundational skills needed to succeed at the master's level.
The bridge program prepares students with a bachelor's degree in almost any field to pursue a master's degree in cybersecurity at Rider University. Depending on your undergraduate major, the program can be completed in approximately 1-2 semesters through online self-paced modules supervised by a faculty member. Anyone with a bachelor's degree and a sincere desire to pursue a rewarding career in cybersecurity is encouraged to apply for Rider's online Master of Science in Cybersecurity graduate certificate or degree.
Rider University offers both an undergraduate cybersecurity major and a 100% online master's program in cybersecurity.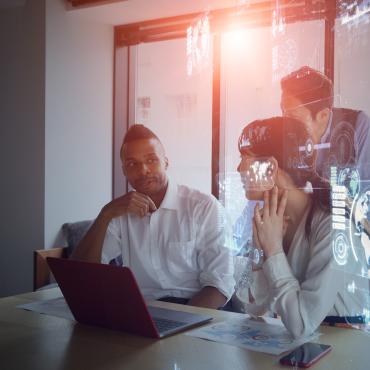 Program benefits
100% online 
Self-paced with faculty interaction
1-2 semesters to complete program, depending on a student's undergraduate major and time commitment
Sets you up for success in a fast-growth industry
Program Details
Start date: Fall 2023 
Program length: Approximately 1 - 2 semesters, depending on a student's undergraduate major and experience
Eligibility requirements: Bachelor's degree in almost any field and at least a 3.0 GPA 
Program cost: up to 6 graduate credits
Lecturer I, Graduate Program Director of Cybersecurity
Mike and Patti Hennessy Science and Technology Center
ehawthorne [at] rider.edu
Academic Focus: Cybersecurity