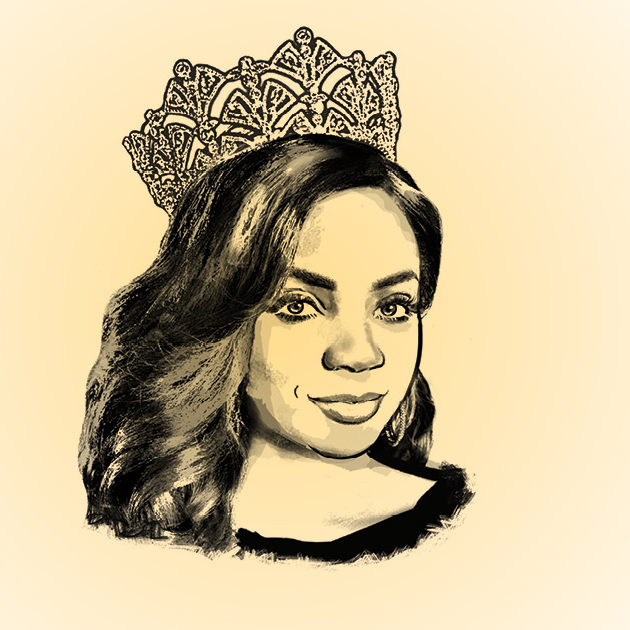 Once drawn to pageantry for the glamor, Tarah-Lynn Saint-Elien '16 now uses pageantry to represent young women of color in a positive light. She was crowned Miss Black New Jersey in March 2017 and now has the chance to compete in the national competition in Washington, D.C., in August. The winner will receive a $20,000 prize package that includes a $5,000 academic scholarship and the chance to travel the world as an ambassador for women of color.
Saint-Elien bested 37 pageant queens while competing for New Jersey's title and will face even more in D.C., though she feels nothing but warmth for them.
"Many pageants pose as if they're founded on the basis of sisterhood but the Miss Black USA pageant represents sisterhood from the very core," Saint-Elien says. "My 'sister queens' from other states are warm and very inviting. We can't wait to all meet at nationals!"
Saint-Elien, who graduated from Rider summa cum laude with a bachelor's degree in communication studies, competed in her first pageant during her freshman year. In this pageant, she was crowned Miss Violet by Miss New Jersey and Miss Teen New Jersey.
She became aware of the Miss Black USA competition while searching for pageants that support educational scholarships. Besides the scholarship incentive, Saint-Elien and the Miss Black USA organization share similar focuses.
"I knew this one was for me because the organization prioritizes scholarships and advancing women of color in all aspects, but especially career and education," Saint-Elien says. "Uplifting women should be an ongoing action. I plan to continue to do so through Adorned in Armor, as well as Miss Black New Jersey."
Adorned in Armor is Saint-Elien's fashion blog that is meant to empower young women to conquer their life obstacles with faith and style. She has worked with top brands such as Maybelline and Banana Republic, and has been hired to speak at events in New Jersey and New York. She is also a fashion writer for TeenVogue.com, an editorial assistant for the Independent Fashion Bloggers Network and a communication manager for a local interior design company.
A common theme in most of Saint-Elien's work is building a platform to inspire and empower women — her career goal is to host red carpet events and inspire women all around the world through speaking conferences and, someday, a book.
A source of Saint-Elien's motivation is her mother, who despite troubled health and suffering from a stroke, has been a positive influence and her daughter's cheerleader throughout life.
"It will be a tough journey to nationals," Saint-Elien says, "but I strongly believe that with my drive and support system, it will all be worthwhile."