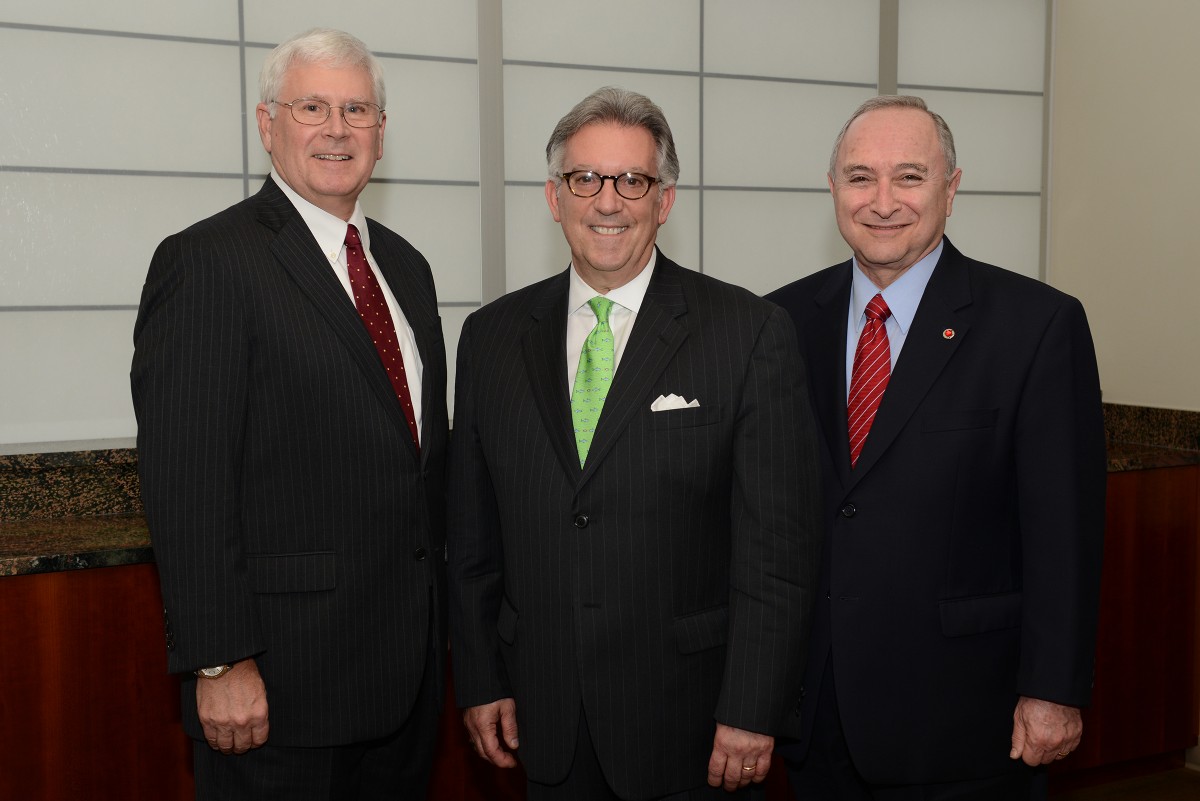 On Dec. 4, 2014, the Rider University Board of Trustees announced the appointment of Gregory G. Dell'Omo, Ph.D., as Rider's seventh president. Dell'Omo will succeed Mordechai Rozanski who is retiring on July 31, 2015. Dell'Omo will assume the presidency on Aug. 1, 2015.
Dell'Omo will step down from his position at Robert Morris University (RMU) in Pittsburgh, Pa., at the end of the 2014-2015 academic year. Rozanski will remain at Rider through the end of July 2015.
Michael B. Kennedy '72, chairman of the Rider University Board of Trustees and chair of the Presidential Search Committee, said the board selected Dell'Omo from an extensive pool of candidates. Rider was supported in that process by its consultant, Storbeck/Pimentel & Associates.
Dell'Omo's years as the seventh president of RMU (2005-2015) have been marked by growth unparalleled in the university's 93-year history, as it continued its transformation from a regional, commuter-based institution to a comprehensive residential university that draws full-time and part-time students from not only the Pittsburgh area, but across the country and around the globe.
Dell'Omo led RMU through the completion of its most recent five-year strategic plan and its most comprehensive capital campaign. The fundraising campaign ended in September 2012 and raised $41 million, exceeding its goal. The campaign funded two academic buildings: the School of Business building and the Wheatley Center, which is home to the School of Communications and Information Systems. The campaign helped boost RMU's endowment by more than 60 percent and allowed the university to fund 30 new endowed scholarships and a research center focused on achievement among African American men. Most recently, the university broke ground on its new building for the School of Nursing and Health Sciences, which is expected to open in the fall of 2015. Perhaps the greatest symbol of the university's transformation under Dell'Omo's leadership is the dramatic increase in the number of students living on campus, from 1,140 in 2005 to 1,990 as of the fall of 2014. Fewer than 40 percent of full-time undergraduates lived on campus in 2005, versus nearly 60 percent today.
At the same time, full-time undergraduate enrollment has grown 35 percent, from 2,928 10 years ago to 3,968 in the fall of 2014. Total enrollment for the fall of 2014 was 5,359.
Dell'Omo built on RMU's long tradition of educating nontraditional students and working adults, bringing the university into a new age with the launch of its online degree programs. In just three years, online enrollment has climbed to 709 students. Robert Morris University has also supported veterans of the U.S. armed services, becoming one of the first private institutions to participate in the federal Yellow Ribbon Program. Under that program, RMU agrees to cover the difference between the cost of tuition and benefits that eligible veterans receive under the Post-9/11 G.I. Bill.
Dell'Omo also sought to bolster RMU's academic reputation. During his tenure, the university has strengthened its honors program and placed an increasing emphasis on international education. RMU is also one of only 25 institutions worldwide to be named a Center of Actuarial Excellence for its actuarial science program.
Dell'Omo earned a bachelor's degree in economics from Montclair State University, a master's degree in industrial relations from Rutgers University, and a doctorate in industrial relations/human resource management from the University of Wisconsin-Madison. He earned certifications at Harvard University from the Institute for Education Management and the Seminar for New Presidents. He held previous academic positions at Canisius College and Saint Joseph's University, where he was dean of the Haub School of Business and vice president for external affairs.
Rozanski praised the selection of Dell'Omo as his successor. "He is the ideal candidate for Rider. His superb and proven leadership skills will successfully advance the University to its next level of excellence. I am delighted that Greg will be Rider's next president."