In the fall of 2006, Kenneth Jacobs '10 traveled to Rider from his home in Upper Marlboro, Md. An incoming freshman with an introspective personality, he prepared himself to be away from home for the first time. Following the example of his parents, he knew he wanted to become actively involved in his new community, but wondered if his quiet nature would hinder his ability to step up and participate.
Two years earlier, the University's Center for the Development of Leadership Skills established a new program to help teach students become effective leaders. The Leadership Development Program (LDP), which believes that anyone can develop the capacity for leadership no matter their personality traits, piqued Jacobs' interest.
"I saw the LDP as an opportunity to help me grow into myself, to familiarize myself with Rider and the area, and to grow into a leader on Rider's campus and a leader in general," Jacobs says.
Over the next four years, the LDP helped Jacobs transform from that shy freshman into the alternate speaker for his senior commencement. "That's something I never, ever would have tried to do if it weren't for the support of the LDP," says Jacobs, who would also receive the President's Award in 2010 and serve on a number of key governance organizations including the Finance Board and the Presidential Task Force on University Diversity. "The LDP was a springboard for me."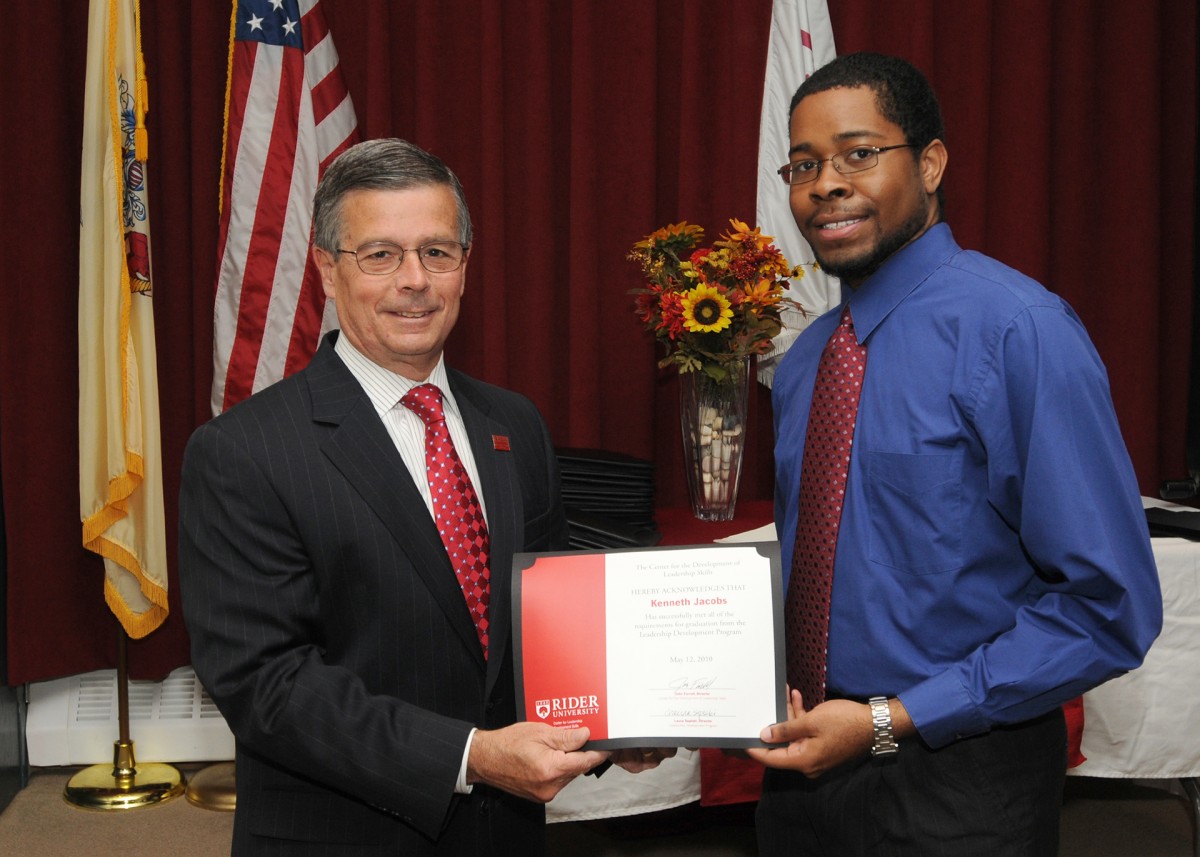 Now a legal analyst at Baker & Mill PLLC and the founder of a leadership nonprofit called the Urban Leadership Education and Development Institute (ULEAD), Jacobs is one of hundreds of Rider students who have benefited from the LDP, which will graduate its 10th class this semester. The program is open to all undergraduates of any major. About 40-50 are accepted into the program each year.
"We're creating better citizens who are self aware, will build strong relationships, and have different perspectives about how they live their lives," says Laura Seplaki, the program's director. "The more you understand who you are and what you value, the better you can live your life with intention and make better decisions."
LDP students are required to participate in seminars and earn credits in addition to their normal course load, as well actively lead in groups and organizations both on and off campus. The LDP hosts its own graduation ceremony and awards a certificate to graduates — an asset that sets them apart from their peers.
"When I go on interviews, I mention the LDP and tell them about the program," says Allyson Cook '11, who recently accepted a new job as a student counselor at Rutgers University in Newark. "I'm proud to say I'm an LDP graduate and to this day it's something I brag about. It's on the top of my resume."
Like Jacobs, Cook saw the LDP as a way to tap her potential for leadership. "I saw that I could be part of a unique program that would focus on specifically teaching me to be a leader and help me be more strategic and intentional in my career," she says. "The word 'leadership' just popped out at me."
The LDP helps Rider keep its promise of preparing students to become leaders. "This is something we've held out to the world, and we in the LDP have made a strong commitment to it and tremendous strides in fulfilling that commitment," says John Farrell, the director of the Center for the Development of Leadership Skills (CDLS), as well as the College of Business Administration's assistant dean.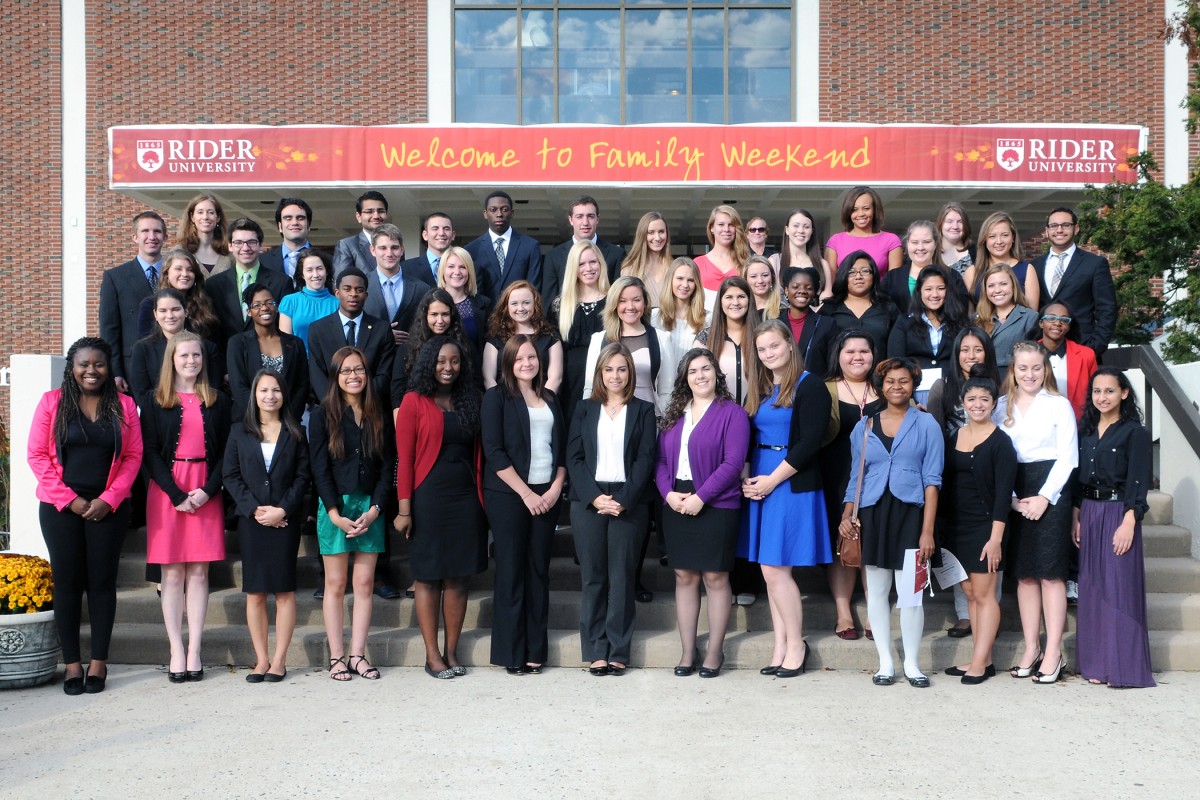 The CDLS and the LDP were created in 2005 by Carol Watson, Mark Sandbert, David Tierno and Anne Carroll. "The founders felt it important to develop and enhance the interpersonal skills, specifically those of communication, teamwork and influence, of the students at Rider so that they would posses the leadership qualities needed for success in the 21st century," says Seplaki, who took over as the program's director in 2008.
Though more females participate in the LDP than males — a consistent pattern over time, Farrell says — the program is achieving its greatest balance and diversity ever. The program admitted its first student from Westminster Choir College this past fall as Seplaki and Farrell work to strengthen leadership development across both of Rider's campuses. The ratio of business students has recently fallen below 50% — a "very deliberate goal," Seplaki says. "To be a comprehensive program, we can't just serve the business students. Leadership knows no major and no matter what career one decides to pursue, effective leadership skills are key in helping graduates rise to the professional challenges they will face."
Of all the rewards Cook has gained from the program, she says she values the relationships the most. She took advantage of Seplaki's open-door policy, meeting with her at least a couple times a semester. Seplaki, who helped guide Cook into her first post-graduation job, at AmeriCorps, remains her mentor. "She pushes me, guides me and inspires me to do what's next," Cook says. "It's made me reflect on what the LDP did for me and showed me the importance of building relationships."
A secondary education and teaching major, Cook never wanted to work in the traditional classroom setting. In her current job, in addition to working with Rutgers students, Cook goes into the nearby school districts of Irvington and Orange to provide academic support to the mostly poor, minority students. She's determined to nurture those students and provide opportunities that may be closing around them. "I see too many adults who are giving up on kids," she says. "They need to see more people who can show them that they can still dream."
Worthy of the LDP's mission to create leaders in the service of others, Jacobs has also harnessed his leadership skills to help nurture underserved communities in the Washington, D.C., metropolitan area where he lives. Through his nonprofit, Jacobs provides workshops and delivers talks to low-income students.
Leadership is too often construed as being self serving, Seplaki says. "We teach that leadership is best when it's used to meet the needs of others and focuses on the success of others." That message has been embraced by the CDLS's first fellow, Howard B. Stoeckel '67, the former president and CEO of Wawa and Rider board member. Stoeckel recently appeared as the keynote speaker at the LDP's inaugural leadership symposium on Feb. 28, where he discussed his philosophy that true leadership serves those they lead.
"I have always been impressed with how the program brings students together from all academic disciplines with a common purpose to serve others and to pursue common goals," Stoeckel says. "The program enables students to develop their authentic leadership style to serve Rider and society and to make a difference by helping other individuals achieve their goals and find meaning in life.
The topics of ethics and civic engagement were threaded throughout the symposium, which brought together students and presenters from six institutions of higher education and provided another forum for leadership training to Rider students.
Seplaki and Farrell are actively trying to create new partnerships off campus as well. The LDP currently relies on collaboration with other departments and offices on campus, but envisions a future with a corporate partner to help support new ways in which the Center can grow, develop and ultimately deliver leadership education and experiences. "The Center exists to serve our students and the community, so to have new resources and partnerships that would allow us to do so would truly benefit all involved," Seplaki says.
Cook has not only seen the program and its influence grow but felt its effect. "The LDP has grown so much, and to see what others graduates are doing definitely motivates me," she says. "The experience, the relationships and the transferable skills have helped me through all my experiences in the workplace."