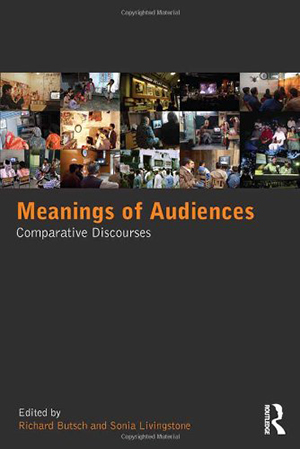 Edited by: Dr. Richard Butsch
Professor of Sociology, American Studies, and Film & Media Studies and Sonia Livingstone Routledge, 2014

In today's thoroughly mediated societies, people spend many hours in the role of audiences, while powerful organizations, including governments, corporations and schools, reach people via the media. Consequently, how people think about, and organizations treat, audiences has considerable significance. In a concerted effort to grasp the construction of meanings and power across diverse cultural contexts and to provincialize the West, this groundbreaking collection offers original, empirical studies of discourses about audiences by bringing together a genuinely international range of work. With essays on audiences in ancient Greece, early modern Germany, Soviet and post-Soviet Russia, Zimbabwe, contemporary Egypt, India, China, Taiwan and immigrant diaspora in Belgium, each chapter examines the ways in which audiences are embedded in discourses of power, representation and regulation in different yet overlapping ways according to specific sociohistorical contexts.
Suitable for both undergraduate and postgraduate students, this book is a valuable and original contribution to media and communication studies. It will be particularly useful to those studying audiences and international media.