by Adam Grybowski
Prior to the 2020 Summer Olympics, which were postponed a full year because of the coronavirus pandemic, only war had caused the games to be postponed or canceled. 
The outbreak left coaches and athletes straining to cope with the unpredictability of the virus. Before the International Olympic Committee announced the postponement, countries threatened to withdraw from competition. Athletes complained training was all but impossible. Borders closed. Safety precautions intensified. 
A once-in-a-lifetime opportunity to compete at the highest level on the world stage had become, for many, an interminable bout of anxiety, frustration and inconvenience.
At a moment when he was standing at the top of his profession, Greg Meehan '01, the head coach of the 2020 U.S. women's swim team, was struggling to book pool time for athletes who should have been training at the peak of their abilities.
Meehan has coached and mentored swimmers for more than two decades, including the nation's top women's swimmers, such as legend Katie Ledecky and the first African American woman to win an individual Olympic medal in swimming, Simone Manuel. As the Paul A. Violich Director of Women's Swimming at Stanford University, Meehan led the Cardinals to their first national title in 19 years in 2017, the beginning of a three-year championship run.
Tokyo would not even be Meehan's first Olympics — he had previously served as an assistant coach for Team USA at the 2016 Summer Olympic Games in Rio de Janeiro, Brazil. But despite his extensive experience, nothing had readied him for the challenge of mentally and physically preparing a group of elite athletes under these conditions.
"We were navigating this space where we were being responsible from a health and safety perspective," he says. "Normally, we have every hour of every day scheduled out. We probably spent hundreds of hours on the phone and Zoom trying to come up with a plan that made sense. It was a heavy weight for us to carry, and it was a very difficult time."
A total of 54 medals were at stake for the women, the winners to be determined through 18 events, including two that would debut on the women's side. A new relay, the mixed 4x100 medley, had been added to this year's competition, and, for the first time ever, women would swim a 1,500-meter freestyle at the Olympics.
When Olympic competition belatedly arrived, the Tokyo Aquatics Centre, newly built for the games and capable of holding 15,000 spectators, was nearly empty judged by the standard of typical Olympic events. A no-spectator policy had been issued to combat rising cases of the coronavirus. As swimmers from around the world were announced for their events, many emerged wearing masks.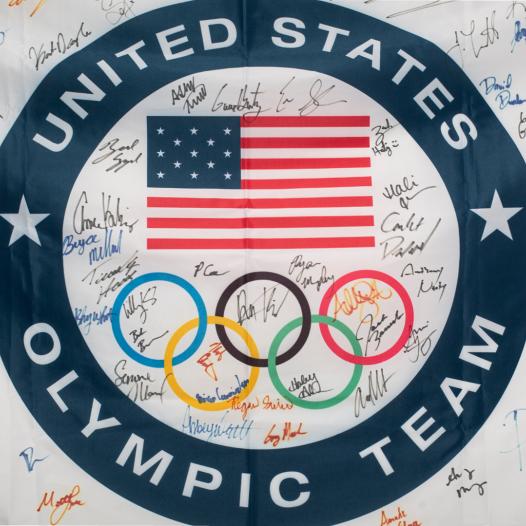 Coaching is a passion as much as a profession."
At any moment in history, leading an Olympic team carries elevated meaning. Meehan believes that outside of serving in the military, representing your flag in the Olympics might be the greatest honor citizens can have in service to their country. He is particularly cognizant of its significance during a divisive time across the nation.
"There is just something about the Olympics that can create those moments of pride and excitement — that's a real thing," Meehan says. "We talk to the team about how our performances are going to make people proud to be Americans. In these times, we need good things to celebrate and the Olympics are a good way to do that. That's one reason we work so hard and why it's worth it. You know the impact it's having on these young people and the people watching at home."
In Tokyo, Meehan led the U.S. women's swimming team to a leading 18 medals, including three gold. World-record holder Ledecky, whom Meehan has coached at Stanford as well as on two Olympic teams, added to her medal count. She now has 10 Olympic medals, including seven gold.
"Our vision for the Olympic experience was very different than the ultimate reality," says Meehan. "When the world stopped because of the pandemic, the initial piece of what we were dealing with was uncertainty and the nervousness of the unknown. We just hammered away trying to come up with a plan that made sense. We wanted to make it as best an Olympic experience as possible because the athletes deserved that."
Recalling his experience watching the Olympics as a child, Meehan says, "No matter what, you always cheered for the folks with that American flag on their swim cap."
Originally from Broomall, a small town in Delaware County, Pennsylvania, Meehan is the youngest of five children. Neither of his parents were particularly interested in swimming, but after Meehan's oldest brother took to the sport following routine swim lessons, interest spread amongst all of his siblings. 
He focused on swimming in high school and, the summer before college began, he received his first taste of coaching, with a club team. The experience gave him an idea for a professional path forward. Perhaps, he thought, he could become a high school teacher and also coach the school team. Today, the three-time NCAA Swimming Coach of the Year still believes that path would have been enough to make him happy. 
Meehan enrolled at Rider in the '90s and chose a double major of mathematics and secondary education. Early on, Meehan realized he wanted to be a coach who helped athletes outside the pool as much as in it. Looking beyond training them to reach their peak physical selves, he also wanted to mentor young people and teach them life skills.
That philosophy was shaped through his experience with Rider's swimming and diving coaches, including Stephen Fletcher, Shannon Daly and Rich Coppola. Today, Fletcher and Daly remain at Rider, and the University's swimming and diving teams compete in a pool named after Coppola, who coached at Rider for 30 years and won more than 250 meets. He revived the men's varsity swimming and diving program in 1968 and founded the women's program in 1984.
By the time Meehan was swimming at Rider, he says the lore about Coppola's legendary career was palpable. "He was an amazing human being. He cared deeply about us as people and was always motivating you to work and be better, but he also allowed you the space to figure things out. Whether I was struggling or succeeding, he treated me the same. He was fun and he was funny, but he kept us accountable."
As a young undergraduate, Meehan initially encountered obstacles. "I enjoyed my swimming experience at Rider so much, but my first two years I really struggled because of immaturity," he says. "I had a very high standard for myself and I didn't handle failure very well. But through it all I was learning about myself and learning about where I wanted to improve and how much I loved the sport."
He became a valued member of the swimming and diving team. At the time, he swam the second-fastest 200 backstroke and the third-fastest 100 backstroke in Rider history. For those accomplishments as well as his coaching career, he was elected to the University's Athletics Hall of Fame in 2017.
Reflecting his topsy turvy experience in Rider's pool, Meehan often talks about how athletes have to learn how to fail as well as succeed. Especially for the elite athletes he now works with daily, many of them have never tasted failure. "We create opportunities for them to fail, and to do so early," he says.
That approach is integral to his coaching philosophy, but at his core, Meehan is driven by an intensely competitive nature. "Coaching is a passion as much as a profession," he says. "I love winning. I don't get defined by that, but I love to be in the arena with the opportunity to win. I want our team to be great. That's what motivates me and gets me out of bed every day."