by Rachel Stengel '14, '20
Three years ago, Sean Binning was in a coma for 18 days after recovering from emergency brain surgery. This year, he is a decorated Metro Atlantic Athletic Conference (MAAC) Champion.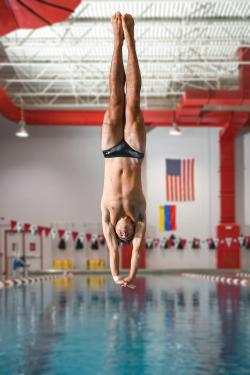 March 5, 2019, changed his life. Within a few hours of experiencing a blinding headache, Binning was unable to speak properly and had numbness and paralysis in his right arm. He was rushed into surgery where doctors removed a portion of the left side of his skull to relieve pressure from a ruptured arteriovenous malformation (AVM). The abnormal tangle of blood vessels was a condition Binning unknowingly had since birth. It was too risky to remove it that day.
At just 15 years old, Binning had a long, uncertain road ahead of him. He was connected to a feeding tube and a tracheostomy tube. He lost 40 pounds. Binning was transported to a rehabilitation facility three weeks after surgery to relearn basic life functions — walking, speaking, eating and even breathing. On April 26, 2019, he had a second brain surgery to remove the AVM and replace the missing portion of his skull.
Finally home, there was one thing on Binning's mind: diving. "It was going to be harder, but I didn't want to stop because I still had the muscle memory," he says.
Binning only began pursuing the sport at 12 years old at his local dive club. He became an accomplished high school diver, earning 10th place at the state level in 2019 and All-America honors.
I was nowhere near where I was before, but I didn't think I'd get as far as I am now."
Once he was cleared to train again, he spent 25 hours a week or more to get back into shape, still contending with numbness and paralysis in his right arm. Just six months after his AVM ruptured, Binning dove head first off the diving board again.
"I was nowhere near where I was before, but I didn't think I'd get as far as I am now," he says.
Soon, doctors discovered Binning developed an infection on his skull, causing part of it to decay. His next option was to have a third surgery to replace the damaged portion of his skull with a plastic one. The surgery was set for Nov. 30, 2020. Three days before, he had signed his letter of intent for Rider.
Binning was approached by Rider's Head Diving Coach Kristen Simms to join the University's Division I team earlier that year.
"I told her the whole story and that I was going to have another brain surgery," he says. "I said, 'I know it's risky to have me at Rider,' but she still wanted me there."
The risk paid off. Binning helped the men's swimming and diving team bring home its 10th straight MAAC Championship last year. During the meet, he won the 1-meter and earned MAAC Diver and MAAC Rookie Diver of the Year.
Now a sophomore behavioral neuroscience major, Binning hopes to attend medical school after Rider, a path he says he never would have considered before his injury.
"I'm proud of myself," he says. "I'm very surprised I got this far. I had my debates whether or not I wanted to stop, but I love the sport."