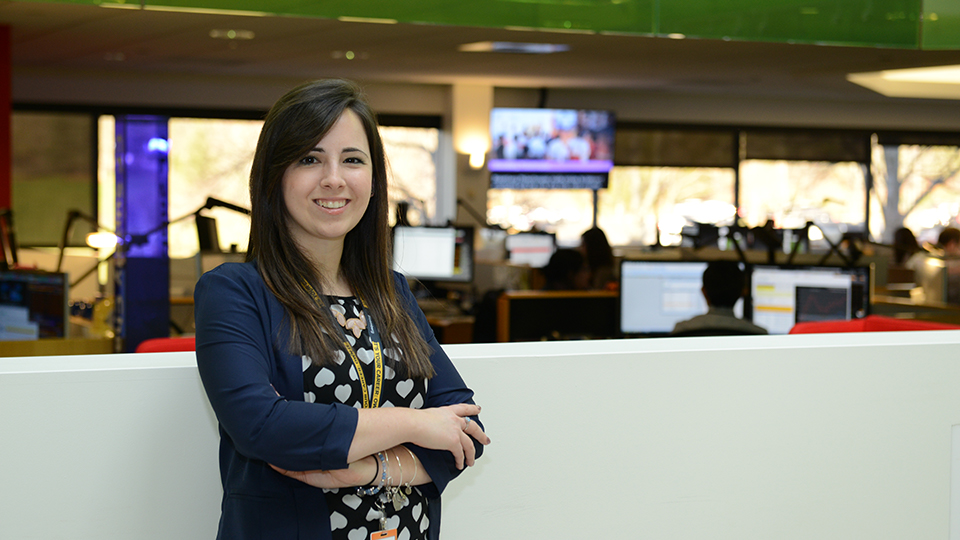 Diversity & Inclusion – Learning Specialist at Bloomberg
Majors: Finance, Management and Leadership
Being involved in DAARSTOC was my best, most impactful experience at Rider. It introduced me to tools that I keep in my toolkit, which I'm using and building on today.
The Proof Is In Our People
Why Erin Chose Rider
A New Jersey native, Erin was familiar with Rider. She knew it had a good business school that was AASCB accredited with a reputation for having top-notch professors. As an aspiring business major, her counselors encouraged her to apply there. Although she was accepted at other top schools, she chose Rider after visiting campus and meeting students, faculty and staff. "That pushed me over the edge. Everyone was so welcoming and friendly," she says. The student/faculty ratio also appealed to her. "I thought that would help me develop as a professional."
Rider's Impact on Erin's Success
During her junior year, Erin became involved in DAARSTOC at the urging of program founder and management professor Dr. Mark Sandberg. The group's acronym stands for Developing Administrative Abilities and Resources Through the Synergistic Training & Organizational Competencies.
She credits the experience with teaching her to think on her feet, articulate ideas and handle difficult situations. "It shaped me as a person. I gained confidence and experience," says Erin. "I always did well academically, but DAARSTOC taught me valuable soft skills — how to work with individuals and collaborate as part of a team. It gave me public speaking experience and was a great résumé builder."
Continued Success
Also as a junior, Erin took part in the prestigious and highly competitive Johnson & Johnson Case Competition. The national program provided valuable experience in dealing with the same real-world problems encountered at the pharmaceutical company, she says. It also helped pave the way for a finance co-op at Johnson & Johnson during her senior year. "It was extremely helpful to interact and network with other professionals. I developed crucial skills — critical thinking, analytical and problem-solving — and learned to apply them outside the classroom," Erin says.
Shortly after graduation, Erin began her career at Bloomberg LP through the Global Data Training Program and was soon placed in the Mortgages department as a mortgages new issuance data analyst. She managed key projects, developing and standardizing mortgage new hire training materials, structuring a 10-week mortgage intern program, and developing and facilitating customer service training for 600-plus data employees. Two years later she transitioned into campus recruiting, which allowed her to help undergraduates uncover their true potential. Her passion for training, development, and attracting and retaining the best and the brightest led to her current position in Diversity & Inclusion. She now creates training curriculum that facilitates thoughtful dialogue around diversity, inclusion, and unconscious bias. Erin attributes much of her success to skills she developed in DAARSTOC and because of this, often returns to Rider to volunteer at events, including DAARSTOC roundtable discussions. "It's big part of who I am. That's why I'm giving back." Her DAARSTOC experience also inspired her to seek continued personal and professional improvement. She recently traveled to Bali for Kute Blackson's Boundless Bliss: The Bali Breakthrough Experience focused on spiritual and personal growth.
A Developing Leader
Erin was involved in four extracurricular activities at Rider, including DAARSTOC. She also held a leadership position as treasurer of the Equestrian Club.

2
Erin had two internships, including a six-month finance co-op at Johnson & Johnson.

30 Days to a Job
One month after graduation, Erin went to work at Bloomberg LP as a mortgages new issuance data analyst.
One of my favorite quotes is "life begins at the end of your comfort zone." Rider helped me realize that the more I push myself and the more uncomfortable I feel, the greater the return and growth I experience.
Finance, Management and Leadership