Peer-to-Peer (P2P) MENTORING
What is P2P MENTORING?
Rider University's Peer-to-Peer (P2P) MENTORING program promotes students' success and persistence toward graduation. Peer-to-Peer mentoring is an opportunity for first-year students of color to be plugged into a community of peers. Participants will have the opportunity to be mentored by juniors and seniors. In addition to a mentoring experience, students will have weekly programming to ensure that they are engaged on campus.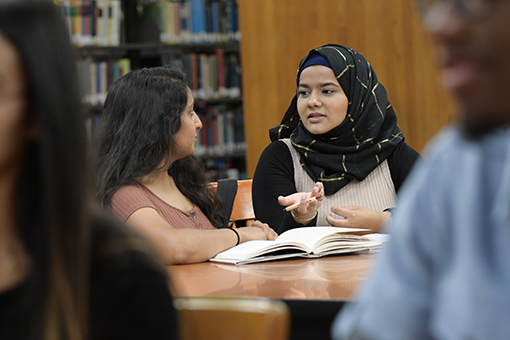 Mission
The mission of P2P MENTORING is to foster encouragement and support for full time first-year students of color, including Black/African Americans, Chicanx/Hispanic/Latinx, Asian/Asian Americans, Native Americans, Hawaiian/Pacific Islanders, and Multi-Ethnic, empowering them through peer-to-peer mentoring and engagement with juniors and seniors in their first year, enabling them to persist in their college experience through to graduation from Rider University.
Benefits for the Mentor
Earn engaged learning points
Improve communication, interpersonal, leadership skills
Reinforce study skills
Increase confidence/motivation
Enhance resume/references for employment opportunities
Expand network (peers, faculty, staff/administrators, alumni)
Gain recognition
Develop personal growth and fulfillment
Receive stipend
Who may participate as a mentor?
Rising full-time junior and senior students of color with a cumulative GPA of 3.0 or higher and an application with a reference.
Benefits for the Mentee
Gain practical peer advice, encouragement, and support
Develop study and personal management skills
Increase academic and social confidence
Be empowered to make independent decisions
Learn strategies for dealing with personal/academic matters
Get motivated to set goals and establish a plan to meet them
Acquire insight into the next stage of the college process
Build network (peers, faculty, staff/administrators, alumni)
Earn engaged learning points
Who may participate as a mentee?
First-time students of color beginning in the fall who are not involved in EOP, SSS, Milestone Scholars, MSLI, Bonner, LEADCamp, Math Boot Camp, or STEM.
Where will the P2P MENTORING program take place?
Most of the training for P2P MENTORING will occur on the Rider campus. When possible, CDI will collaborate and/or merge with other departments (as in the case of the mentor training) and other mentoring seminars (as in the case of MSLI fall evening and spring afternoon seminars). Besides program orientations, mentor and mentee training, the following activities will be implemented into programming as seen on the attached proposed timeline.
Information sessions
Academic Success Center
College Readiness
Information Literacy
Time and Stress Management
Housing
Financial Literacy
Center for Diversity and Inclusion
Roundtables
Faculty, staff, and alumni of color
Faculty from same discipline/major
Seminars
Motivational
Informational
Educational
Intercultural activities
Field trips to foster cultural enrichment
Group bonding activities
Good citizenship practices
Campus cultural programs
Alumni Career Panels
Anticipated outcomes for P2P MENTORING participants
First-Year Impact
First-to-second semester persistence
Connection to Rider (peer-to-peer; major, faculty, staff and alumni)
Acclimation to the campus culture
Resourcefulness
Increased self-efficacy
Satisfactory academic achievement
Second-Year to Graduation Impact
Increased first-to-second year retention
Good academic and social engagement and progress
Continued persistence
Post-Graduation Impact
Increased number of students of color with a Rider degree
A diverse network of alumni and donors
Impact to the national number of students of color with a bachelor's degree
How to differentiate P2P MENTORING from the Multicultural Student Leadership Institute (MSLI) program
DIFFERENCES BETWEEN CDI'S TWO MENTORING PROGRAMS

Peer to Peer (P2P) MENTORING
Multicultural Student Leadership Institute (MSLI)
No early move-in
Early move-in – fall and spring semesters
The main goal is to build persistence to graduation
Leadership values primary focus; self-awareness, self-efficacy, and professional development
One full academic year – first-year to sophomore only
One full semester – fall term for first-year students; also available to transfer students in the spring and fall semesters
Peer mentor for one full academic year
Peer leader guidance for one semester
Weekly engagement for one full academic year
Engagement throughout one semester
No summer bridge week
Summer Bridge Week with a cultural trip
No cost to the participant
Participants pay a one-time fee of $200 to offset expenses for all engagement
No offsite Professional Development Training
Offsite Professional Development Training for one full weekend
Targets only students of color
Targets all students from diverse backgrounds
Ratio Mentor to Student - 1:1 or 1:2

Ratio Peer Leader to Student - 1:7
More faculty involvement in educational seminars during the entire academic year
Mentored by faculty, staff, alumni for one semester; additional support from student workers
A varied selection of field trips for cultural learning
One cultural field trip
Not eligible to enroll in IND350 Shadow Experience until after earning 30+ credits and a 2.5 GPA, usually in Sophomore year
May enroll in the IND350 Shadow Experience, a one-credit billable pass/fail course, during the second semester of the first-year at Rider, only if in MSLI.
Two Engaged Learning points earned for Mentors and Mentees for one full academic year (approximately 50 hours each semester).
Two points earned for one full academic semester (approximately 90-100 hours), including MSLI Summer Bridge Week. Also, opportunities to earn Engaged Learning Points, in addition to the MSLI program as a Participant, through MSLI Peer Leaders, MSLI PALS (Partners Assisting in Learning for Students), and MSLI Ambassadors.

The benefits of both mentoring programs are similar in scope.
Program Expectations
To have a more fulfilling and rewarding experience, participants of the program are required to meet the following expectations:
Mentors and mentees must complete an application. You will also be required to attend mentor or mentee training.
On a voluntary basis, mentors and mentees must serve in the program for a minimum of one year and for as long as your mentee is a part of the program. In rare instances, and on a case-by-case basis, mentees may request a change of mentor in an effort to find a more suitable match. The director must approve this change.
In order to earn Engaged Learning Points, mentors and mentees must engage in the appropriate number of hours as designated by Engaged Learning program requirements.
Mentors and mentees are expected to attend group activities and remain in contact with each other. In-person meetings and regular check-ups are required.
Executive Director, Center for Diversity and Inclusion
Bart Luedeke Center, Student Affairs Suite, Room 121
Assistant Director, Center for Diversity & Inclusion
Bart Luedeke Center, Student Affairs Suite, Room 136