SGA Officer Profiles
Ari Carrillo
SGA President
Class Year: Junior
Major: Music Education
Applied Teacher: Margaret Cusack​
Hometown: Philadelphia, PA

I'm listening to: My favorite album at the moment is a tie between the Monteverdi Choir's album of Bach motets and Chutes Too Narrow, an album released by my favorite band, The Shins.

Favorite book: Beloved by Toni Morrison

Why Westminster: I was between a lot of schools before I even considered going to Westminster. It was when I visited the campus and met the students for the first time that I realized this school was not like any other. Forgetting the facts of having world-renowned choral ensembles, internationally recognized professors, and being the absolute center of American choral music, immediately when I stepped onto this campus, I felt welcomed. And that feeling has never left me since then.

Fondest Westminster memory: My fondest memory of Westminster would have to be Schola Tour. It is a super long bus tour along the East Coast with the entire sophomore class. We sang at a variety of different venues all the way down to South Carolina and then back to Princeton. You learn quite a lot about people when you spend 24 hours (and more) on a bus with them. The whole tour reminded me how much I love my class and how every person at Westminster has their own beautiful personality. Every person comes to Westminster with a different story of where they have been and a different plan for where they will go. It was a wake-up call to me that all of these people, my peers, will be going off and living professional lives after this very brief moment in time. And all of these young professionals are working to be in the fields that they were born to work in, working toward jobs to be doing what they absolutely love every single day. Some will go off to the other end of the world and others will stay right here in New Jersey, but they all are going to share the beauty of music anywhere they end up. And right now, for the last time, we were all together, holding hands and singing the Lutkin Benediction. It was a holistic handful of days, and it is a memory that I will cherish for a very long time.
---
Paige Pendleton
SGA Vice President
Class Year: 2021
Major: Bachelor of Music in Music Education, Masters of Music Education with a focus in Music Theory
Applied Teacher: Mrs. Margret Cusack
Hometown: Pennsville, New Jersey
I'm listening to: I listen to a wide variety of music. I have a liking for really every kind of genre. But my go to genre would be the Oldies, including my favorite artists, Frankie Valli, Frank Sinatra, and Dean Martin.
Favorite Book: A Bend in the Road by Nicholas Sparks
Why Westminster: I chose Westminster because I loved the aspect of how small the campus was. This was and still is a great opportunity to have and build tight knit relationship with the students and the faculty. When choosing Westminster, it was really nice to know that I would not feel like just another student - lost or forgotten in a lecture hall on a bigger campus. It really feels like a home for me.
Fondest Westminster Memory: My fondest memory was participating in my first Reading and Carols performance. This experience was so beautiful and magical for me. Not only was it Christmas, but seeing the pure joy of my entire school making music together in one space was amazing and truly an honor to be a part of. I will never forget the pieces that we sang or the classmates that I stood next to. It will forever be a fond memory.
---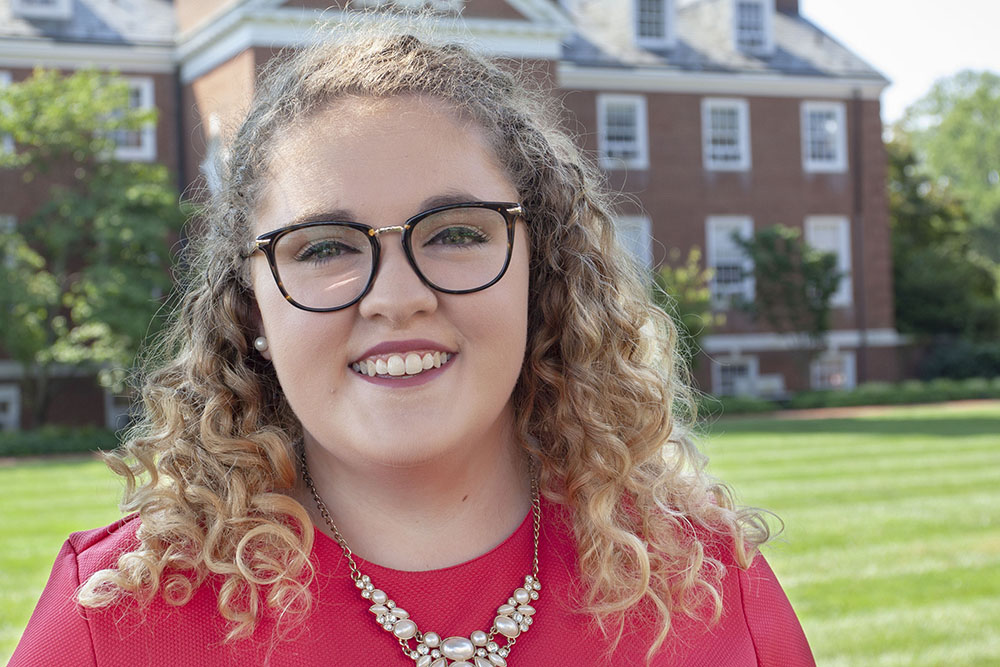 Rachel Woody
SGA Treasurer
Class Year: Junior
Major: Music Education
Applied Teacher: Sally Wolf
Hometown: Greeneville, Tennessee

I'm listening to: I'm currently listening to The Punch Brothers, classic Dolly Parton, everything Mama Mia, and of course there's some Mozart thrown in the mix.

Favorite Books: Paper Towns by John Green and To Kill a Mockgbird by Harper Lee are some of my favorites.
Why Westminster? When I came to Westminster for the first time during my senior year of high school, I just knew it was the right place for me. I felt so at home on campus and the people were so welcoming. When we left that day my dad said "well, I think she's found her tribe" and he was right. This place is so incredibly special and I could never picture myself anywhere else!
Fondest Westminster memory: My fondest Westminster memory is definitely the moment I found out I had gotten into Westminster Choir. Being a member of this choir had been such a big goal for me my entire life, so achieving it was very emotional for me. My friends and I ran to the top floor of Williamson Hall to check the roster for ourselves and then cried all night long because we were so excited.
---
NicolePaige Uvenio
SGA Secretary
Name: NicolePaige Uvenio
Class Year: Junior
Major: Music Education BM/MME
Applied Teacher: Lauren Athey-Janka
Hometown: Roxbury, NJ.
I'm listening to: My heavy rotation on Spotify currently has music from the 1975, ABBA, and Schumann.
Favorite book(s): The Great Gatsby by F. Scott Fitzgerald, Nineteen Minutes by Jodi Picoult, the Harry Potter series, and The Magic Strings of Frankie Presto by Mitch Albom (I couldn't pick!).
Why Westminster: The sense of community and pride that Westminster students experience is something that is so unique to our school. Everyone is so supportive and kind to one another! The opportunities that we get here and the faculty and staff we get to work with make choosing Westminster the most incredible decision of my life.
Fondest Westminster memory: I have endless fond memories from my time at WCC so far, but the most memorable has got to be a tie between the time I spent with the Williamson voices in Oxford, and when Chapel Choir and Schola combined to perform the Mozart Requiem with the Juilliard orchestra!