About the Department
The or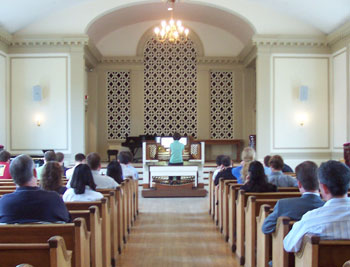 gan department at Westminster Choir College offers degrees for undergraduate and graduate students in Organ Performance and Sacred Music. Performance students study many facets of the instrument that include performance, collaborative skills, history, literature, and organ building. The Sacred Music degree offers courses in performance, collaborative skills, conducting, choral techniques, liturgy, and the history of sacred music. Both degrees are designed to prepare organists to be competitive as they pursue careers in church music, performance, and/or academia. Regardless of which path a student takes, they are required each semester to sing with one of the school's outstanding choral ensembles. These ensembles are frequently featured in performances in New York City and Philadelphia with acclaimed conductors and orchestras, providing our students unique educational and performance opportunities.
All degrees offered by the organ department have recital requirements: undergraduate performance majors give a recital in both their junior and senior years; graduate performance majors give either one memorized or two non-memorized recitals; and undergraduate and graduate Sacred Music majors present a half recital. Additionally, students perform several times each semester in performance class and participate in studio recitals. Students are also encouraged to participate in other solo or collaborative performances both on and off campus.
Aside from working with Westminster's organ faculty, students have the opportunity during their course of study to participate in masterclasses and private lessons with notable pedagogues and performers. Recent guests have included Olivier Latry, Todd Wilson, Cherry Rhodes, and Joan Lippincott.
Organ students at Westminster often hold a part-time position at a local church. The faculty is very supportive of these positions as they offer a student valuable opportunities to lead congregational singing, accompany and direct volunteer and professional ensembles/soloists, participate in worship planning, and further develop their collaborative skills.
The nature of our department is a supportive one, exhibited by both the faculty and students. We strive for collegiality in all areas, not only respecting but supporting and learning from one another. Students are encouraged to play for one another, discuss interpretations and style, attend concerts together, challenge ideas in a productive manner, and finally, to applaud the achievements of the entire Westminster Choir College community.