Image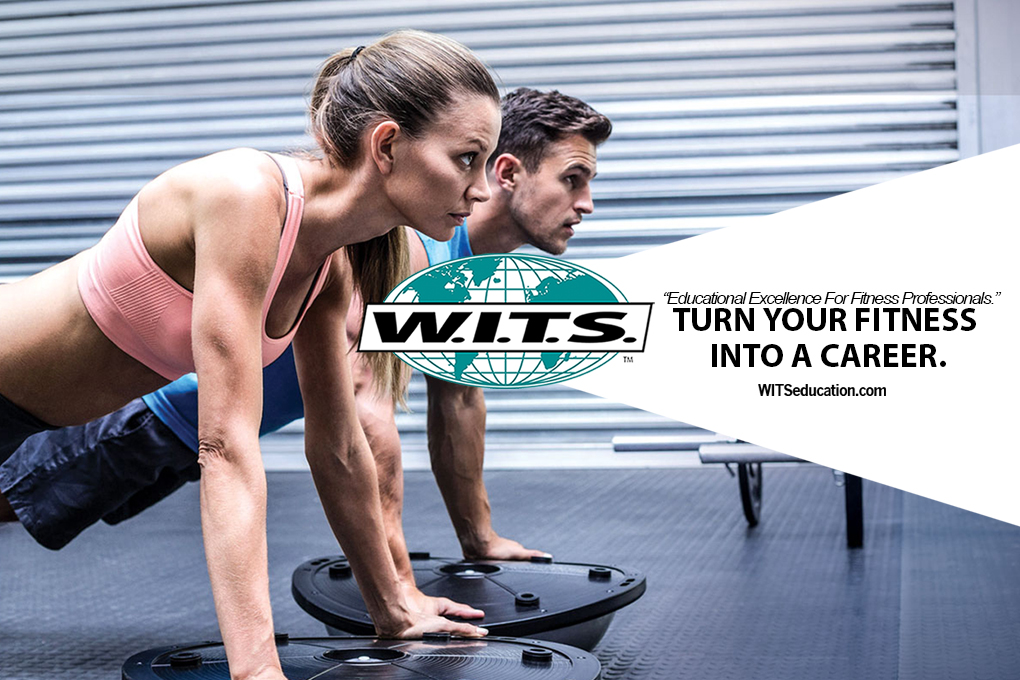 Certified Personal Trainer Informational Webinars
This webinar is geared for students interested in taking the Certified Personal Trainer Course Program. Hosted by a veteran W.I.T.S. instructor, prospective students will gain an understanding of the program curriculum and the fitness industry.
Cost and Course Registration
$599.99
Registration deadline: check back for upcoming course dates
View More Information
Certified Personal Trainer Course Overview
Get all the information needed to start an exciting fitness career and become a nationally Certified Personal Trainer. Our personal trainer course is a great way to become a successful Certified Personal Trainer with an option to complete an employer internship that can walk you into jobs! This challenging course will hold LIVE lectures with a veteran W.I.T.S. instructor and LIVE in-depth, hands-on practical labs to master the essential career skills & knowledge.
The course consists of:
15 hours of lecture on key topics like:
biomechanics
exercise physiology
fitness testing
equipment usage
health assessment
15 hours of hands-on practical training labs with role-playing drills on:
assessing clients
programming
performing proper exercises
presentation skills
What's included
Included in this course is:
a complete 200-page student workbook
access to online student study tools
test vouchers to take the Certified Personal Trainer exams
You can work right after passing the exams with proof of CPR/AED to obtain your Level 1 Certified Personal Trainer. As a special bonus, you can take advantage of our 30-hour employer internship to get our advanced Level 2 Certified Personal Trainer credential at no additional cost!!
*Students are required to purchase a textbook prior to the first day of class.
Contact W.I.T.S at 1-888-330-9487 or www.witseducation.com to order your book. The Fitness Professional's Handbook-7th Edition with Web Resource ISBN-13: 9781492523376 is currently available for purchase from W.I.T.S at $89.95 including shipping. An e-book is also available for purchase through W.I.T.S at $53.00: ISBN-13: 9781492535935. The publisher is Human Kinetics. Or you may order the text: Fitness Professional's Handbook, 7th Edition with web resources (ISBN-13: 9781492523376) online at Amazon.com.
Program Accreditation
This program is accredited by the National Commission for Certifying Agencies (NCCA), the gold standard for certification programs and W.I.T.S. is an approved CEU provider for the National Certification Board for Therapeutic Massage and Bodywork (NCBTMB), the International Association of Continuing Education and Training (IACET) and the American Council on Education (ACE) has recommended 3 undergraduate academic credits for this course.
Workshop Curriculum
Lectures (15 hours)
Exercise Physiology
Fundamentals of Anatomy
Biomechanics and Applied Kinesiology
Health Screenings
Fitness Testing
Cardiorespiratory Fitness and Exercise
Muscular Strength and Endurance
Flexibility
Practical (15 hours)
Fitness Assessments
Client Rapport
Biomechanics of Exercise
Equipment Usages
Weight Training Techniques
Certification Requirements
Proof of current CPR (for issuance of certificate)
Attendance at 4 of the 5 weeks of the course
Passing grades on both the written and practical exams
Completion of 30-hour practical internship
Class Prerequisite: Must be at least 18 years of age and have received a high school diploma or GED certificate.
Course Dates and Times
University Athletic Management (UAM)/Rider University
Lawrenceville, NJ
Lecture & Practical
Check back for upcoming course dates.
Certification Exams: N/A
Intro and Testimonials