Mercer County Community College - Student Residents at Rider University
STUDENT HOUSING
AT RIDER UNIVERSITY FOR MCCC STUDENTS
STUDENT HOUSING
AT RIDER UNIVERSITY FOR MCCC STUDENTS
STUDENT HOUSING AT RIDER UNIVERSITY FOR MCCC STUDENTS
As a student attending Mercer County Community College, you can now experience university campus life through a special program with Rider University.
As a resident student at Rider, you'll enjoy:*
Reduced room and board
Rider will offer you a significant housing grant toward your room and board. A shared room and weekly 21-meal plan are available at the reduced cost of $5,640 per semester — a $2,000 savings per semester from the regular cost of $7,640, for the 2018-2019 academic year.
Full access to campus resources
Your Rider ID will give you access to the campus library, gym, athletic center, pool, food venues, campus events and other opportunities.
Future reduced tuition and housing rates
If you decide to continue your bachelor's degree at Rider after earning your associate degree at Mercer, Rider will offer you a guaranteed 40% tuition discount over its regular tuition rate.
Additionally, you will continue to receive a $2,000 housing grant toward your room and board
*Please note: these prices are for the 2018-2019 academic year.
---
CAMPUS LIVING AT RIDER UNIVERSITY
On-Campus Housing for Mercer County Community College Students
The Benefits of Campus Living at Rider
You will instantly become part of a welcoming college community: You'll love living and interacting with students on Rider's Lawrenceville Campus, where you'll make connections and form friendships that will last a lifetime.
Your life will have less stress: Campus living at Rider eliminates the demands and responsibilities of renting an apartment. You won't need to shop, cook your meals every day, or worry about paying your monthly bills for electricity, gas and rent.
You will have access to the resources of a major university: As a campus resident, you can take full advantage of Rider's library, study areas, exercise and sports facilities, and dining halls. You will be encouraged to participate in Rider's 150 student clubs and organizations, intramural sports, and on-campus events — from concerts, musicals and plays to art shows and guest lectures by leading business executives, artists, authors, politicians and educators.
Commuting to Mercer is easy: Rider is just 12.8 km (8 miles) from Mercer County Community College. A free shuttle bus makes travel between the two campuses convenient and easy.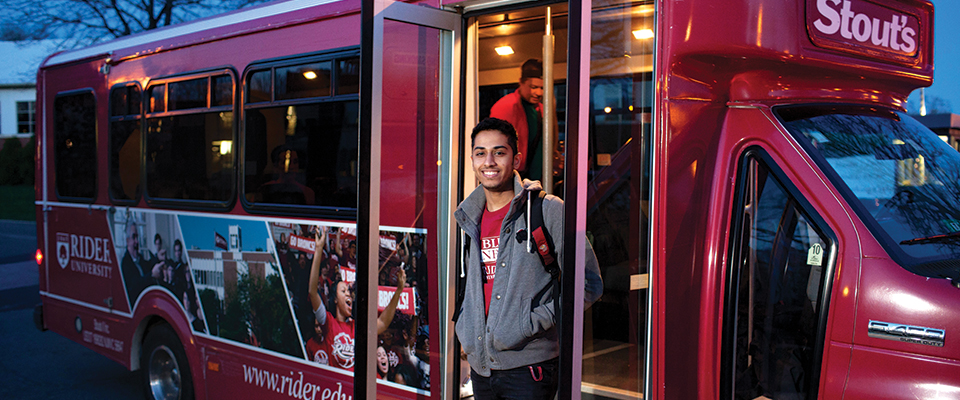 ---
TO APPLY
Download the Mercer Student Housing application (PDF) and once complete please send to the Office of International Auxiliary Programs.
Scan and email your completed application to [email protected] or send to:
Rider University
International Auxiliary Programs
SRC 215
2083 Lawrenceville Road
Lawrenceville, NJ, USA 08648-3099
Housing availability
Students will be notified after May 1 of housing availability for the fall semester.
---
For admission to Mercer County Community College, contact:
Nicole Hover
Coordinator of International Student Services
609-570-3623
[email protected]
For information on living at Rider University, contact:
Director of International Auxiliary Programs