Raising Rider's Profile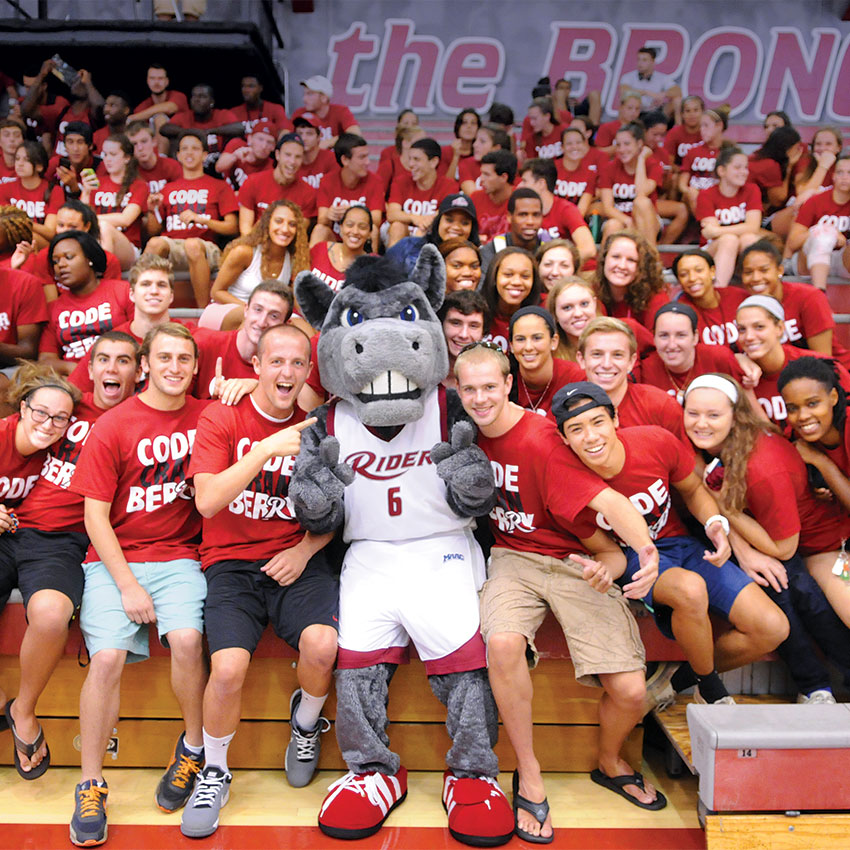 STRATEGIC THEME
Raising Rider's Profile
Promoting our image and value to the outside world through branding and marketing is vital to attracting students and building a more enduring sense of "Rider Pride."
BENCHMARKS/KEY PERFORMANCE INDICATORS
Full-time undergraduate enrollment will increase 12% or 438 students(from 3,743 in fall 2016 to 4,181 in fall 2021)
Graduate enrollment will increase by 7% or 1,000 credits (from 13,038 in fall 2016 to 14,009 in fall 2021)
Freshman to sophomore retention will increase to 85% by fall 2021, up from 78% in fall 2016
The resident student population will increase 17% to 2,540 by fall 2021, or 61% of our full-time population. This is up from 2,177, or 58% of our full-time population, in fall 2016
The 4-year graduation rate will increase to 65% for the fall 2017 entering cohort, up from 57% for the fall 2012 entering cohort
Alumni giving will increase 33% by the end of the Campaign, to 12% by 2024, up from 9% in 2017
Alumni engagement will increase as measured/evidenced by increased membership on advisory boards
Local and regional media/social media exposure will increase
---
GOAL
Build a dynamic marketing program that integrates marketing, advertising and public relations strategies to raise the University's profile, position Rider to be a university of choice for students and employees, with name recognition and brand awareness, and emphasize Rider's value proposition.
Action Plans
Define and implement key messaging around engaged learning, the proposed new advising model, student outcomes, and other strategic priorities to demonstrate Rider's value proposition. Key messages should be driven by an external brand study and internal feedback. Promote the Rider PROMISE.
Develop and implement marketing and communication plans for key constituencies in collaboration with subject matter experts, expanding awareness of the University both locally, regionally and beyond. Constituencies include prospective and current students (traditional and non-traditional), parents, alumni, donors, faculty and staff, external media, government, business leaders and employers, influencers and other specific audiences (e.g., those attending athletic competitions, theater productions and other performances, and Rebovich Center events).
Ensure consistency in brand awareness and messaging across the institution through a variety of tools and resources (i.e. guidelines, talking points, graphics standards).
Establish a university-wide team, comprised of staff and faculty, to assist with the development, implementation and assessment of marketing and communication plans. Establish assessment benchmarks, outcomes and reporting tools.
Strengthen the promotion of Rider's Division I athletics programs. Establish the capability to provide ESPN level quality in house-produced video broadcasts of events and competitions in concert with the new Sports Media major. In addition to strengthening athletics promotion, this will increase the number of on-campus experiential opportunities for students in this and other sports and communication related majors. This investment should also facilitate the broadcasting of other events throughout the University including, among others, theater productions and speaker series.
Identify, market and promote pillars of excellence across the institution. These should include the best that Rider has to offer in terms of academic and other programs. Marketing of these programs should be consistent, cohesive and enhance Rider's reputation and name recognition.
Encourage and support faculty and staff as ambassadors of the University. Offer talking points, strategies and engagement activities that align closely with Rider's strategic themes, mission, vision and values.
---
GOAL
Build deep, long-lasting and loyal relationships with alumni and the broader external community to strengthen their connections to the University and place Rider prominently at the center of community life.
Action Plans
Engage students and parents early and frequently throughout students' time at Rider as the starting point for lifelong engagement. This could be in the form of, but not limited to, participation in hallmark campus events; communications that highlight/showcase student, faculty and staff achievements; and discussion of issues that influence student success (i.e. diversity, financial aid, academic rigor, engaged learning, high impact practices).
Promote life-long learning opportunities and partnerships that position Rider as a center for life-long engagement in living, learning and well-being.
Utilize alumni as mentors who provide networking, career guidance and engaged and/or experiential learning opportunities for students. Expand roles for students on the Alumni Board of Directors, creating ever stronger linkages between our alumni and students, our "alumni-in-residence."
Promote regular and active communication with alumni. Extend Rider email access beyond graduation. Coordinate and centralize alumni contact and other data across the institution. Include alumni more directly in university planning and programming. Continue to recruit more alumni to serve on college, school and program-based advisory boards. Showcase alumni achievements via social media, the website and other forms of communication. Extend career development services to alumni through job listing access, resume and other skill building and professional networking events and opportunities.
Build partnerships with local and regional community organizations while also promoting community engagement and civic responsibility among students, faculty, staff and alumni (i.e. serving on local boards, participating in service projects). Work with the Bonner Community Scholars Program, the SGA Community Service Committee, and Campus Compact in this regard. Consider a freshman class project and encourage faculty to connect classroom learning to the community.