1940s
Howard Albrecht '48 and Bernice Freedland Albrecht '47 have been married for 67 years this year, and as Howard writes, "We're still the same wide-eyed Rider College students who met in the hallways of the old State Street building. Only now at 90 and 88, we have to keep our eyes open even wider or we wouldn't see anything at all..." During his career, Howard wrote for the likes
of Bob Hope, Dean Martin, Milton Berle, Allen King and Jonathan Winters and is the author of several satirical books. He continues to write his joke blog, Funny Stuff from the Gags Gang.
1960s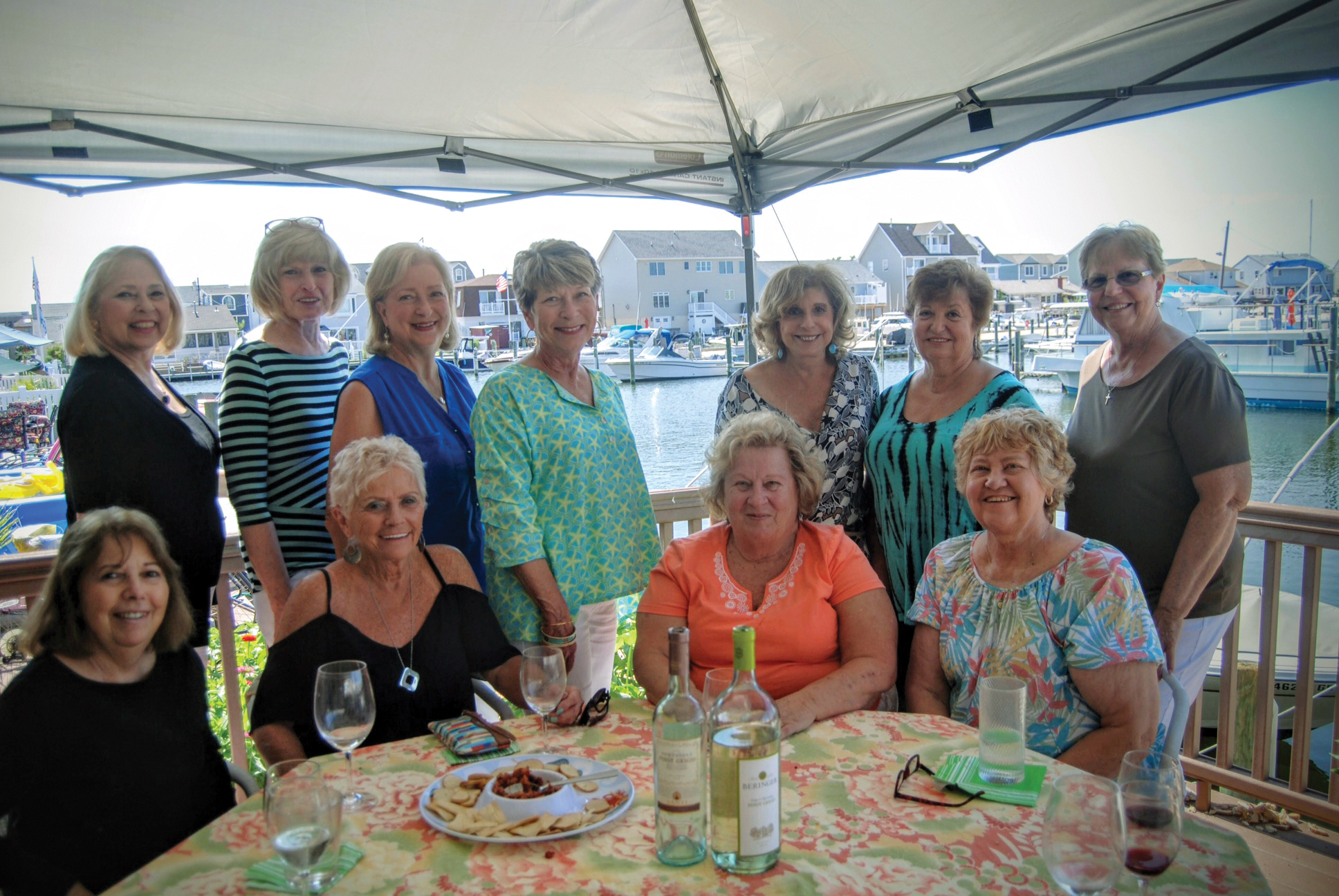 Several alumnae from the Zeta Mu Epsilon sorority met for an informal reunion on July 18, 2015, in Chadwick Beach Island in New Jersey. Pictured standing left to right are Rosemarie Falcone Albanese '62, Joan Bula Travis '62, Mary Ann Panek-Koutsis '64, Judy Wright Troia '63, Cathy Alibrandi Zupko (host), Judy James Kelly '64 and Carol Kunz D'Iorio '64. Seated from left to right are Carol McMaster Wenzel '62, Fay Lyons, Judy Holmes '63 and Marie Polinsky Barrett '63.
1970s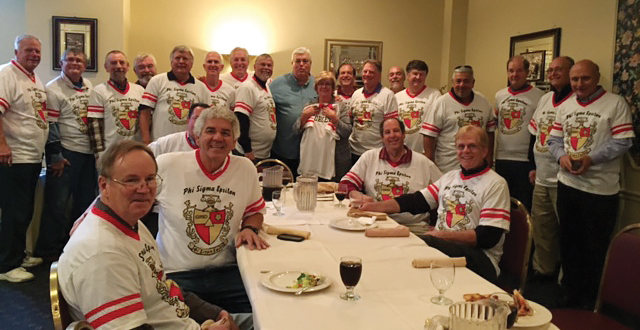 Twenty-two Rider Phi Sigma Epsilon brothers from the classes of 1970 through 1974 got together in Wanaque, N.J., on Oct. 3, 2015, to honor Nick Gretina, the son of Jim '72 and Georgette Gretina, who passed away 10 years ago of congenital heart disease. The Gretinas have helped raise money for the Hope With Heart camp for children with heart problems, where Nick had become a counselor. Originally scheduled as a Wiffle Ball tournament, the event was disrupted by Hurricane Joachin, but the frat brothers still managed to make it to Wanaque from as far away as Montana, California, Florida and South Carolina to surprise Jim and Georgette. During the reunion, more than $4,000 was raised for the camp. The photo shows the brothers in their replica 1970's Phi Sig Bearcat football jerseys. Rider alumni who wish to donate to the camp can send donations in Nick's honor to: Hope With Heart, c/o Alissa Gretina,
22 Wolfe Drive, Wanaque, NJ 07465.
John Bushby '70 has published his sixth novel, The White Raven, which is the third in the Harry Braham series of espionage novels set in the period just before World War II. He is now at work on his seventh novel, Revenge of the Dragon Lady, which is due out in fall 2016. All his books are available through amazon.com.
Marc P. Palker '73 became the IMA new chair-elect July 1, 2015. IMA is the worldwide association of accountants and financial professionals working in business. As chair-elect, he will be a member of the Governance Committee and will chair IMA's Planning and Development Committee.
1980s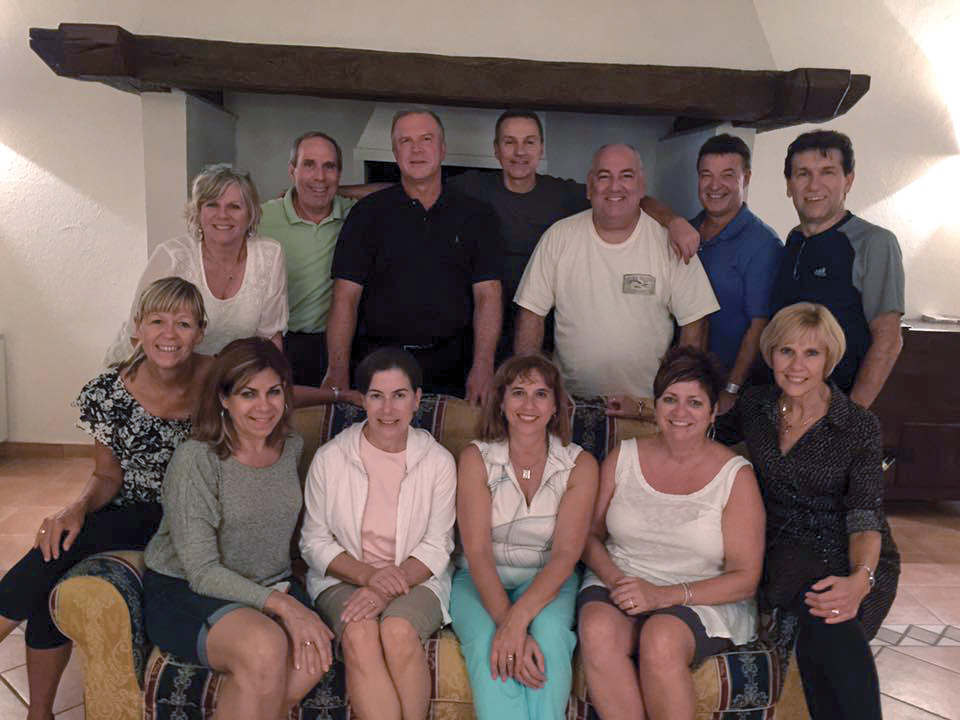 Several alumni who graduated in the 1980s recently reunited in Italy. All of the men lived in Switlik during their time at Rider. The alumni pictured from left to right are Rico Scardelletti '82, Victor Hrudowsky III '81, Bruce Brodowski '81, '88, James Palmere '81, '87, Dan Musicko '81 and Ruben Rivera '81. The alumnae are Marybeth Rossi Brodowski '82 (in the pink shirt) and Donna Robbins Scardelletti '83 to her right.
Tony Rodio '80 received the Scouting Distinguished Citizen Award at the 21st Annual Distinguished Citizen Award Reception in Atlantic City. The Distinguished Citizen Award is presented annually to individuals who share Scouting's belief in leadership, determination and values, and have contributed significantly to the growth and vitality in their local communities. Funds raised by the event support the delivery of youth leadership training and character development programs to more than 3,000 youth across Atlantic County.
Karen Schuessler Bognar '83, '89 sent this photo of a group of friends from Ziegler B second floor who met for lunch at Daly's on Sept. 20, 2015, to reminisce and tour the campus. They also gathered at the tree planted in memory of Judy Rotholz Remington '80, who passed away in September 2011, to share memories of Judy and her roommate Debra Crimi Fellows '80, who passed away in 2012. Standing, from left to right, are MaryAnn McFadden Grow '81, Judy Brenner Kaplan '82, Carol Linneman Cirasa '81, Lisa Colon Lyons '79, Debra Francis Matty '82, and Karen Schuessler Bognar '83, '89. Kneeling, from left to right, are Carol Duttweiler McHale '81 and Debra Eaise Malony '79.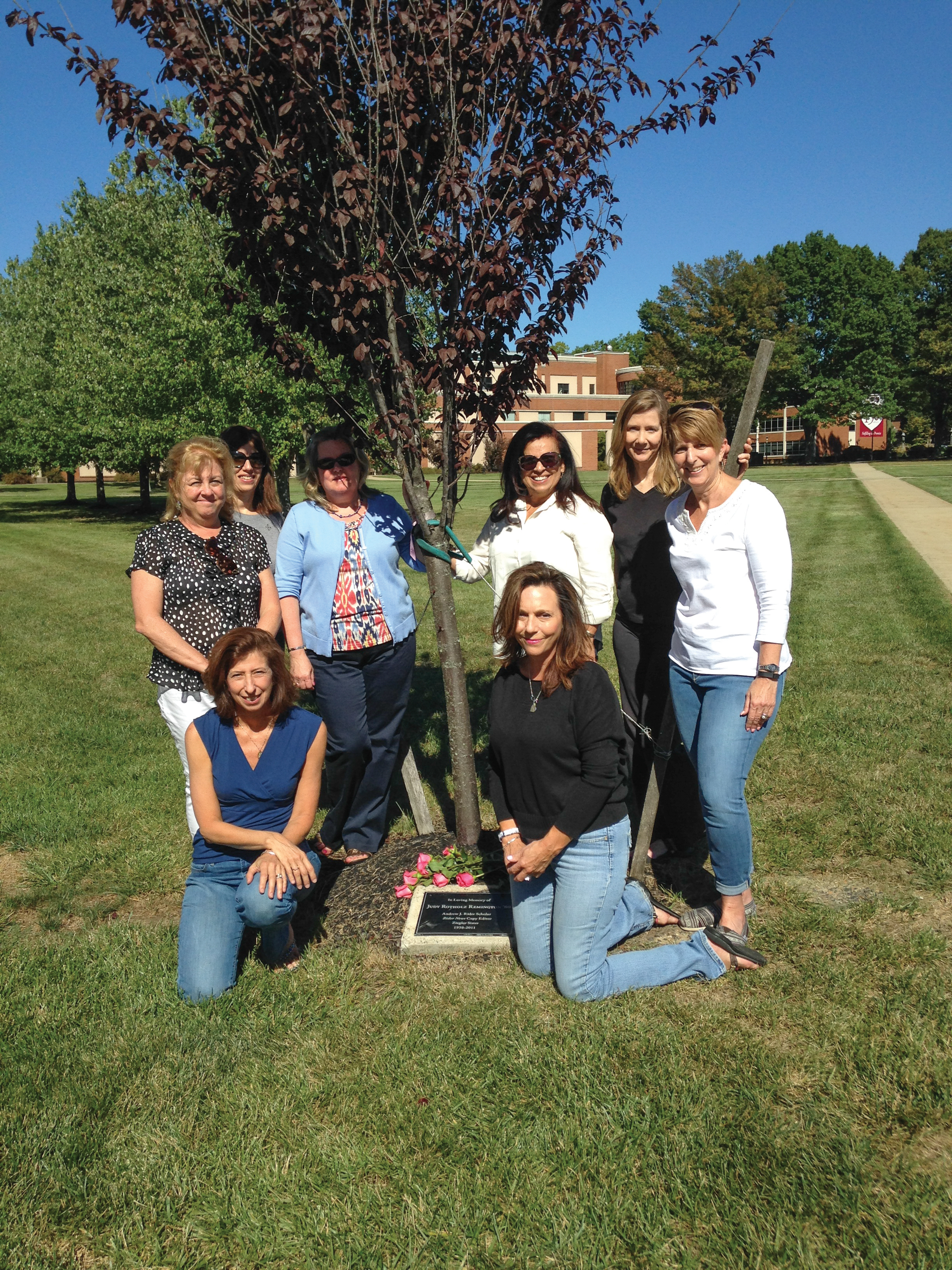 Lori (Spector) Krein '83 recently accepted a contract position with Google. Krein graduated from Rider with a degree in decision science and received her Master of Science degree in organization development from Johns Hopkins University. After 15 years with AT&T, Krein worked for numerous companies as an independent contractor in corporate training. Her main responsibility at Google is teaching new manager training classes in Mountain View, Calif.
Mark Oberndorf '83 presented several of his oil-on-linen canvases in a yearlong exhibit at the Middlesex County Museum's Cornelius Low House. The exhibit pays homage to New Jersey's classic diners, which have long been an inspiration to Oberndorf. For more information, visit www.bendixdiner.blogspot.com.
Charlene Vogt-Gerbig '83 ran a 5K in Closter, N.J., over Labor Day weekend as a memorial to a fellow Rider alumnus who was lost on 9/11, Dominic Mircovich '83.
Clare Hart '86, CEO of SterlingBackcheck, one of the largest background check companies in the world, was recently included at the top of the list for Inc. 5000's fastest growing woman-led companies. Hart oversees more than 2,800 employees across 10 cities in five countries.
Annette Opalczynski '88 is the author of a new chapbook of poems titled Friends and Family (Evening Street Press). Opalczynski received her bachelor's in English from Rider College. More information about Opalczynski and her book can be found at eveningstreetpress.com/annette-opalczynski.html.
Eric Jacobs '89 has been named senior vice president of Corporate Development at Cox Automotive. In this position, Jacobs will lead strategic business development across Cox Automotive, including mergers and acquisitions. He will also continue to create partnerships that will further the success of Cox Automotive's client portfolio.
Sherry L. Smith (Schell) '89 launched Design Elements TV on her local NBC affiliate WGAL TV 8 last April. Smith is the founder of an interior design business called Design Elements. For more information, visit www.designelementstv.com.
1990s
Robert C. Maguire '94 and Julia C. (Oliva) Maguire '95 and big sister Kiersten welcomed a baby girl, Emily Rose Maguire, on Oct. 18, 2014.
Samantha Iraca '95, '97 was elected president of The Lambertville Area Education Foundation in May 2015.
Colleen M. Rand '96, '99 and her husband, Ellsworth W. Rand III (Randy), recently retired to Surprise, Ariz., arriving in the Valley of the Sun in July 2015. They are loving the sun, warm weather and caring for Randy's mom, Anne D. Rand.
Lori LoPresti-Bruhns '97 is the owner of www.LoriBruhns.com, a North Carolina-based productivity consulting company. She works with individuals, companies and organizations in North Carolina and around the U.S., such as Duke University Medical, SAS and the N.C. Association of Realtors, training them on how to achieve personal and professional rewards through productivity. She is also a past president of the Alpha Xi Delta Alumnae Association in the N.C. Triangle.
Missy Balmir '98, a former SGA president, was honored at an event in September 2015 that recognized her as a trailblazer for Pam's List, a New Jersey-based organization that supports Democratic, pro-choice women to the New Jersey State Legislature.
2000s
Jennifer A. Kavlick '01 married Richard T. White on Sept. 25, 2015, at Washington Crossing Inn in Washington Crossing, Pa.
Glenn G. Robbins '02, principal at Northfield Community Middle School in Northfield, N.J., was one of three principals to receive the Digital Principal Award, a national award given annually by the 2016 NASSP Digital Principals. This award honors those who exhibit bold, creative leadership in their drive to harness the potential of new technologies to further learning goals. At Northfield, Robbins has ensured that technology is a ubiquitous element of a larger culture of innovative student-
centered learning focused on the mantra "Becoming Life Ready." Students also control their own learning pace on Northfield's gamified learning management system. Read his blog at connectedleadlearner.blogspot.com.
Erica (Bolinski) Sapio '03 and husband AJ Sapio '03 welcomed Emma Jane Sapio into the world on Aug. 4, 2015. She is their third child and has been welcomed by her two older brothers, Benjamin and Ryan.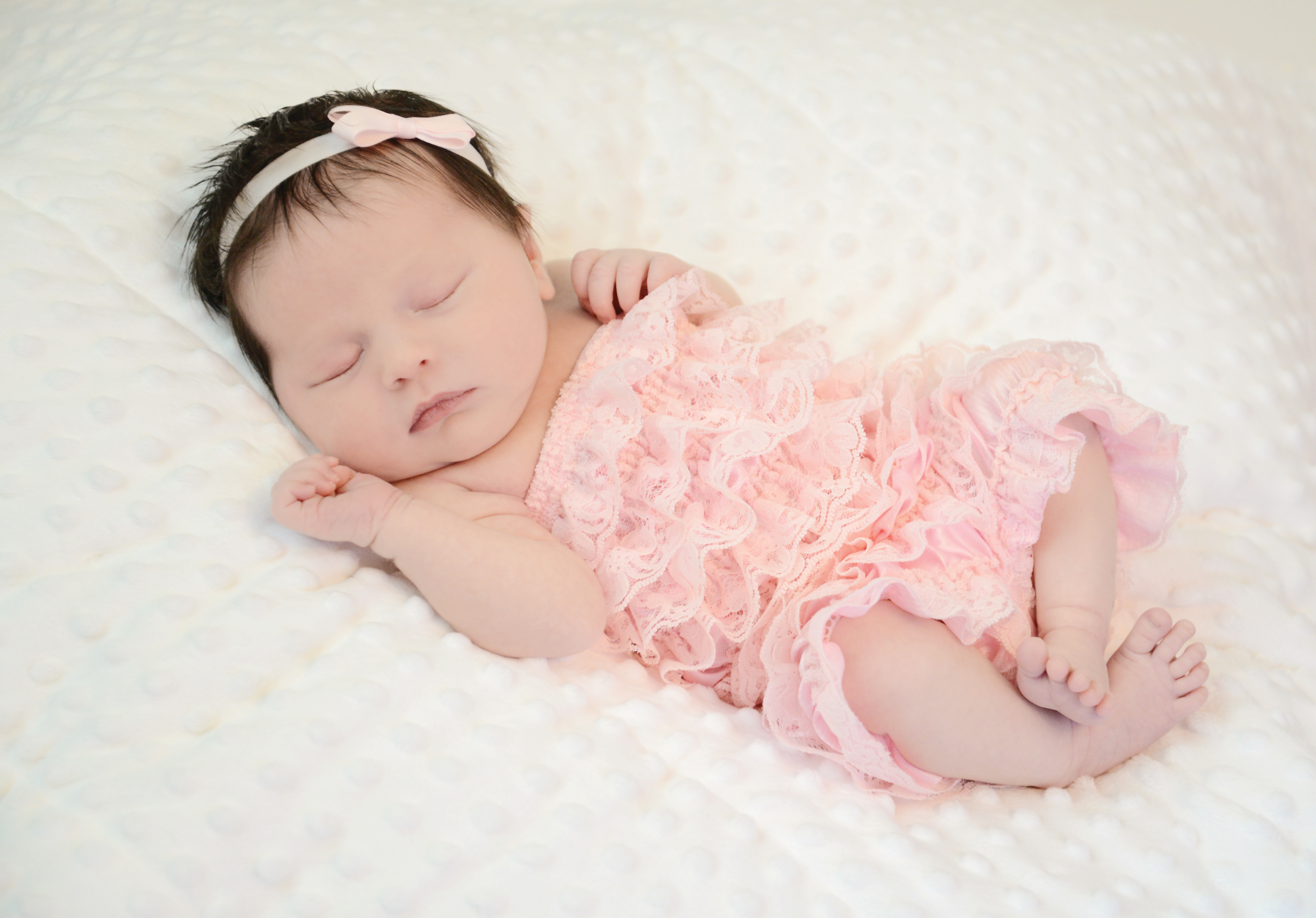 Alexandra Alazio '04 is an associate director of client solutions at about.com, creating campaigns for a diverse list of clients including Intel, Walgreens and Clorox.
Heather "Cali" (Beintema) Farley '06 and wife Jamie Farley '06 named their first son after their alma mater. Rider John Farley was born in July 2015. Heather, who was honored last year by being inducted into the Athletics Hall of Fame, and Jamie both played on the softball team at Rider. They can't wait for Rider to learn about the university he is named after.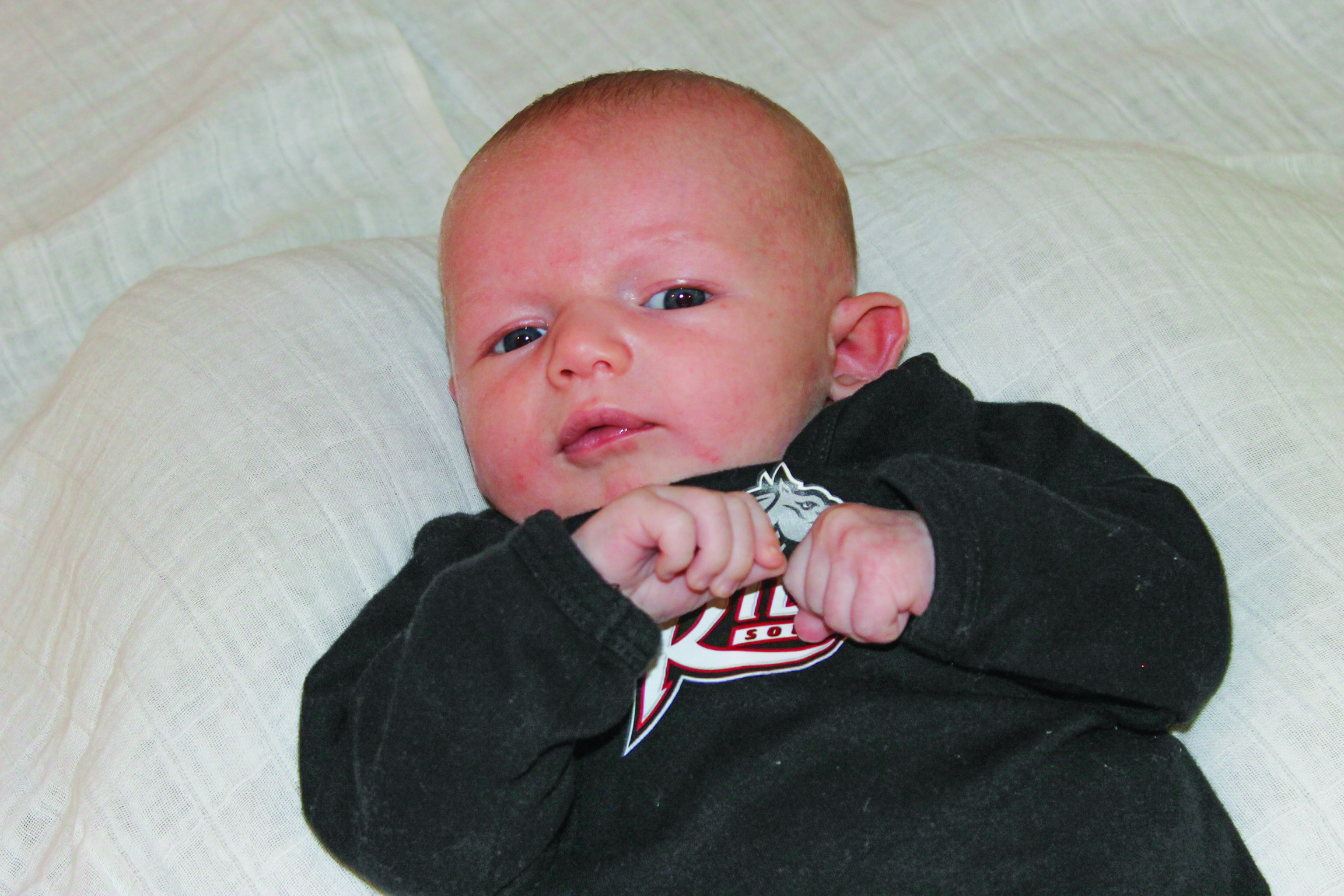 Michael L. Caputo '07, Nicole Southern Caputo '07 and their son, Brandon Michael Caputo, are thrilled to announce the birth of Kayla Melanie Caputo, who was born in June 2015.
Leaslie Carr '08, MBA, assumed the role of marketing manager for AAK, one of the world's leading manufacturers of high-value-added specialty vegetable fats, in May 2015.
Dylan T. Hastings '09 graduated from Rutgers University School of Law - Camden in May 2015.
2010s
Kenneth L. Jacobs '10, is founder and executive director of the Urban Leadership Education and Development Institute, which he started in 2014. While at Rider, Jacobs became interested in leadership and the theories of leadership, and he graduated with an exemplary academic record as well as a B.A. in journalism with a minor in law & justice, and a certificate of leadership. Currently, he is pursuing his master's degree in legislative affairs and a certificate in political action committees and political management at George Washington University. To learn more about his organization, visit www.uleadinstitute.org. 
Cristina DiMuro '11 married Michael Trnik on June 27, 2015, in Trumbull, Conn. The couple met while performing together in La Boheme shortly after Cristina graduated. In attendance were the following friends and Westminster alumni (from left to right): Frank Pisaturo '12, Andrew Brothers '11, Bobby Stubbs '12 and Jodi Zhao '11 (maid of honor). Jodi and Andrew played musical roles in the nuptial mass.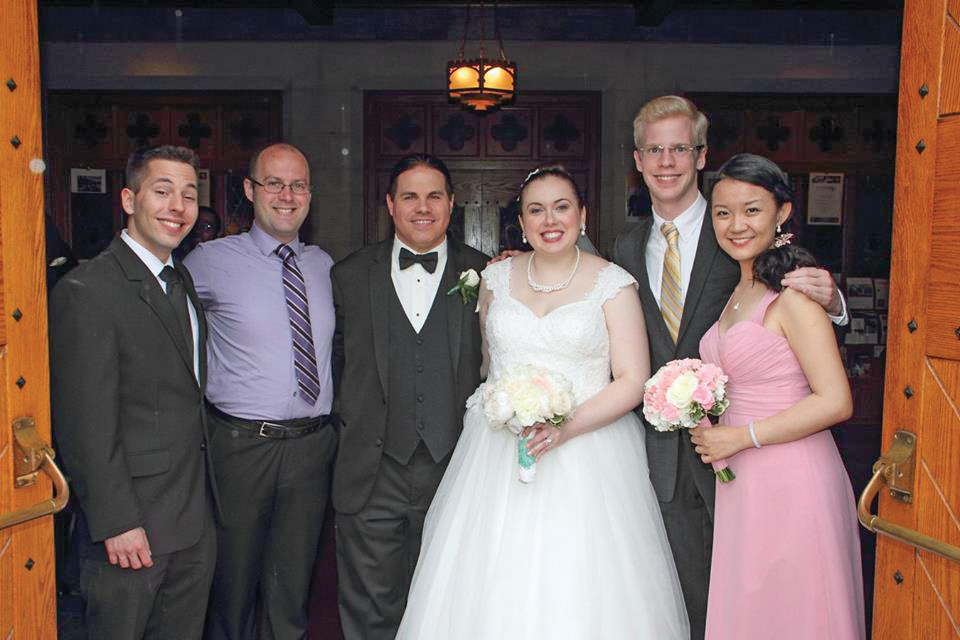 Angela Cleveland '11 published two therapeutic children's books, Peter's Special Concoction: How a Little Boy Learned to Manage Type 1 Diabetes and I'm No Scaredy Cat...But I'm Afraid to Go to School! The latter addresses the challenges children and families face when a child is diagnosed with generalized anxiety disorder or school refusal. Angela incorporates multiple creative strategies to help children, their families and school counselors.
G.N. Shah '13 recently gave a keynote presentation about offshore development at the ASI CTO Summit.
Eugene Marsh '14 attended a reunion on Oct. 17, 2015, with veterans that he served with in Vietnam between 1968 and 1970. The reunion was held in Exton, Pa., at the Wyndham Garden Exton Valley Forge Hotel.
Jeremy Chaudet '15 owns five rental properties with the goal of expanding. He studied finance and international business and believes his studies at Rider helped him succeed. After graduation, he obtained an MBA in finance from Saint Joseph's University while working in the mortgage industry and building his business.
Send your class note to [email protected] to be included in the next issue of Rider magazine!