Walter Brower, '48 — who worked with four of Rider's six presidents during his 45 years on the University's faculty (including 21 years as dean of the School of Education) — remembers feeling "electrified" when he heard Mordechai Rozanski's inaugural convocation addresses.
"When Mort shared his vision of where he wanted to take the University, the proud history we would build upon and the new infrastructure we would create, he was speaking to our dreams, too," says Brower, the author of two definitive histories of Rider. "He urged us to look to the opportunities of the future. He also told us, 'I can be a leader, but I cannot do it alone. I need your help and support.'"
That collegial, accessible approach would underpin the signature promise of Rozanski's 12-year tenure as president: in coming together, Rider University would do great things. "Mort has often said that universities are founded once, but continuously renewed," says Brower. "That's exactly what he's accomplished at Rider."
Beginning With a Blueprint: The Strategic Plan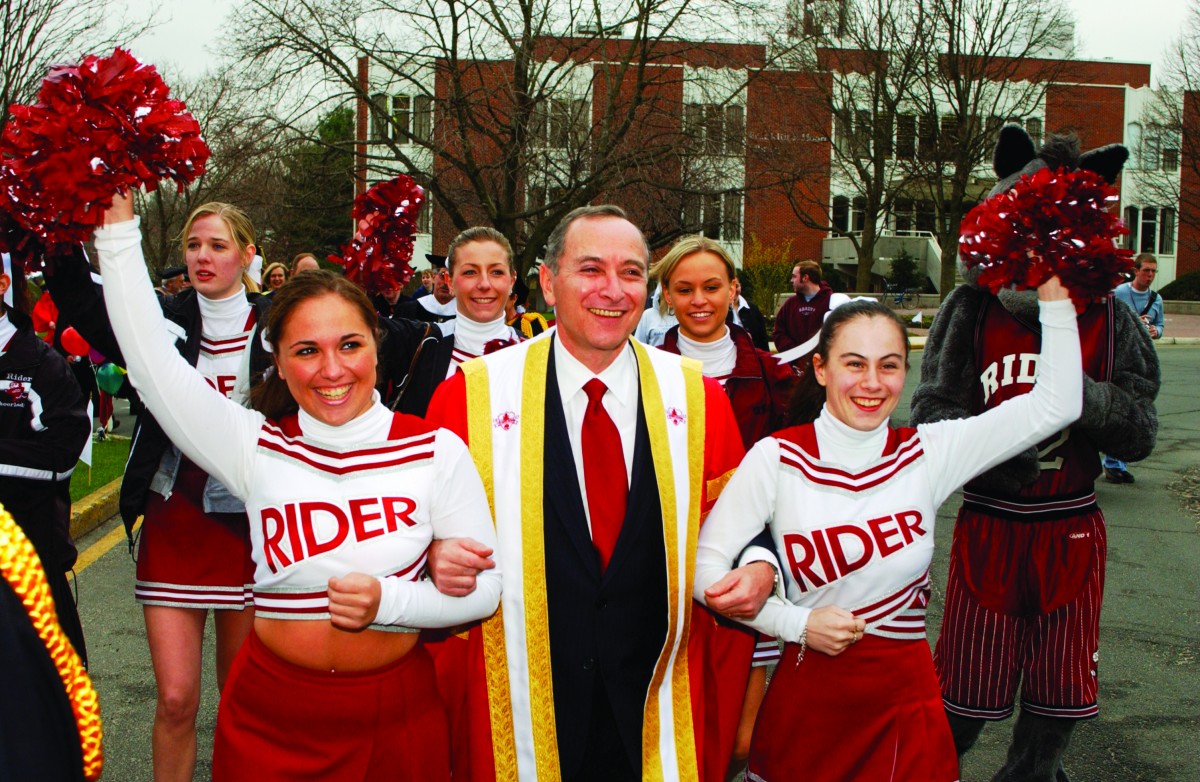 Apple's late CEO Steve Jobs once said, "If you are working on something exciting that you really care about, you don't have to be pushed. The vision pulls you."
Shortly after his inauguration, President Rozanski — aided by co-chairs Associate Vice President for Planning, Debbie Stasolla, and Chair of the English Department, Roberta Clipper — invited more than 100 faculty, administrators, staff, students, alumni and trustees to share in the creation of the most comprehensive and participatory Strategic Plan ever undertaken at Rider.
The five-year plan, developed in just 11 months, was presented to and approved by the Board of Trustees in June 2005. Trustee Joan C. Mazzotti '72, former Board chair under President Bart Luedeke, recalls, "Mort had many great ideas, but his genius was in knowing how to implement each one. He was able to articulate his vision for the University and generate the enthusiasm, support and hard work necessary to realize that vision."
Often, such initiatives are destined to sit on a shelf after they are completed, but Rider's ambitious Strategic Plan served as an active blueprint, guiding every aspect of the University's annual decision-making and resource allocation from 2005 to 2010. It articulated a new vision and mission, five strategic directions, supporting goals and action plans and key performance indicators. The plan provided a framework for a very deliberative process of institutional renewal by strengthening Rider's focus on academic excellence and student-centered learning while enhancing the University's academic stature and strengthening its financial base.
"We began with Mort's vision; he informed the process with his experience and expertise," says Stasolla, "But Mort would be the first to say it was truly the members of the Rider community who moved the plan forward. By establishing the framework for a shared vision, it was embraced across both campuses — from the colleges and administrative departments to student clubs and organizations — as people looked for ways to integrate the plan into their operations."
Remarkably, by 2010, more than 93 percent of the Strategic Plan's objectives were achieved.
To jumpstart the Strategic Plan's implementation, Rozanski created Rider's Strategic Initiatives Fund to underwrite promising early initiatives. Among the first to receive support was the Center for the Development of Leadership Skills (CDLS) in 2004.
Current Student Government President Allie Koury, '15, recently completed a series of admission interviews at New York University as part of her graduate application there, and spoke to the CDLS's enduring influence: "My participation in the CDLS was a real standout on my résumé," she says. "It's a point of pride at Rider that we're recognized as having a nationally ranked leadership program.
"Dr. Rozanski's primary focus always has been the students," she adds. "You only have to look around campus to see the changes that have happened here. He's the reason Rider is such an incredible place to learn and live today."
Keeping Students at the Heart of the Rider Experience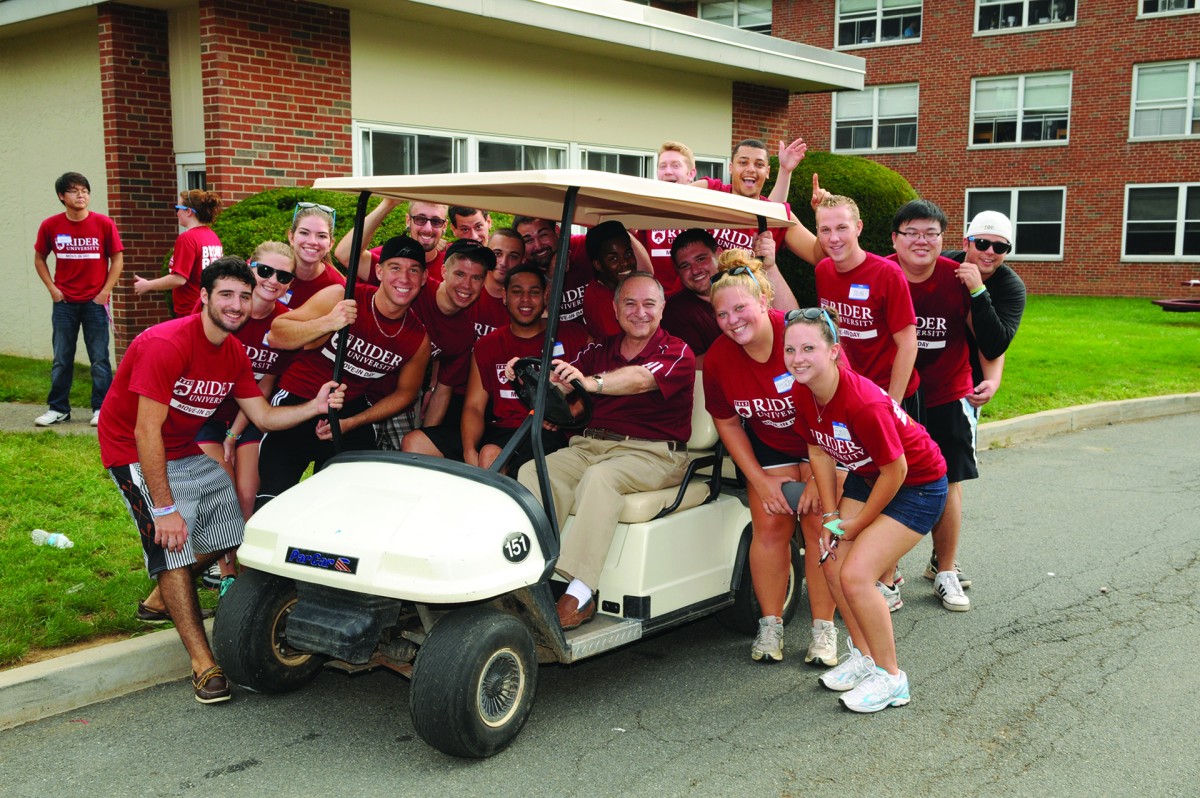 As the treasurer of the Student Government Association (SGA), Mike Zilly, '11, now an audit senior with Deloitte, recalls "getting suited up" in his Sunday best for monthly SGA meetings with President Rozanski.
"We took those meetings very seriously. Dr. Rozanski would let us know his goals, but he never used our time with him to drive what he wanted. He wanted to hear what was on the students' minds," says Zilly. "As a result of those meetings, he established a platform that gave us power, responsibility and accountability. Looking back, I understand that was all by design: he knew how important hands-on experience is to real learning."
Student-centeredness has always been at the root of a Rider education. During President Rozanski's tenure, the University took that tenet to the next level, emphasizing increasingly more challenging academics and an even more supportive learning environment targeted at actively engaging students in their own learning.
Facility enhancements became a key part of creating a competitive and quality university environment. Each new construction project or renovation was planned around enhancing Rider's living/learning experience for students — be it an academic building, residence hall or playing field.
Rozanski also recognized the need to further strengthen student/faculty interaction beyond the classroom through growth in leadership development and honors opportunities across all majors, the creation of residence hall learning communities and the introduction of faculty-in-residence in the freshmen residence halls.
Associate Vice President for Student Affairs and Dean of Students Anthony Campbell describes Rozanski as a "very present president" for students. He points to his regular meetings with student leaders, his attendance at University athletic events to cheer on students in every sport, and his personal mentoring of students. "When Mort arrived on campus, he even spent several nights in the freshman residence halls," recalls Campbell. "In everything he did, he affirmed that students are the heart of Rider."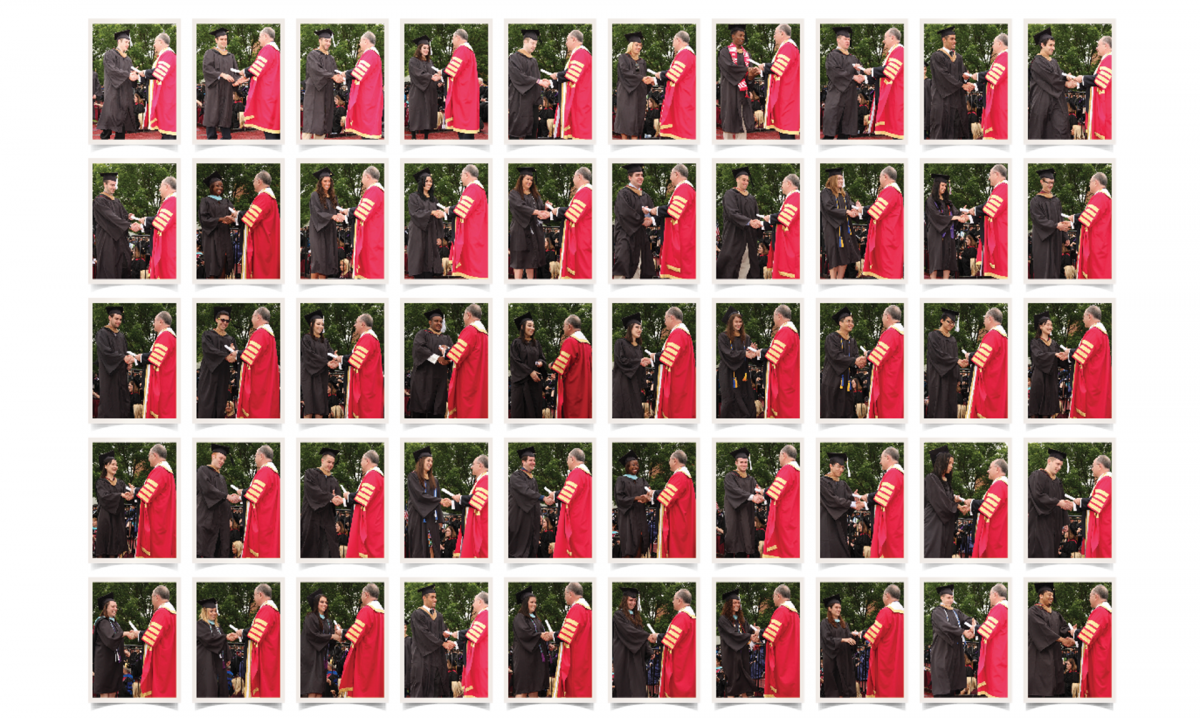 Rozanski has shaken the hands of nearly 13,000 Rider graduates, a point of pride for the outgoing president.
Elevating Rider's Academic Stature and Growing Enrollments
When Rozanski arrived on campus, U.S. News and World Report's Best American Colleges placed Rider in the second tier among its peers, with no individual ranking. Today, Rider is a first-tier university, ranking among the top 25 regional colleges and universities in the U.S. northeast.
Core to this achievement has been the support and entrepreneurial direction of Rider faculty and college leadership. The Strategic Plan invited them to think "outside the box" and apply their expertise across departments and colleges to create programs that respond to emerging market opportunities.
In all, 14 new undergraduate and seven graduate degrees were introduced during Rozanski's presidency — including bachelor's degrees in criminal justice, global supply chain management, graphic design, and integrated science and mathematics. New master's programs included a M.A. in business communication and a M.A. in teaching.
Thanks to targeted recruitment efforts, there has been a 9-percent increase in full-time undergraduate enrollment since 2003. The demographics of Rider's student body are also changing: more than 28 percent of students come from out of state, and there has been a 15-percent growth in underrepresented enrollment. International enrollment has risen 141 percent. More entering freshmen are staying to complete their degrees at Rider, and they are graduating sooner, with improved retention and graduation rates that are substantially above the national averages for comparable four-year universities.
A major commitment to online learning at Rider also had its genesis under Rozanski. Beginning in 2005 with an initial offering of seven courses, Rider created its Center for Distance Learning and Teaching. More than 150 faculty grants have been made to foster online instruction across disciplines and the University moved to a best-of-breed learning management system to support online studies. Today, Rider offers more than 170 online courses, enrolling nearly 2,400 students annually, with three all-online degree options: a Master of Accountancy (M.Acc.), R.N. to B.S. in Nursing, and a B.S. in Business Administration.
And, through expanded continuing education programs and participation as a Yellow Ribbon university, Rider has built upon its historic roots as a school founded to provide educational opportunities to returning veterans and adults. The Strategic Plan's goals of excellence in teaching and scholarship — currently led by Provost and Vice President for Academic Affairs DonnaJean Fredeen — were further advanced by the growth and renewal of faculty. More than 30 percent of Rider's current faculty members were recruited during Rozanski's tenure.
"As a member of Rider's faculty for more than 30 years, I did what I loved doing most every day," says Anne Law, former chair of the Psychology Department and current special assistant to the Provost. "But Mort would often ask me, 'What's the next step for you? How can you have a greater impact on our students?'"
His gentle prodding led her to apply for a highly competitive and prestigious American Council of Education (ACE) fellowship, which required a personal nomination by Rozanski and a year's release time. Last year, Law spent a semester observing operations at Boston's Suffolk University and visiting nearly 50 campuses nationwide. "The experience changed my life. Thanks to Mort, I'm bringing back to Rider the extraordinary insights I've gained," says Law. "The experience also helped me better understand Rider's elevated status in the larger academic community — a reflection of the esteem in which Mort is held."
Reimagining Westminster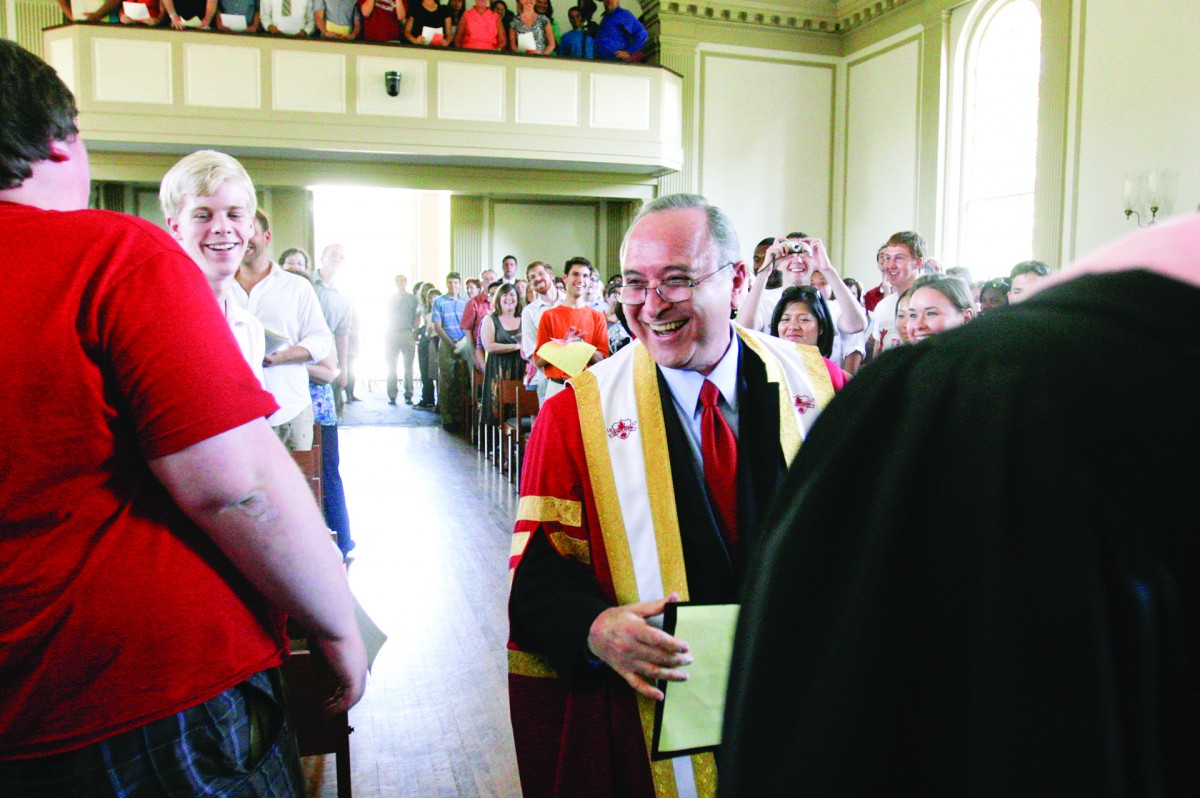 Mickey Lazenby Gast '68, is a proud graduate of Westminster Choir College and vice chair of the University's Board of Trustees. She also served on the search committee that brought Rozanski to Rider as its sixth president. Gast knew that high among his first tasks would be to "fix" the world-renowned Westminster. "I understood that the University did not have the annual revenues or endowment to keep Westminster Choir College going," she says.
Rozanski quickly enlisted the help of the College's then-Dean and Director, Robert Annis, then-Provost Don Steven and a Board of Trustees committee headed by Tom Mulhare '70, to explore options.
"There were several scenarios. One was to move all the Princeton programs to Lawrenceville. Another was to invest in enlarging both the facilities and enrollment on the Princeton campus. The third was to close the school," recalls Gast. "Through the vision and creativity that sprang from Mort's leadership, another solution was found that preserved and built upon the Westminster Choir College legacy. That was the creation of the Westminster College of the Arts (WCA) in 2007."
Paul Lang '68, chairman of the Board when Rozanski accepted the presidency, believes that "Mort's biggest legacy is what he orchestrated with Westminster. Faced with the tough decisions he potentially had to make, he came up with a different approach and the result is the vibrant, expanded College of the Arts you see today."
The essence of the plan was to grow the enrollment of WCA primarily on the Lawrenceville campus by moving the musical theatre program there to integrate with University's popular and well-established theatre program. It also called for the development of related new majors in such areas as arts administration and popular music. In doing so, the plan preserved the choir college's unique mission and learning environment, provided the critical additional revenue it needed and simultaneously established the arts as an academic focus across the two campuses. The plan's success can be seen in a 66 percent increase in WCA enrollments, as well as the nationally recognized musical theatre program, which attracts 70 percent of its majors from out of state.
Once a plan was in place to secure the future of the choir college, fundraising for facilities upgrades on the Princeton campus kicked into high gear. They culminated last October when Rozanski presided over a ribbon cutting for the Marion Buckelew Cullen Center — the first new academic building to be constructed on Westminster's campus in 39 years. The Center's Hillman Performance Hall was named in recognition of Elsie Hilliard Hillman '48, who along with husband Henry Hillman is a long-time benefactor of Westminster and the major donor for the building.
The renovation of Westminster's historic Playhouse, which will be renamed the Robert L. Annis Playhouse, is also underway. Annis retired in December of 2014 as the dean and director of the Westminster College of the Arts. Dean Annis was a tireless fundraiser for the arts at Rider and, in partnership with President Rozanski, strengthened support for the Westminster College of the Arts within the Princeton community and beyond it.
The Globalization of Rider
The son of Holocaust survivors, President Rozanski is a lifelong student of the world. After World War II, his parents fled Poland (where Rozanski was born), and traveled to Israel and France before eventually moving to Montreal.
The first in his family to complete elementary school, Rozanski earned his undergraduate degree at Canada's McGill University. He then came to the United States to earn his doctorate in Chinese history and American-East Asian relations from the University of Pennsylvania. During his tenure at Rider, he became a dual citizen of the United States and Canada.
Given such wide-reaching personal experiences, it's not surprising that one of Rozanski's aspirations was to expand the University's worldview. "Under Mort's leadership, Rider has seen a globalization of its curriculum and a much more diverse campus, all of which has improved the student experience," says Jan Friedman-Krupnick, assistant vice president for Student Affairs. "Rider isn't the same place it was when he arrived."
He began by expanding upon the University's relationship with Sanda University in Shanghai. Forged a year before his arrival, it offers Chinese students the opportunity to complete their undergraduate business studies and pursue their MBA at Rider. More than 600 students have participated in the Sanda program, with 250 students earning joint degrees from both universities.
Global recruiting efforts also were expanded; the University now attracts students from nearly 80 countries worldwide.
And since Rozanski's arrival, study abroad opportunities have grown significantly through an emphasis on affordability, increased global partnerships and expanded destinations. In addition to traditional semester-long options, Rider has created a wide array of short-term, faculty-led programs that further promote student-faculty relationships and explore cross-disciplinary perspectives.
Engaging Rider's Alumni and Friends
Core to Rider's ability to fund its many capital initiatives and increased student scholarship support (see Chronicle on next page) has been Rozanski's indefatigable fundraising efforts and alumni outreach. "Alumni and major donors are seeing Rider in a different way and are making an investment in Rider's future, thanks to Mort," says current Board Chair Michael B. Kennedy '72, '75. Rozanski helped raise almost $100 million in gifts and other commitments from private and public sources during his presidency, including some of the largest cash gifts in the University's history.
Rozanski also was instrumental in encouraging alumni from coast to coast to engage with their alma mater in ways big and small, including serving on advisory boards in the colleges, the Rider Women's Leadership Council and on the University's Board of Trustees. "Part of his leadership skill lies in helping our Board grow and change so that the Board itself is ready to face the challenges of the future," adds Kennedy.
One of Rozanski's greatest satisfactions is the steadily increased involvement of Rider's alumni. "Alumni are the bedrock of a university. All colleges and universities seek to achieve academic excellence, but it's only those with a solid and committed alumni base — not just financially, but emotionally — that truly end up doing so," he says. "The greatest affirmation of a university is when its graduates send their own children and grandchildren to the school, and that's something we've seen often at Rider." Today, more than 10 percent are alumni legacies.
Beyond Rider: Serving the Greater Community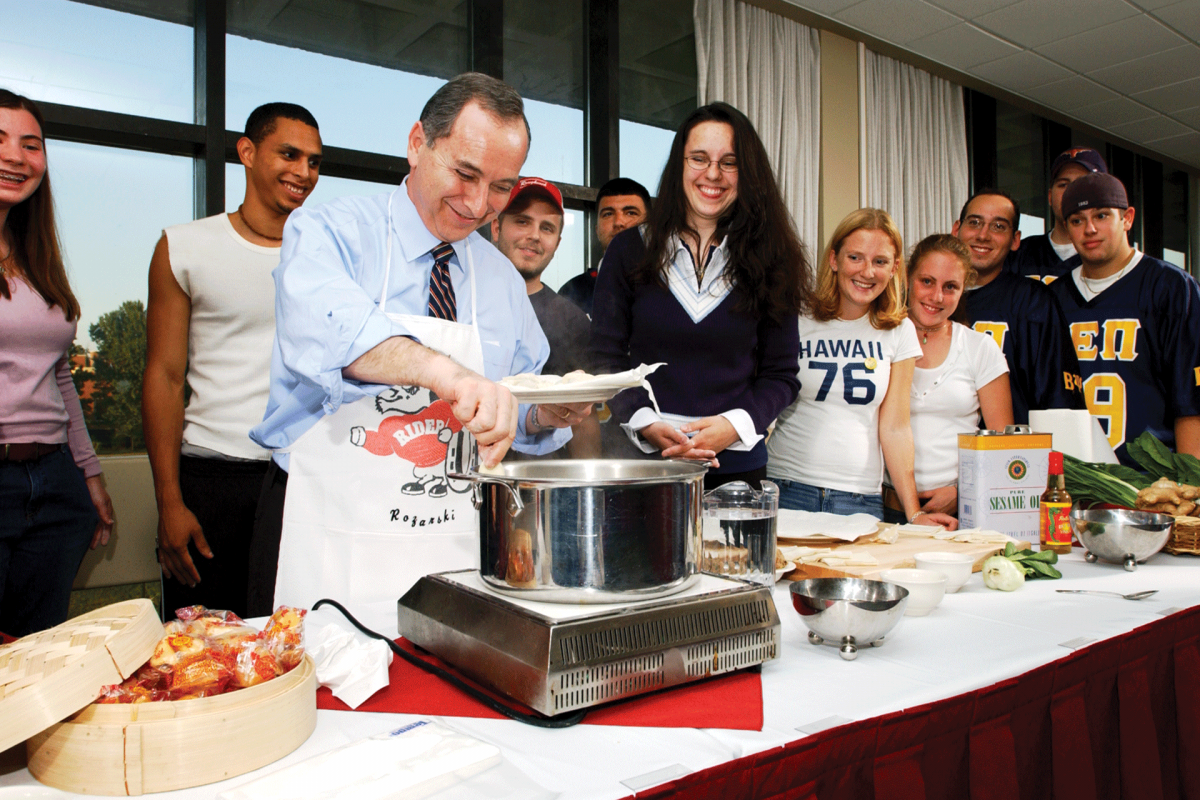 Rozanski's impact extends far beyond the confines of Rider's campus. He has been an active leader in the community, serving on the boards of The Hun School of Princeton, Princeton HealthCare System, MIDJersey Chamber of Commerce and the Jewish Federation of Princeton Mercer Bucks. He also has been a key player in New Jersey's leading private higher education organizations.
"Mort's service on the New Jersey Presidents' Council was defined by his chairmanship of the Academic Issues Committee, one of the central duties of the Council that was entrusted to his leadership. He also was a leader among the presidents as a member of the Presidents' Council Executive Board," says John Wilson, president and CEO of the Association of Independent Colleges and Universities in New Jersey (AICUNJ), where Rozanski currently serves as board chair. "In all he accomplishes, the success of students is paramount in his mind."
Balancing Resources, Increasing Student Access
Mort Rozanski's journey to becoming a university president started early in his career. "Administration was something that I challenged myself to take on as a young faculty member trying to develop a new academic program in Asian studies," he recalls. "I learned the essentials — how to write grants, generate resources, win and mobilize support, and form teams — from the ground up."
Fast-forward 30 years later to Rozanski's appointment as Rider's president in 2003. The Philadelphia News noted that his selection, in part, was based on the financial talent he demonstrated at the University of Guelph.
"While my academic training was not in a business discipline, I fully understood the importance of managing university finances as an instrument to achieve academic goals and institutional vitality," says Rozanski. "In that effort, I have been assisted by terrific people who have a profound understanding of the economic impact of what we do — from finance and enrollment management to fundraising. I've also had the benefit of great board chairs who understood the interdependence of the business and academic sides of the university."
Propelled by the Strategic Plan, Rider's growth was on a steady upward trajectory. Enrollment grew, new programs were launched, existing buildings were renovated and new ones constructed. But shortly before the start of Rozanski's second term, the American economy went into a tailspin. The recession prompted massive cuts in state aid to private universities at the same time family budgets were most vulnerable to tuition increases.
Rider swiftly responded with the creation of its Innovation Agenda, which recognized the continued relevance of the five directions of the Strategic Plan, but also acknowledged the need to address the challenges of the new economic climate. The agenda focused on achieving greater fiscal sustainability through the creation of revenue-generating academic initiatives, such as the M.A. in Applied Psychology and B.S. in Global Supply Chain Management. The expansion of entrepreneurial auxiliary services programming throughout the academic year, including Study Tours programs that brought middle and high school students from Europe and Asia to study English at Rider, also generated new resources to support the University's core mission.
Rozanski also seized the opportunity to become an outspoken champion of affordable access to a quality education statewide, offering testimony at legislative hearings and appearing at meetings with the legislature and governor's staff to advocate for state financial aid and other higher education needs.
Rozanski redoubled efforts to increase scholarship support and introduce innovative programs designed to financially reward students for academic performance and participation in University and community-based activities.
During the course of his presidency, Rider increased its scholarship awards from $27 million to $61 million annually — translating to an average scholarship grant of about $15,000 each year per student.
Of Rider's nearly 300 endowed and current-use scholarship funds, 87 have been added in the past five years alone. And as a tribute to Rozanski's commitment to scholarships, the President Rozanski Sesquicentennial Scholarship has been established to continue his mission of investing in educational access for students.
"Mort provided strong leadership during a period of significant challenge for all of private higher education. He had to make many difficult financial decisions, but he understood that money is not an end in itself, but a means of achieving our mission of high quality academics and supportive student services," says Julie Karns, vice president for finance and treasurer at Rider. "As a result of his strategic financial choices, Rider today is much better positioned than many similar institutions."
Early this year, Arthur Stainman '65, his wife Lois, and their family made a transformational scholarship gift to Rider, creating a $2.5 million endowment fund to support future students. Art noted that he and Lois had reached a point in their lives where they had reflected on what they had done, what factors contributed to their successes, and how they wanted to make a difference in the long term.
Both Art and his son Evan ('01) are Rider graduates, and, for Art, the decision to support Rider now was easy. "In addition to celebrating my 50th reunion year and Rider's 150th anniversary, our gift was a way of acknowledging Mort's leadership and his departure from the University," he says. "There are many things I admire about Mort, including that he is pragmatic in his thinking. The Luedeke Center Theater addition, North Hall, and now the Playhouse renovation and planned athletics practice facility are among many examples of Mort's ability to both scale projects and inspire donors to maintain Rider's momentum."
Passing the Torch
When Rozanski leaves Rider in July, his legacy will be shaped by a 47-year career in higher education including 22 years of presidential experience at two major universities in two countries, as well as academic leadership roles at Adelphi University, Fairleigh Dickinson University and Wagner College.
In an interview given just before his inauguration, Rozanski said, "What attracted me was that at Rider I found an outstanding faculty and staff, a wonderful program mix and a willingness to build on success. The willingness of this institution to renew itself convinced me that the fit was there. I could help to frame a vision and a mission to take Rider to the prominence it deserves."
Today, as he prepares to leave the University, he reflects on the strong foundation that was in place when he began his presidency. "I've always had tremendous respect for my predecessors, both at Rider and at Guelph. I was able to build on the great traditions they established, the opportunities they seized and the momentum they provided. I am particularly grateful to Bart Luedeke and Frank Elliott, former presidents at Rider, for their wise counsel and support."
It's his belief that a president has the responsibility to take an institution to the next level — and then recognize when it's time to allow for succession and the infusion of new talent. "I'm a strong believer in term limits, because the need for continuous renewal is essential. I like to think of it in terms of passing on the torch to the next generation of University leadership.
"When thinking about institutional succession, you can't overlook the importance of the wisdom, passion and perspective that someone new can bring to a university," he says. "I'm very excited about Rider's incoming president, Greg Dell'Omo. He has an enviable record of success and all the attributes needed to take Rider to the next level."
This fall, Rozanski is looking forward to a much-deserved vacation with his wife Bonnie, a successful playwright and award-winning novelist who also holds master's degrees in business and artificial intelligence. The couple has moved to Fishtown in Philadelphia, where they met at a college mixer as students at Penn. Their son Daniel and three grandchildren live in Guelph, where Mort and Bonnie plan to visit often. "I can say with some certainty that this fall, as university life is at its height of energy, and there is great excitement about the start of a new semester, Bonnie and I will be relaxing on a beach. It might be hard to resist checking my email for messages," he says with a smile, "but I'm going to do my best to avoid that temptation."