1959
Lews C. Di Stasi Jr. '59 retired as the attorney of the Town of Lloyd in Ulster County, N.Y., after 40 years.
1960
Jim Louden '60 and his wife, Lynda, have moved from Chester, N.J., to Tequesta, Fla., Jim received his bachelor's degree in Commerce and was vice president of Komline-Sanderson in Peapack, N.J., before retiring in 2010.
1959
Lewis C. Di Stasi Jr. '59 retired as the attorney of the Town of Lloyd in Ulster County, N.Y., after 40 years.
1960
Jim Louden '60 and his wife, Lynda, have moved from Chester, N.J., to Tequesta, Fla. Jim received his bachelor's degree in Commerce and was vice president of Komline-Sanderson in Peapack, N.J., before retiring in 2010.
1963
Bob and Marie Barrett '63 celebrated their 50th wedding anniversary on Jan. 25. The couple, who have three children and seven grandchildren, met as freshmen on the Lawrenceville campus in the fall/winter of 1959 after a basketball game. Bob also received a Lifetime Achievement Award in November 2013 from the Hamilton Township Economic Development Advisory Commission.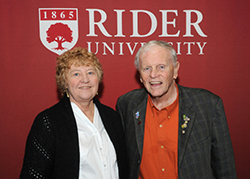 1965
Steve Kupsov '65 recently retired from officiating baseball after 40 years in the field. In June, he was honored to be part of the officiating crew who umpired the PIAA Class A state high school baseball final at Penn State. He also was a member of the crew who umpired the final for the Carpenter Cup at Citizens Bank Park.
1968
Stranded in Montana; Dumped in Arizona by Barbara R. Shackett '68 was published in 2013.
The Boy Who Said No: An Escape to Freedom by Patti Sheehy '68 was published by Oceanview Publishing in June 2013.
1969
Dennis Gehris '69, '72 was awarded faculty emeritus status at Bloomsburg University in Bloomsburg, Pa., where he taught and served as an administrator for 28 years.
1974
Hightstown High School Athletic Director Gary Bushelli '74 was selected as the 2013 male honoree by the Trenton Select Committee and recognized at its annual dinner, on Nov. 10, 2013.
1975
Christine Crawley Bass '75, '05 is now the director of the women's chorus at Temple University's Boyer College of Music.
1983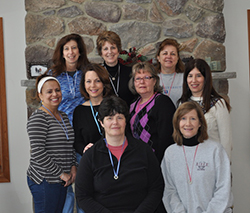 Karen Schuessler Bognar '83, '89 and eight of her former floormates from Ziegler Hall assembled recently for a weekend getaway in the Poconos. Pictured below from left to right are Carol Duttweiler McHale '81; Karen Schuessler Bognar '83, '89; Maryann McFadden Grow '81 (top row); Lisa Colon Lyons; Debra Eaise Malony '79; Carol Linneman Cirasa '81; Judy Brenner Kaplan '82 (middle row) and Rita C. Peters '81, '85; Debra Francis Matty '82 (bottom row).
1986
James "Jamy" Gross '86 graduated from Drexel University in 2012 with a master's degree in library and information science. He holds a dual concentration in archival services and library information services. In 2013, he was admitted to the Beta Phi Mu Library Honor Society. He is currently working as a librarian in South Jersey.
Former Rider cross-country and track runner Charles Valan '86 was one of five individuals inducted into the Hightstown High School Athletic Hall of Fame on Oct. 4, 2013, during its 20th annual ceremony. Valan became only the third cross-country runner ever inducted. Valan ran for Hall of Fame coach Mike Brady at Rider and was part of two East Coast Conference champion track teams.
1991
Kimberlee Rutan McCafferty '91 published a memoir, Raising Autism: Surviving the Early Years, about the joys and challenges of parenting two children on the autism spectrum.
1998
Lisa Dekis '98 published a novella, Frankie's Angel: A Child's Tale of Loss and Recovery, a story of loss and recovery seen through the eyes of a 7-year-old girl.
Robin McKenna '98, '05 will be launching her own business this month. A native of Lawrenceville, N.J., she is now also the owner of Window Genie of Central N.J. and Bucks County, Pa.
Derrick Perry '98 was named councilman of Norristown, PA in November 2013. Perry was a scholarship athlete for the Rider Broncs Basketball team from 1996 to1998. He has a degree in communications.
Denise Stanislawczyk '98 received the "Women in Manufacturing STEP Award" for her work at ABB, the global power and automation technologies company. She is the operations manager at ABB's Measurement Products factory in Warminster, Pa. On Feb. 6, The Manufacturing Institute recognized Stanislawczyk and 159 other recipients of the STEP Awards at a reception in Washington, D.C.
The Layperson's Guide to Exercise, Diet & Supplements by Daniel J. Shamy '98 was published in 2013.
2000
Kyle Neeld '00 was named as principal of The Mercadien Group. A managing director of The Mercadien Group, Neeld is experienced in the areas of audits, reviews and compilations; documenting systems of internal controls; performing work paper reviews; and preparing financial statements. Neeld is certified in the states of New Jersey and Pennsylvania. He is a member of both the American Institute and the Pennsylvania Institute of Certified Public Accountants. Neeld lives in Newtown, Pa., with his wife and their two children.
Ed Fronczkiewicz Jr. '00 is assistant counsel for Urban Engineers in Philadelphia. He provides legal guidance to senior management and professional staff on numerous issues including transaction matters, risk management, litigation management, corporate compliance, general corporate governance, professional licensing and registration, and procurement. After earning his Juris Doctor from Widener University's School of Law, he began his legal career in government and private practice before joining Urban in 2007.
2002
Jeff Stump '02, MBA '03 and Jen Stump welcomed a baby boy, Brian David Stump, on Aug. 8, 2013.
Mike Basford '02 is the assistant director of athletics communications at Ohio State University. He serves as the primary media contact for the field hockey, swimming/diving and softball programs. He is also involved in game day statistical operations for the Buckeyes' football and men's basketball teams. He and his wife, Melissa, live in Columbus, Ohio.
2003
Michael Schiumo '03 and his wife, Melissa, welcomed triplets Sophia Rose, Christopher John and Vivian Grace on Aug. 16, 2013.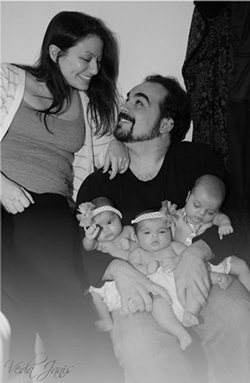 2005
Lara Lindner '05 and Rudolph Daunno '05 were recently married. Lindner was president of Zeta Tau Alpha and a Broncs cheerleader. Daunno was a member of Phi Kappa Tau.
2007
Lisa Li '07 was promoted to manager at the accounting firm ParenteBeard and works out of the firm's office in New York City.
2009
Alumni couple Linda Marie Terry-Mombo, '01 and Mien Patrick Mombo, III '09 added the newest member of their family on September 19, 2013 when they welcomed their son Mien Patrick Mombo IV into the world.
Jason Sullivan '09 and Kathryn Hornig '09 were married on June 22, 2013. Sullivan, a history major, is a group sales representative for the Intrepid Sea, Air & Space Museum in New York City. Hornig, an elementary education major, is a teacher for the Pequannock Township School District. The couple also recently bought their first home.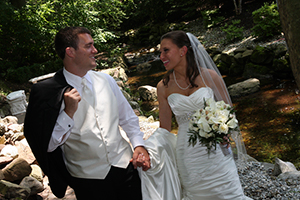 2010
Marc Ashed '10, who graduated with a bachelor's degree in political science, is finalizing his thesis to obtain a Master of Arts in global security studies from Johns Hopkins University. He served as the finance director of Delegate Jon Cardin's campaign for attorney general in Maryland.
2011
Kiera Smith '11 will be graduating in May 2014 with a Master of Fine Arts in creative writing from Chatham University.
Shannon Ferguson '11 and Travis Gast were married this year by the Rev. Aaron E. Gast, Ph.D., grandfather of the groom. The ceremony took place at Normandy Farm in Blue Bell, Pa. The newlyweds are residing and working in Colorado Springs. Rev. Gast received an Honorary Doctor of Humane Letters from Rider in 2012.
2012
Matthew Craw '12, a combat veteran marine, published a book, The Song Each Bullet Sings, about his experience joining the United States Marine Corps and fighting in Iraq.
Alyssa Gennello '12 received a new job as a registration specialist at BUZZRegistration, a sister company to the corporate meeting planning company Global Planners, after working at the MIDJersey Chamber of Commerce for two years as an intern and one year as a full-time employee as special projects coordinator.
Stephen R. Reisig '12 and Laura P. Timperman '10 became engaged in December 2013. Reisig works for Bartell Morrison, a construction equipment supplier in Keyport, N.J. Timperman works at Enterprise Iron, a financial and business consulting firm in Matawan, N.J.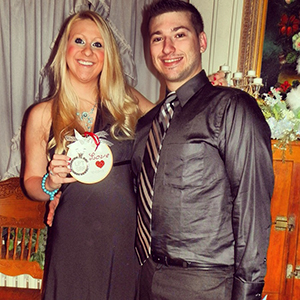 2013
Katlyn Andrews '13 started at the accounting firm ParenteBeard as staff accountant in September 2013.