1950s
Morton "Moe" Tener '53 was honored by the Philadelphia Jewish Sports Hall of Fame as part of its 19th induction class. Tener was a standout Rider College basketball player from 1950 to 1953. The mission of the Philadelphia Jewish Sports Hall of Fame is to provide the community with tangible and lasting evidence of the past, present and future of Jewish sportsmen and sportswomen in the greater Philadelphia area and to instill community pride in Jewish accomplishments in the field of sports and the role sports has played in preserving Jewish culture.
1970s
King A. Kovacs '70 published his fifth expanded paperback of Retirement Investments 101: Mutual Funds. The book aims to help increase retirement prosperity both now and in the future.
Blaine Greenfield '71 now lives in Asheville, N.C., with his wife, Cynthia. He still publishes his BLAINESWORLD blog. Recently, he was honored to have a short play written about him, and it was even performed. To view it, please visit http://tinyurl.com/hgkylmz.
John Zehring '71 had his latest book, Beyond Stewardship: A Church Guide to Generous Giving Campaigns (Judson Press) published. It is co-authored by Kate Jagger, with a foreword by Nick Carter, retired President of Andover Newton Theological Seminary. Zehring is a retired United Church of Christ clergy having served as senior pastor of churches in Massachusetts, Rhode Island and Maine. Previously, he served for two decades as a vice president for development at colleges and a seminary. Some of his happiest experiences were when he served as a director of career planning and placement at two colleges, a success he attributes to the education he received in his master's degree program at Rider. He is the author of more than two dozen books and e-books.
Richard Alexander '73 had his first book, My Other Life: A Combat Soldier In Vietnam, published by Darwin Press, Princeton N.J. He earned his bachelor's in history from Rider and worked for the state of New Jersey for 33 years, retiring in 2008 from his job as head of risk management at Ann Klein Forensic Center. He and his wife have been married for 32 years and they have two daughters.
Marc Palker '73 was named chair of the Institute of Management Accountants' Global Board of Directors for 2016-17. Palker's career spans more than three decades, where he has held senior financial management positions with small and midsize public and private companies.
David Tilton '73 was named executive vice president and chief integration officer at Geisinger Health System. In this role, he leads performance excellence efforts as well as develops and assists with key external relationships as Geisinger continues to build its reputation as a national leader in healthcare innovation. Tilton currently serves on the Board of the Health Research & Educational Trust, an affiliate of the American Hospital Association (AHA). He is included in Becker's Hospital Review's 2013, 2014 and 2015 lists of Hospital & Health System CEOs to Know, and NJ Biz named Tilton one of the 50 Most Powerful People in Health Care in New Jersey in 2010 and again in 2015 "who will shape health care as federal legislation continues to reshape the industry."
Dr. Charles Bell '75 was appointed chief medical officer by Parallon Technology Solutions. In his new role, Bell provides physician leadership in the development and implementation of information technology to support care delivery and data capture with particular emphasis on clinical information systems and electronic health records in hospital and ambulatory care environments. Bell holds a bachelor's degree in biology from Rider University, a bachelor's degree in pharmacy from Temple University School of Pharmacy and a doctorate from Philadelphia College of Osteopathic Medicine. He completed his residency in general internal medicine at Phoenix General Hospital in Phoenix, Ariz.
Bruce Stouffer '77 joined Pharmaceutical Product Development as executive director of immunochemistry in the PPD Laboratories' bioanalytical lab. Stouffer, who has a bachelor's degree in biology, previously served as director of analytical and bioanalytical development for Bristol-Myers Squibb, where he managed a group of scientists with responsibilities including contract operations, quality control, and small and large molecule bioanalytical project management.
1980s
Ruben Rivera '81 was named vice president of sales & marketing Nikkiso America UV-LED, a global technology leader. Rivera has more than 30 years of experience in the specialty lighting market, which includes both infrared and ultraviolet light sources. Ruben earned his bachelor's in management from Rider and an MBA in marketing from Monmouth University.
Mark Oberndorf '83 had his paintings on show at the Bergen PAC during June and will be featured at the Morris Museum in Morristown, N.J., in "History of NJ Diners" from Sept. 8 through Dec. 31, 2016. Oberndorf will also have his paintings on display in Ridgewood, N.J., at The Stable Gallery in April 2017, the West Side Presbyterian Church gallery in May 2017 and at Valley Hospital gallery in June/July 2017.
Loretta Kreutzberg '84 was promoted to manager in the Program Management Office of NJM Insurance Group, New Jersey's largest property-casualty insurer, leading writer of workers' compensation insurance, and among the leaders in personal and commercial auto and homeowners insurance. Kreutzberg joined NJM in 2001.
Chris Gaffney '85 received the 2016 Hearthstone Humanitarian Award, presented annually by BUILDER magazine and Hearthstone, a leader in financing single family development. Gaffney is group president of Toll Brothers. In announcing the award, Frank Anton, vice chairman of Hanley Wood, said, "Chris Gaffney is an amazing role model for others in our industry because of his commitment to Covenant House and his direct involvement in improving life for many children in need is truly exemplary." Gaffney was selected by a panel of top industry leaders with experience in humanitarian outreach.
Michael F. Housel '87 has written his second book, The Persona (Airship 27). The Persona follows a young businessman in the 1930s named Michael Mansford who obtains a mystical mask that grants him the power to see into the minds of criminals. The Persona stems from Housel's love of pulp characters like The Shadow and the Green Hornet. Housel, who blogs at http://bizarrechats.blogspot.com , has been employed by the New Jersey Department of Education as credentials examiner for 20 years. He currently resides in Trenton, N.J., with his wife, Donna, and their cat, Cody.
Thomas F. Splaine Jr. '87, MBA '89 was appointed first senior vice president and chief accounting officer of Lakeland Bank. A CPA, Splaine holds a bachelor's in accounting and an MBA from Rider.
Michael Zola '87 was appointed vice president for government relations and policy analysis for the American Association of State Colleges and Universities. Previously, he served as the associate executive director for federal advocacy and public policy at the National School Boards Association.
1990s
Kevin Carroll '90, '96 began his tenure as superintendent of Green Brook Township Public Schools in September 2014. Since then, he has dedicated his 23 years of education experience to strengthening the district's already strong academic, athletic, technological and extracurricular foundation.
Some of the "Poyda girls" (with their families) got together on Jan. 30 for dinner and laughs. From left to right: Christina Nalio '92, Laurie Mackie Levine '92, Phyllis Visco King '91, Cathy Visco Davis '91, Liz Bovoso DeNinno '91, Louise Visco Loehwing '93, Cheryle Saile Cauley '91 and Tiffany Burch Regan '91.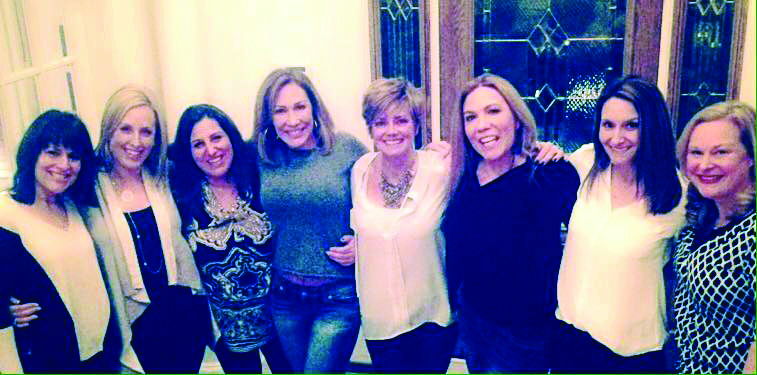 Robert Adams Jr. '93 was recently appointed the position of chief operating officer for Southern Ocean Medical Center in Manahawkin. Adams has been with Meridian Health since 1992, most recently serving as vice president of operations at Jersey Shore University Medical Center in Neptune for the past 10 years. He is certified as a fellow of the American College of Healthcare Executives. At Rider, Adams earned a bachelor's in business administration and then went on to Seton Hall for a master's degree in public administration.
Marc Hanson '94 was named director of operations of Selah Freedom, a nonprofit that provides residential housing, outreach in the jails and on the streets, awareness and education, and prevention for at-risk teen girls. Hanson has more than 20 years of experience in the finance industry working for large banks such as Morgan Stanley and Citigroup. Most recently he held the position of chief financial officer for Caldwell Trust Company.
LeRoy Whitehead '95, a principal in the West Chester Area School District, was named the new assistant superintendent of the Phoenixville Area School District in Pennsylvania. His contract was effective July 1, 2016.
Theresa Richardson '96 was named chief talent officer of WithumSmith+Brown, PC (Withum), headquartered in Princeton, N.J. In this role, she is responsible for shaping the vision and strategic leadership of Withum's talent management initiatives.
Rimma Zaleznik MBA '97 was promoted to chief financial officer of Thornton Tomasetti, the international engineering firm. Zaleznik, who has more than 30 years of experience in financial management, planning and control, is based in the firm's New York Madison Avenue office. She is charged with the financial management of the firm. She works with the executive team to ensure that business and financial goals are met and all areas of the firm are running efficiently. In addition to her MBA, she holds a bachelor's in information science and industrial economics from Moldova State University in Chisinau, Moldova.
2000s
Edward C. Fronczkiewicz Jr. '00, Esq., was promoted to general counsel of Urban Engineers. He previously served as assistant counsel. Fronczkiewicz earned his bachelor's from Rider and a Juris Doctor degree from the Widener University School of Law. With more than 15 years of experience, he is admitted to practice in Pennsylvania and New Jersey, as well as before the United States District Courts, District of New Jersey. He is a member of the Pennsylvania Bar Association, the ACEC Legal Counsel Forum, ASFE Advocates Assembly, and the Claims and Litigation Management Alliance.
Randell E. Prescott MBA '01 was named in July a senior manager of KCI's Florida office. KCI is an engineering, consulting and construction firm serving clients throughout the U.S. and beyond. A registered professional engineer in Florida, he has been charged with growing the construction engineering and inspection practice in the state while expanding the firm into new markets and services throughout the southeast. Prescott has more than 24 years of experience in transportation and public works engineering, construction management and maintenance operations. In addition to his MBA from Rider, Prescott earned his bachelor's in civil and environmental engineering from Clarkson University.
Mario Cuniglio '02 was named the new head football coach at Belleville High School.
Julie Kukenberger '02 was named the assistant superintendent for the Haverhill, Mass., school district. She previously served as director of curriculum and instruction in the North Hanover Township school district in New Jersey. An upstate New York native, she holds a bachelor's degree in elementary education from Rider University and a master's degree in educational administration from Rowan University. She is pursuing a doctorate in educational leadership at Boston College and expects to complete her degree in 2018.
Nancy Capasso-Lee '03, '06 and her husband, Wayne Lee, welcomed their first child, Francesca Faith Lee, into the world on June 3, 2016, at 10:30 p.m. She weighed 7.5 lbs. and was 19.1 inches.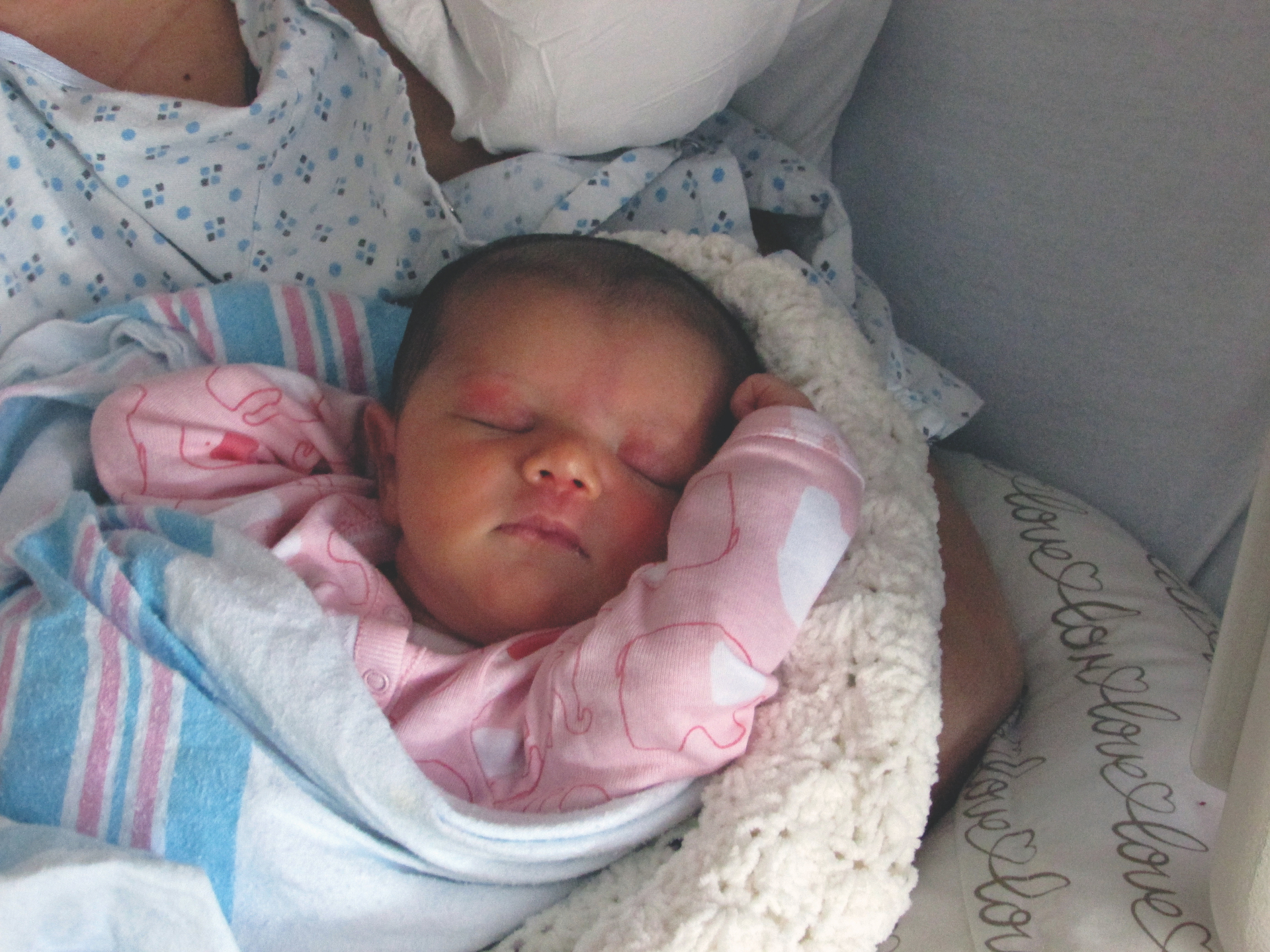 Loriann Brooks Farrell '03, Christopher Farrell '02 and their older daughter, Alice Kathryn, welcomed the newest member of their family, Hazel Joyce, on April 2, 2016.
Jessica Smedley '03 was appointed Hillsborough school district's new director of guidance by the township's Board of Education in June. She has worked since 2009 as the East Windsor Regional School District supervisor of counseling, where she supervised 17 counselors in six district schools, was the master scheduler for Hightstown High School, oversaw the district and school crisis teams and developed a senior transition program for graduating students. She received a master's in counseling services, school counseling specialization from Rider.
David R. Errigo '04, '11, vice president of sales for luminaire manufacturer LumenOptix, has been elected vice chair of the National Lighting Bureau (NLB) board of directors.
Jamil Newsome '04 of Allentown, Pa., was one of a dozen new officers sworn into the Allentown Police Department in July.
Michael V. Rocco '04 married Regina Rufrano at St. Catherine's R.C. Church in Glen Rock, N.J., in July 2015. Rocco is a teacher with the Clifton Board of Education.
Craig Wigley '04 was named superintendent of Lacey's six schools this July. He holds a master's degree in educational leadership and administration from Rider University and a bachelor's degree in technology education from TCNJ. During his 27-year career, he has also worked as assistant principal at Rancocas Valley Regional High School and principal at Northern Burlington County Regional High School.
Tom Miziak '05, '09, an administrator from Clark, N.J., with both bachelor's and master's degrees from Rider University in the areas of chemistry and science and education, was appointed by the Bernards Township Board of Education as the district's new supervisor of science and technology, K-12. Miziak taught chemistry and other sciences in the Hillsborough school district, where he advised the awards-winning robotics program.
Warren E. Moore '05 was recently named president and chief executive officer of Children's Specialized Hospital (CSH). Moore joined CSH in 1998 and has served as executive vice president and chief operating officer for the past nine years. During his tenure, CSH has become a nationally recognized provider of health services for children with special healthcare needs and expanded both the breadth and depth of services offered to encompass 13 locations and more than 28,000 children served last year. Moore received his bachelor's in business management from the University of Maryland and his master's from Rider.
Courtney Bertos '06 welcomed baby daughter Charlotte Grace Barnett, who was born April 28, 2016. Bertos joined the Rider Athletics Hall of Fame in 2015. She was a four-time First Team All-Conference selection who was named to three championship All-Tournament teams and led her team to four conference title games, winning two. She also won two regular season titles.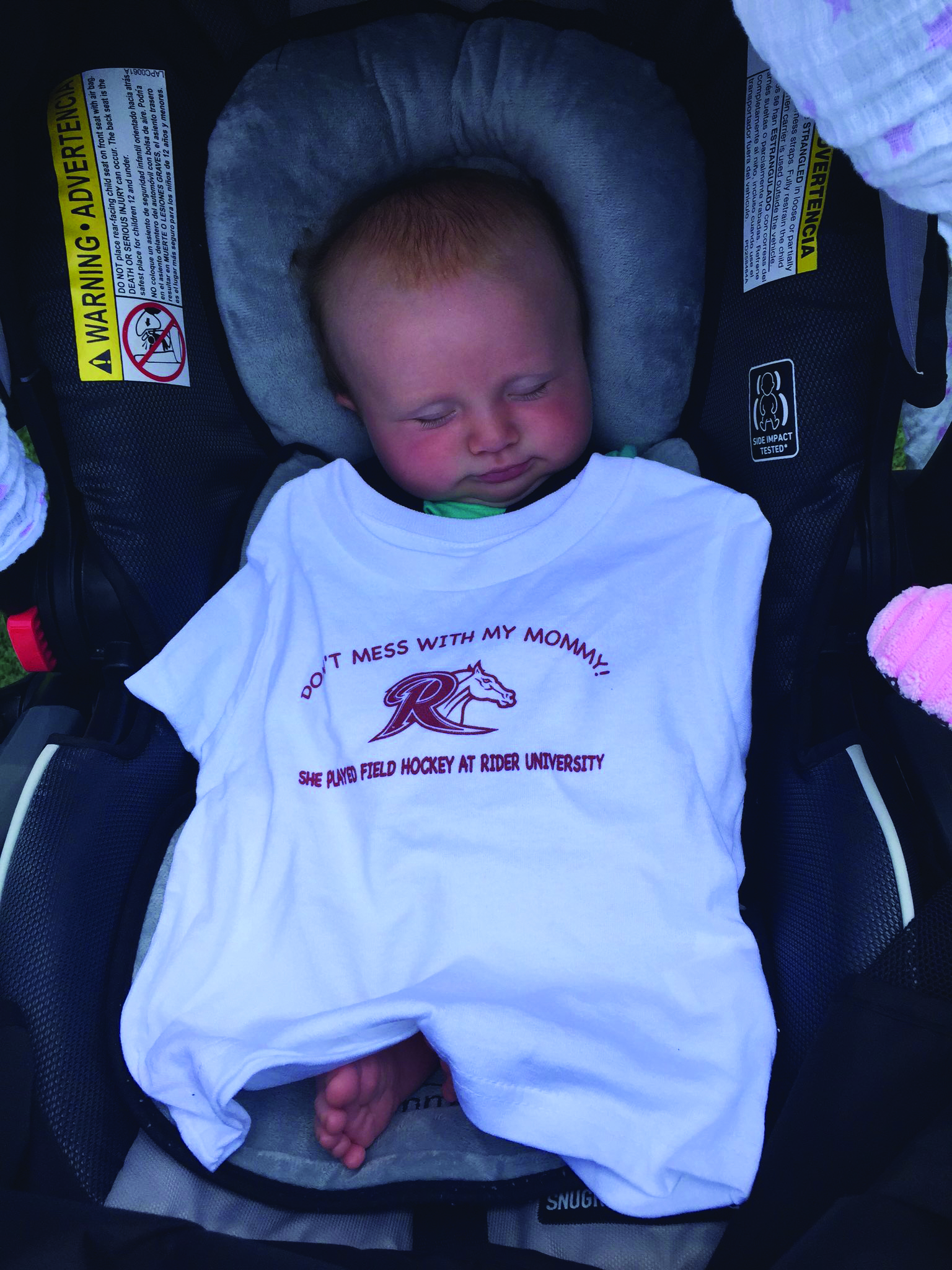 Gwendolyn Hersh '06 was accepted to serve in the Peace Corps for a 27-month placement as a community services volunteer in Armenia. She holds a bachelor's in journalism from Rider, a master's in public communication from Drexel University and a master's in event marketing and management from London Metropolitan University. Prior to joining the Peace Corps, Hersh worked as a development director for various NGOs in Philadelphia and London.
Amy and Michael Cerulo '07, who met at Rider and were married on campus in 2013, are happy to announce the birth of their baby boy, Ryan Michael Cerulo, on Oct. 27, 2015.
Judah Frank '08 starred in Cyrano: A Love Letter to a Friendship, a new play reimagined from the classic by Edmond Rostand. It was presented by Grind Arts Company as part of The New York International Fringe Festival in August.
Aimee Infante '08 was named vice president of marketing of Muscle Maker Grill, where she will oversee national branding and media relations efforts, corporate and franchise store openings, partnerships, and the development and launch of a comprehensive loyalty program. She joined Muscle Maker Grill in 2014 as marketing manager, and through her dedication and expertise from her previous role of marketing manager at Qdoba Mexican Eats (formerly known as Qdoba Mexican Grill), she was promoted to marketing director at Muscle Maker Grill. It was there that she developed and implemented marketing plans for corporate restaurants, drove loyalty program initiatives and coordinated grand openings and marketing efforts for local franchisees. Infante resides in League City, Texas, with her husband, Andrew Infante '08.
Richard Lamont '08 was sworn into office as a new Lawrence Township, N.J., police officer on May 3. Officer Lamont graduated from Rider University with a bachelor's in sociology and a minor in law and justice.
2010s
Amanda Matticks '11, '15, who graduated from the teacher education program and won the President's Award, was awarded Teacher of the Year at Sharon School in Robbinsville. She was also recently promoted to technology coordinator in her district.
Joe Immordino '12, MBA '15 recently launched a new company called Scopo Company, which offers strategic planning consulting services to small businesses in Mercer County, N.J. For more on Scopo Company, please visit www.scopocompany.com.
Yuliya Labko '12 attended on May 25, 2016, a gathering at the White House organized by the Alliance of Nurses for Healthy Environments, where she represented the American College of Nurse Midwives (ACNM). The meeting focused on how nursing organizations can address public health issues through educating their members, leading research, incorporating climate change into their nursing practice and participating at the local, state, and federal levels on climate policies. Labko, who is an active member of ACNM, earned a bachelor's degree in biology from Rider and, later, a BSN and an MSN in midwifery at Johns Hopkins University School of Nursing.
Dan Petrino '13 was named in July manager of hockey administration for ECHL, a coast-to-coast league with 27 teams in 21 states and one Canadian province. Petrino will be responsible for the day-to-day administration of the ECHL Hockey Operations Department including the organization and release of team rosters, salary cap, player background and immigration matters while also overseeing all transactions and ongoing relations with other leagues.
Sade Calin '14 received the Schlesinger Award, a scholarship that honors the distinguished legacy of late Superior Court Judge Jan M. Schlesinger as a lawyer and jurist. The award was given by the Burlington County Bar Association.
Caleb Funk '14 was booked for the national tour of How The Grinch Stole Christmas! The Musical. He also signed representation with Baker Management.
Andrew Haviland '14 was selected to play on a local professional Ultimate Frisbee team, the Philadelphia Phoenix.
Emma Rose Brooks '15 is playing the role of Antonia in Milwaukee Rep's production of Man of La Mancha from Sept. 20-Oct. 30. Brooks also signed representation with the Wolf Talent Group.
Vinroy Brown '15 is the general and choral music teacher for the Washington School, the Horace Mann School and Bayonne High School. He also serves as the interim minister of music for Elmwood United Presbyterian Church in East Orange, N.J.
Kiley Hinkle '16 was booked for the national tour of musical comedy 42nd Street. She also signed representation with Luedtke Agency.
Colby Dezelick '16 is performing in Goodspeed's production of Chasing Rainbows from Sept. 16-Nov. 27 in East Haddam, Conn. The musical is based on the life of Judy Garland prior to The Wizard of Oz. Dezelick also signed representation with Nicolosi and Co.
Mark Swift '15 played Robert Lambert in Boeing Boeing, a 1960s' French farce adapted for the English-speaking stage, at Hedgerow Theatre in Rose Valley, Pa., from July 7 through Aug. 21.
---
Send your class note to [email protected] to be included in the next issue of Rider magazine!