McNair Scholars Head to Rutgers and UMDNJ
During her in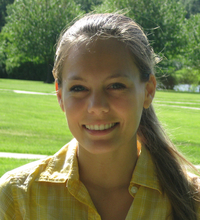 ternship with PEI Kids last fall, Amanda Morales '10 learned a hard, but critical lesson. She remembers observing one particular supervised visit with a caseworker, where a child had to be removed from the home.
"You have to be disconnected from people and situations," said Morales, who received bachelor's degrees in Psychology and Fine Arts at Rider's undergraduate Commencement ceremonies on May 14. "You have to show some empathy, but you can't let the case get you down. It was a big shock for me."
Meanwhile, Kimyata Valere '10, under the guidance of Dr. Jonathan Yavelow, assistant dean of the College of Liberal Arts, Education, & Sciences, explored ways to improve the isolation and sequencing of a specific gene that might be associated with breast cancer. While Valere always wanted to become a medical doctor, the experience opened her eyes to the particular field of cancer research.
While Morales and Valere studied distinctly different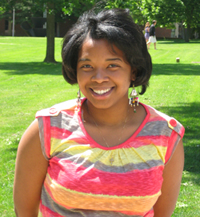 disciplines during their time at Rider University, they share a common bond as McNair Scholars. In fact, the recent graduates agree that they would not have been able to pursue those opportunities, nor realize their own potential, without the financial and academic support of the Ronald E. McNair Post-Baccalaureate Achievement program. The scholarship program, sponsored by U.S. Department of Education and Rider University, identifies academically talented, underrepresented minority students in science, technology, engineering and mathematics. In addition, the program provides mentoring and research opportunities, as well as guidance when applying to graduate school.
This fall, Morales and Valere will begin doctoral programs on full scholarship as part of the McNair program. Morales will pursue a Psy.D. in Clinical Psychology from Rutgers University's Graduate School of Applied and Professional Psychology. At the same time, Valere will pursue a Ph.D. in Biomedical Sciences from University of Medicine and Dentistry of New Jersey's (UMDNJ) Graduate School of Biomedical Sciences.
As a freshman, Morales fell in love with Rider's campus and the dance program, but she was undecided at first on her course of study. It was not until she took a class with Dr. Michael Epstein, professor emeritus of Psychology, when she found a field of study that she was passionate about. Morales was able to explore psychology through research by examining people's perception of the legal system, under the guidance of Dr. Wendy Heath, professor of Psychology.
"Psychology is part of your everyday life. It involves everyday people and examines how the mind works, which is just fascinating," said Morales, who would like to open her own clinical practice in the future.
For Valere, she always dreamed of going to UMDNJ as medical student. Through the McNair program, she not only had a chance to work on independent research, but she was connected to conferences and graduate programs that met her interests as a researcher.
"It's like you have to solve a puzzle when you conduct research," Valere said. "I want to help advance cancer research."