Talk will trace impact of climate change on human origins
Syracuse Professor Christopher Scholz will present a talk on climate change April 25
Dr. Scholz's research focuses on large lakes in Africa, which provides clues to how climate change affected human evolution.
Dr. Christopher Scholz, professor of earth sciences at Syracuse University, will present a talk on climate change on Friday, April 25, at 3 p.m. in the Sweigart Auditorium (SWG115). His talk, "Climate Change and Human Origins: New Discoveries Through Scientific Drilling in East Africa's Great Rift Valley," is open to students, staff and faculty, as well as the public.
Whereas current concerns over climate change stem from humanity's impact on the global climate, Dr. Scholz views climate change from a different perspective. His talk — part of the GEMS Seminar Series and geared for a general audience — aims to shed light on how natural climate change impacted the origin and subsequent evolution of humanity.
Dr. Scholz's current research focuses on the large lakes of the East African Rift Valley, where new sedimentary records provide information on past tropical climate change and its connection to the origin of the human species several million years ago. As the climate dried in the cradle of humanity, woodlands were transformed to open plains, says Dr. Jonathan Husch, department chair of Rider University's department of Geological, Environmental and Marine Sciences (GEMS). "Our ancestors lived largely in trees," he adds. "When trees started disappearing, our ancestors evolved to travel more upright across the savannah and look for predators above the grasslands. That would have freed up our hands and may have led to the development of bigger brains."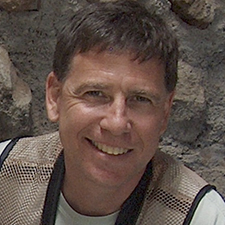 Dr. Scholz's visit is sponsored and supported by GeoPRISMS (Geodynamic Processes at Rifting and Subducting Margins), a National Science Foundation-funded program committed to the study of the origins and evolution of continental margins.
The GEMS Seminar Series brings in a wide variety of speakers of interest to faculty and students. Topics cover geological, marine and environmental sciences and often cross the boundaries between the disciplines.
"For a department like us, with number of different major programs, we like to go as broad as possible with our events to appeal to a wide audience," Husch says, adding that a presentation on human origins perfectly fits the goal of the series. "Who's not interested in where we come from?"