'Dr. Who' fans come together on campus for 50th anniversary simulcast
About 100 people attended a public screening in the Yvonne Theater on Nov. 23
'This experience shows that if we build it, students will come,' says Professor Tamara Jo Musumeci-Szabó.
Tamara Jo Musumeci-Szabó has a history of forming bonds over science fiction. As an undergraduate at Susquehanna University, she would gather in the psychology lounge with other students and professors to watch The X Files. During commercials, they would discuss the show. "We were talking about the whole field of psychology within the context of this show we loved," she says.
Now a social psychology professor at Rider University, Musumeci-Szabó figured that Dr. Who had the potential to be at the center of something similar at Rider. She had already drawn one of her students into her orbit after he wore a Dr. Who shirt to class. "I remember thinking, 'If we've got one student, there must be more,'" she says. "This is a show that people feel quite passionate about."
Dr. Who is science fiction's longest-running television show. Originally airing a year before the premier of Star Trek, it follows the exploits of The Doctor, a time traveler who — week after week — thwarts monsters and saves societies. The show recently celebrated its 50th anniversary with a 75-minute episode that was simulcast in nearly 100 countries.
The standard British Police Box has become a symbol of the beloved BBC show. At the Dean of Arts and Sciences' opening reception this year, Musumeci-Szabó wore silver earrings in the shape of the Box, a subtle signal of her devotion to the long-running series.
Vanita Neelakanta, an associate professor of English, didn't know Musumeci-Szabó when she spotted the earrings, but the jewelry suggested the two professors could be friends. Neelakanta approached Musumeci-Szabó to tell her that she liked them.
"It's like a secret decoder ring," Musumeci-Szabó says of the jewelry. "It allows you to have a conversation with a virtual stranger."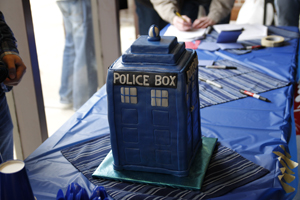 When the anniversary show was approaching, "I knew immediately who I would reach out to as a partner in crime," Musumeci-Szabó says.
She and Neelakanta organized a screening of the simulcast on campus, along with an introduction to the series for new viewers and a social gathering.
Students designed and distributed posters around campus prior to the screening. When so many RSVPs started rolling in, the gathering space was upgraded from a small room to the Yvonne Theater. Student volunteers began setting up at 11 a.m. for the event, which took place from 1 to 6 p.m. on Nov. 23. Close to 100 people, dressed in costume and enjoying Whovian-themed treats, were in attendance
After the screening, the crowd stuck around to discuss and analyze the show. Students from a wide range of majors brought their perspectives. "What was lovely was that it wasn't just a literary perspective or a psychological analysis," says Musumeci-Szabó.
Naturally, the social science professor administered pre- and post-event surveys to gather data that she can use when planning similar events. Preliminary findings suggest that students not only want more Dr. Who viewings, but other opportunities to participate in interdisciplinary activities focused on popular subjects. "I see a club in the future," Musumeci-Szabó says. "This experience shows that if we build it, students will come. Now, we need to find other points of connection."