Rider Welcomes Gallup Editor-in-Chief Frank Newport
Pennington resident will discuss Election Day 2010 from a polling perspective as a guest of the Rebovich Institute for N.J. Politics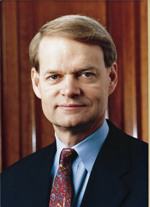 Now that all the ballots have been counted, and the nation's next class of legislators has been decided, hear post-election analysis from a polling perspective when Frank Newport, Ph.D., editor-in-chief of the Gallup Poll, visits Rider University on Wednesday, November 17, at 7 p.m., in Sweigart Auditorium. The event is sponsored by the Rebovich Institute for New Jersey Politics. Sweigart Auditorium is located inside Anne Brossman Sweigart Hall on Rider's Lawrenceville campus, located at 2083 Lawrenceville Road (Route 206 South).
Newport will offer insights on Election Day based on his unique view of both the larger national trends and the dynamics of individual races from across the country. A resident of Pennington, Newport is the coauthor of Winning the White House 2008: The Gallup Poll, Public Opinion and the Presidency and author of Polling Matters: Why Leaders Must Listen to the Wisdom of the People.
The 2010-11 president of the American Association for Public Opinion Research, Newport also serves as vice president of the National Council on Public Polls and sits on the Board of Directors for the Roper Center for Public Opinion Research. He has served on the University of Michigan Program in Survey Methodology External Advisory Committee.
Newport is a frequent guest on radio and television programs, discussing public opinion and the collective views of the American people. His weekly radio show, What Are We Thinking?, is produced and syndicated by Philadelphia NPR affiliate WHYY-FM.