Conducting Institute
Conducting Institute
June 22 - 29, 2019
The acclaimed Westminster Conducting Institute is one of the leading programs for the training of conductors in the world. In one extended week of intensive study, participants are able to experience in one location some of the world's most renowned conductors who share their artistry and experience with participants. Coupled with its new sister program, The Choral Music Institute at Oxford, conductors at all levels of expertise can sharpen their pedagogical and conducting skills under the tutelage of the world's greatest teachers. Led by James Jordan, this remarkable and diverse faculty bring their vast expertise that have led the choral profession both in America and Europe for the past four decades.
Techniques taught in the Institute are applicable to all ages and performance level choirs. The Institute also introduces conductors to new choral literature brought to the Institute by each of the conducting faculty.
Faculty
James Jordan, Director
Marilyn Shenenberger, Coordinator and Principal Accompianist
Distinguished​ Choral Faculty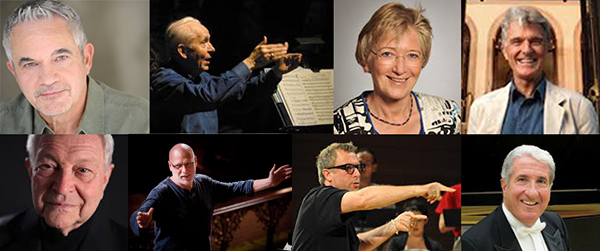 Conducting Teacher Preference
The Institute realizes that many persons come to Conducting Institute to study with a particular member of its renowned faculty. Participants may request a teacher during the opening evening conducting evaluation. Every effort will be made to honor the request of participants, keeping in mind class balance and class size. Preference will also be given to persons who have been participants in previous years of the Conducting Institute or have attended the Choral Institute at Oxford. Conductors who have limited experience can opt-out of the opening evening conducting and be assigned directly without a conducting evaluation to a class by the Institute Director.
Note: The Institute Director will assign a portion of the audition piece to be conducted in the opening evening conducting placement.
---
Audition Piece 2018

Participants may elect not to audition and will then be placed in the beginning class.
---
Literature for Study
Each faculty member selects 2-3 works to present to the Institute. A major work is examined and studied by all participants. All literature will be available through Westminster Music and Books for order for study before the Institute.
Led by author/accompanist and Dalcroze specialist Marilyn Shenenberger, each small conducting class taught by the Institute faculty has an accompanist that has collaborated with one or more of Westminster's renowned choirs.
---
Daily Schedule Components
Each day begins with a group vocal technique warm-up and lecture by Sabine Horstmann. Professor Horstmann was a student of the legendary Frauke Haasemann. Students attending the Institute gain valuable pedagogical insights and materials for use with their choirs in these sessions. Professor Horstmann has been with the Westminster Conducting Institute for ALL of its 16 year history. Participants during the week will learn in detail the techniques and philosophy in her acclaimed book and DVD, Choral Vocal Technique (GIA)
Daily conducting classes in small groups with the Institute faculty. (Note: Participants may request to study with a specific member of the faculty-Placement dependent upon the approval of the Institute Director on the first evening of the course. Participant requests honored whenever possible)
Masterclasses in Practical Rehearsing by Simon Carrington focusing on editions specially created for the Institute members. Institute members serve as his choir as he demonstrates rehearsal techniques that have become associated with his approach to teaching and performance.
Conductor Predictive Audiation-James Jordan will share the latest practical applications to conductor listening skills that greatly effect choral ensemble performance.
Study of Plainchant and its uses as a music literacy teaching tool for choirs at all levels by James Jordan detailing how an understanding of how a knowledge of plainchant informs all choral performance, no matter the work. Issues of phrasing, breath, and ensemble singing will be discussed.
Evening lectures on score analysis, and their topics by the Institute faculty
Masterclasses in Conducting-In addition to intensive small group study with the world-renowned faculty, all students conduct and receive comments and video feedback in final masterclasses.
Please note: This course includes evening hours. A complete schedule will be sent to participants. Participants should organize their travel plans accordingly.
Daily class schedule (Monday - Friday) is 8:30am - 8:30pm
First day of Institute: Sunday class is 3:30pm – 9:30pm
Saturday class is 8:30am - 1pm
In addition to the above, each participant is assigned (based upon experience) to a daily conducting class with the Institute faculty. Students are asked to conduct a portion of work on the first evening of the Institute in order to be placed in the appropriate section. Students also conduct in master class situations where they are critiqued by choral faculty other than their class teacher. Participants must bring a scandisk of sufficient size to record both their conducting classes and the final masterclasses. Participants can take the Institute for credit or noncredit. Conductors who register for credit are entitled to a longer critiqued masterclass. Non-credit participants conduct for masterclasses for a shorter amount of time for written comments only. For non-credit persons, masterclass conducting is optional. Credit participants must conduct in the Institute masterclasses and complete a written project during the Institute.
---
Tuition:
$825 non-credit/$1710 with 3 graduate credits
---
2018 Repertoire
Afternoon on a Hill - David von Kampen
Abendlied - Josef Rheinberger
As Torrents in Summer - Edward Elgar
Aus der Tiefe rufe ich, Herr zu dir - Heinrich Kaminski
Der Gang zum Liebchen - Johannes Brahms
Funeral Ikos - John Tavener
Geistliches Lied - Johannes Brahms
I am the Great Sun - Jussi Chydenius
I Had No Time to Hate - Nathan Howe
I Shall Not Live In Vain - Thomas LaVoy
I Will Lift Up Mine eyes - Adolphus Hailstork
If Ye Love Me - Paul Mealor
Komm, Heiliger Geist - Albert Becker
Little Elegy - Stephen Paulus
My Lord has come - Will Todd
Night - Andrew Bonacci
O Salutaris - Edward Elgar
Qui tollis, from Gloria, Mass in B minor, BWV 232 - J.S. Bach
Requiem aeternam - Peter Cornelius
Schicksalslied - Johannes Brahms
Set Me As A Seal - Rene Clausen
Set Me As A Seal - William Walton
The beautiful Land of Nod - Robert Convery
Thou Knowest Lord - Henry Purcell
All repertoire will be available from Westminster Music and Books.
---
Westminster Office of Continuing Education
609-924-7416
[email protected]