Information for Current Scholars
ENTRANCE COUNSELING
Before any scholarship funds can be distributed, you must make an appointment for entrance counseling to sign your STEM Scholars financial contract (PDF). The financial contract consists of three parts: (1) promissory note, (2) statement of rights & responsibilities, and (3) student loan worksheet. Feel free to read through the promissory note and statement of rights beforehand, and arrive at your appointment empowered with any questions regarding the terms of the scholarship and/or loan repayment. The terms of the scholarship and loan repayment are necessarily duplicated between these two sections, and you will thoroughly review them with a financial aid counselor during your entrance counseling. Be sure to bring a valid form of picture ID.
In the third section, the student loan worksheet, you are required to provide comprehensive information on personal contacts (including spouses, parents, and previous employers) for verification and tracking purposes. To expedite the entrance counseling and ensure you have all the relevant information, you should fill in the student loan worksheet (PDF) well ahead of time and bring it to your appointment. As per the instructions on page 1, do not skip any sections that are relevant, as that will only delay your scholarship award.
---
RESEARCH OPPORTUNITIES FOR STEM SCHOLARS

The STAR Program (STEM Teacher and Researcher) offers paid summer research experiences for aspiring K-12 STEM teachers, bringing better teaching and learning practices into the classroom by embedding participants in real-world research environments and connecting them with experienced STEM educators. The STAR Program applications will soon be available for Summer 2019.
---
TUTORING, LEADERSHIP AND MENTORING OPPORTUNITIES FOR STEM SCHOLARS
If you are (or would like to be):
a STEM Ambassador at Trenton Central High School (Download PDF application)
a mentor for the STEM Teacher Academy (Download PDF application)
or are generally planning on getting a paid internship that immerses you in a nearby school district
You need to do a few things ahead of time… particularly if you want to get paid:
Become a campus employee.
According to Rider's Student Employment website, all new student employees must complete I-9 and W-4 forms, and submit them along with other required documentation to the Rider Disbursements Office. Refer to the I-9 form ahead of time for detailed information regarding the required documents needed to complete this form. These forms only need to be completed once, not each academic year.

Fill out a work contract.
If you are being paid through STEM Scholars, you will need to fill out a student work contract, which you can pick up at Disbursements or in the main office of Science Hall. You will need to complete all personal information, and then work with Dr. Jacobs to complete with payment information. Once the form is completed, it must be submitted to the Disbursements Office. A student work contract must be completed for every campus job, at least once a year (usually once a semester).

Get current Mantoux test results.
The Mantoux test is a simple "scratch test" that demonstrates you are not a carrier of tuberculosis, and is required of all people who work in schools. If you have not been tested in the last 6 months, go to Student Health Services (Poyda Hall) to get tested for free, and maintain a copy of your results. Your primary care physician can also do the test for a small fee (which will not be reimbursed by STEM Scholars). The test requires two separate visits, at least 48 hours apart, so plan ahead.

Do a criminal history check and get fingerprinted.
A criminal history check (also known as a criminal background check or CBC) as well as fingerprinting must both be completed before you will be allowed to teach or tutor in most Trenton and Philadelphia area schools. Please be ready to pay the fees yourself, and be sure to keep copies of the receipts so that STEM Scholars can reimburse you.
Here are instructions:


Visit the NJ DOE's Criminal History Review website. You should choose "new applicant" unless you already have a CHR to transfer. Continue to follow the prompts. Under Job Category, choose "Substitute Teacher" and under Public School Selection select the code for Trenton. Eventually you will be prompted to pay the administrative fees ($11) for the criminal history background clearance.

Visit the IdentoGO website to schedule an appointment for fingerprinting. If you have never been previously fingerprinted in New Jersey, you will need to pay the $67.45 fingerprinting fee.

Fill out IdentoGO New Jersey Universal Fingerprint Form. When filling out the paperwork, do not write "Rider University" as the "sponsoring organization". The sponsoring organization is the agency in which you are being employed, for example "Trenton Public Schools" or "Philadelphia Public School District". Fingerprinting will likely need to be transferred to a new district upon graduation or certification.

When you go to your scheduled fingerprinting appointment, make sure to bring: (1) a picture ID (foreign passports will no longer be accepted as proof of identification) and (2) your IdentoGO NJ Universal Fingerprint Form.

Verify your criminal history status.
It takes at least 14 days after fingerprinting for your employment approval to be available on the criminal history review status page, so do not delay in getting the process started. Send a copy of your documentation to Dr. Jacobs or Dr. Hester.
All of these steps can be very time consuming, so do them as soon as possible, even if you have not yet identified an internship. The Criminal Background Check is transferable between school districts, and will be essential for your entry into most schools. STEM Scholars will reimburse these expenses ($11 for CBC, $65-$70 for fingerprinting).
---
TOOLS FOR SEARCHING FOR A TEACHING POSITION
Applitrack: New Jersey School Boards Association Employment Application
Teacher Cancelation Low Income Directory: The TCLI directory, developed by the U.S. Department of Education, provides up-to-date information on state and territorial educational agencies that qualify as "high need", and will be an essential resource in knowing what schools and school districts will be appropriate for fulfilling the terms of your STEM Scholars scholarship contract.
List of High-Need New Jersey Schools & Districts: (Download PDF of NJ high-need districts) Only as defined by income of the population it serves. This is not an exhaustive list.
---
FOR QUESTIONS, CONTACT:
Associate Professor of Chemistry, Director of STEM Scholars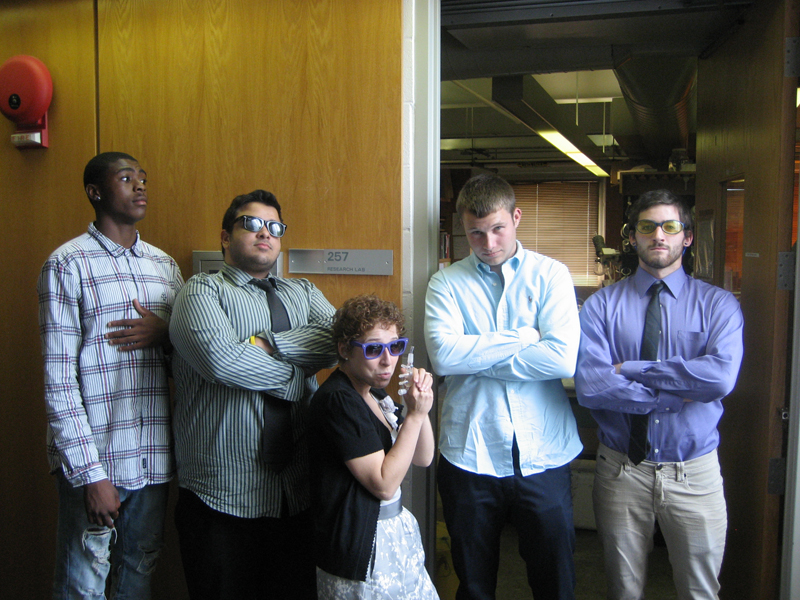 Education & Experience
2008 Ph.D., University of North Carolina at Chapel Hill (Michael T. Crimmins)
2008 AAAS Mass Media Science & Engineering Fellow
2007 Department of Education GAANN Teaching Fellow
2002 B.S., Haverford College (Frances R. Blase)
Associate Professor of STEM Education
Bierenbaum Fisher Hall 102F
Academic Background
2002 Doctor of Philosophy Instruction and Curriculum in the content Areas (Science) University of Colorado
1986 Master of Arts in Teaching Biology Northern Arizona University (NAU, Flagstaff AZ)
1982 Bachelor of Science Environmental and Systematic Biology California Polytechnic State University (San Luis Obispo CA)