STEM Teacher Scholarship Program

SHARE

your Passion for STEM and Teaching
TEACH

STEM in a High Needs School District in NJ
EARN

100% Tuition Your Junior and Senior Year
MAKE

a Difference in our State and Nation
---
Share Your Passion for Science or Math — And Earn a Full‐Tuition Scholarship
Have a curiosity for scientific research and discovery? Intrigued by mathematical problems? Are you a creative, outside-box-thinker? You can now earn a 100% tuition scholarship for your junior and senior years at Rider by sharing your passion with others as a STEM teacher. Become one of Rider University's STEM Scholars!
Rider University's STEM Scholars Future Teacher Scholarship Program, funded by the National Science Foundation, is a unique program that offers scholarships, individualized advising and support, and an innovative curriculum toward resolving the critical need for teachers of science, technology, engineering and mathematics (STEM) in high schools nationwide. After graduating, you'll be empowered to begin your career as a secondary STEM teacher (grades 9‐12) in a "high need" school district.
So apply today, and become an integral member of the Rider community, with invaluable access to personalized mentoring, networking, professional development opportunities, and academic and financial support.
Application Information
The 2020-2021 application is now available! Applications are accepted and reviewed on a rolling basis, but for course scheduling and advising purposes, potential scholars are strongly encouraged to complete and submit their applications by February 28th, 2020, for consideration for scholarships beginning in Fall 2020.
Apply to the STEM Scholars program (PDF)
Apply to Rider University
---
WHO IS ELIGIBLE FOR SCHOLARSHIPS?
This program is open to:
Transfer students from community colleges with a science or math major, or an education major with a STEM focus
Transfer students interested should contact Rider's transfer admission coordinator at 609‐896‐5042 or email [email protected] for further assistance.
View the transfer brochure (PDF)
Rider secondary education majors with a STEM‐related second major
Rider science or math majors interested in pursuing teacher certification
Students who are citizens or permanent residents, and who currently or plan to attend Rider full-time.
Students with a cumulative GPA of 3.0 entering the junior year and who fulfill specific class requirements. Consult with your Rider academic advisor or your community college transfer advisor for course selection guidance.
But don't wait until your junior year to see if STEM Scholars is right for you.
Interested freshmen and sophomores majoring in any STEM discipline can take advantage of many other free or paid opportunities such as hands-on research, summer enrichment programs and even take a stab at teaching. Take a quick qualifying quiz and contact Dr. Danielle Jacobs at [email protected] to get involved.
---
ADDITIONAL PROGRAM BENEFITS
In addition to 100% tuition support, you'll also receive:
Competitive stipends for summer research or teaching experiences
Cost‐of‐living stipends
Free student membership in the New Jersey Education Association (NJEA) and coverage for travel to the annual state conference
Covered costs of expenses involved with teaching certification and licensure, including:

edTPA assessment (assesses your readiness as a new teacher)
Praxis training and pre‐ and post‐testing (a series of tests to measure teacher candidate knowledge and skills, used for licensing and certification)
Full coverage of state licensure fees

Job placement as a teacher at a qualifying high‐needs secondary school
Induction support and stipends upon placement in your school district
No-cost professional development as in-service teacher through Rider's own SELECT and CONNECT‐ED networks
---
COMMITTING TO MAKING A DIFFERENCE
Once you successfully complete both your STEM and Education degrees, Rider is committed to getting you a job in a high school that is in great need of a STEM teacher as well-prepared as you'll be. And in turn for Rider's commitment to you, you'll be committed to teaching two years for each year of full tuition support you receive through STEM Scholars. The commitment is small. The impact, however, will reach wider than you can imagine.
Almost convinced? Read more about the nationwide need for high quality science and math teachers, the rewards of teaching, and the benefits of being a STEM Scholar at Rider University.
To see if Rider's STEM Teacher Scholarship program is the right path for you, complete a brief qualifying quiz and you will be contacted by the program director.
---
TO LEARN MORE
Like RiderSTEM on Facebook to stay up-to-date on upcoming events aimed at prospective scholars, and to learn about what our current and former scholars are doing now.
Rider University STEM Scholars in the news:
---
Funded by NSF-DUE Robert Noyce Award #1557389
Associate Professor of Chemistry, Director of STEM Scholars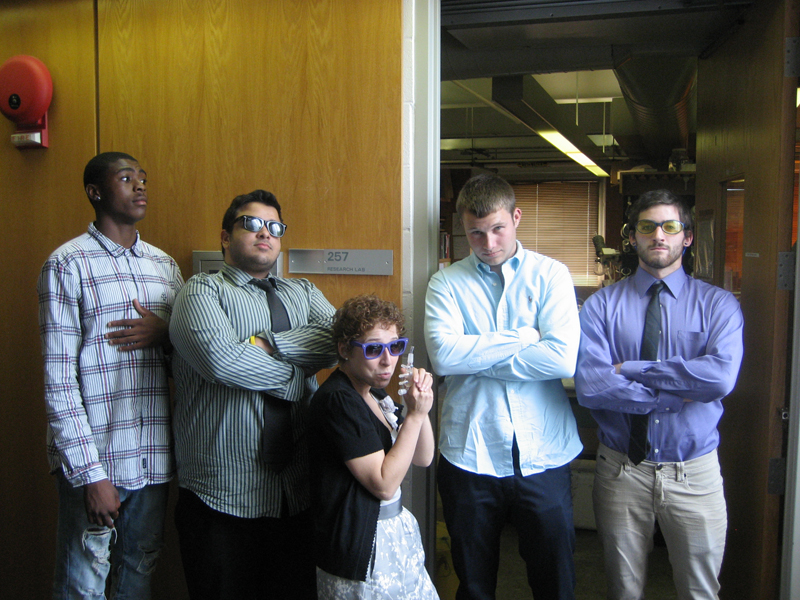 Education & Experience
2008 Ph.D., University of North Carolina at Chapel Hill (Michael T. Crimmins)
2008 AAAS Mass Media Science & Engineering Fellow
2007 Department of Education GAANN Teaching Fellow
2002 B.S., Haverford College (Frances R. Blase)
Associate Professor of STEM Education
Bierenbaum Fisher Hall 102F
Academic Background
2002 Doctor of Philosophy Instruction and Curriculum in the content Areas (Science) University of Colorado
1986 Master of Arts in Teaching Biology Northern Arizona University (NAU, Flagstaff AZ)
1982 Bachelor of Science Environmental and Systematic Biology California Polytechnic State University (San Luis Obispo CA)