Area Studies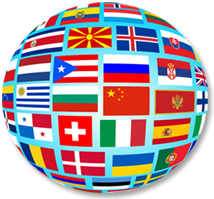 Immerse yourself
There is no better time to immerse yourself in another culture, discover fascinating places, and experience a unique multidisciplinary learning environment than during college. The Area Studies program is an exciting new way of learning about and becoming proficient in a specific geographic area while studying at Rider.
Students will also become "citizens of the world," and therefore be able to understand foreign-born Americans and immigrants and contribute to the building of a progressive America in the global world of the 21st century.
Learn more
Want to learn more about Latin America, China or Europe? A multidisciplinary minor through the Area Studies Program will prepare students to develop a comprehensive understanding of the economic, political and social distinctiveness of these regions, including the populations' identity formation based on historical and cultural communalities and tensions.
The program's primary objective is to cater to students interested in gaining international experience and succeeding in the global world of the 21st century. Area Studies provides unique access to the modern interdependent world.
Students will be prepared for success in graduate and professional schools and in careers that require expertise in fields such as education, government, international business and international organizations.
Keystones of this learning experience
Courses in Political Science, History, Sociology, Languages, Literatures & Cultures, Philosophy, Fine Arts and Film Studies, and other fields
Engaging in experimental learning in various disciplines and exposure to multidisciplinary methodologies of different fields
Study abroad opportunities and study tours
Service learning
Internships
What you will study (21 credits)
Gateway course
1-2 language courses
4-5 area specific courses
Study abroad opportunities
Service learning opportunities with NGOs or IGOs