About the Program
We invite you to join the growing number of nurses who are preparing for the future as students in Rider University's new Online RN to BSN degree program.
This program emphasizes quality, patient-centered care, use of technology, improving outcomes, innovative leadership and evidence-based practice.
It will assist you in:
Building your problem-solving and leadership skills as a team member and manager.
Enhancing your ability to work with colleagues and patients of diverse cultures
Developing the advanced communication and critical thinking skills needed in today's complex health systems
Providing the added credentials you need for professional advancement and security
Your Success is Our Priority
Offered through Rider's College of Continuing Studies (CCS), the new Online RN to BSN program is specially designed for licensed RNs returning to college to continue their nursing education.
We welcome you back to the classroom through exceptional one-on-one support and advisement, personalized service, and a faculty responsive to your unique academic concerns and challenges as an adult learner. When you apply for admission, you will be assigned an academic advisor who serve as your contact and guide throughout your entire Rider experience.
The format of the Online RN to BSN degree program is designed to offer you maximum convenience and flexibility so that you can balance work and family demands while advancing your professional nursing skills.
The entire 30-credit nursing core is offered completely online.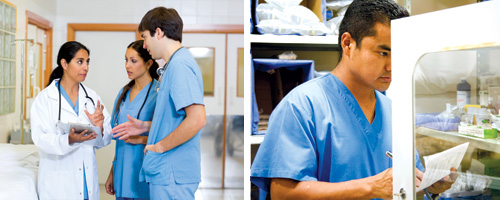 Classes will be highly interactive and provide the opportunity to explore shared topics of interest.
For the balance of your coursework, you have the option of taking them online or at Rider University's campus in Lawrenceville, NJ. You will have the opportunity to incorporate the new knowledge you acquire through studies in the liberal arts, business, education, humanities and sciences into your nursing care.
You will be supported by Rider's educational technology staff, whose members will assist you in preparing for online studies and address any technology needs you may have.
Before classes begin, you will participate in a one-day orientation designed to respond to any questions you may have, give you the opportunity to meet and interact with your classmates and faculty members, and introduce you to Rider's online coursework process. If you require additional assistance, you can take advantage of Rider's complimentary computer training services.
---
Accreditation
The baccalaureate degree program in nursing at Rider University is accredited by the Commission on Collegiate Nursing Education, 655 K Street NW, Suite 750, Washington, DC 20001. 202-887-6791.