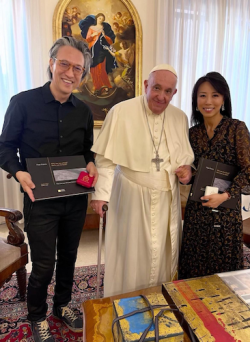 We are excited to welcome back our special guests, world-acclaimed artist and culture care advocate Makoto Fujimura and Haejin Shim Fujimura, to share their latest work on the role of artists in the modern world.
Makoto Fujimura
Fujimura graduated with a Bachelor of Arts degree from Bucknell University, then studied in a traditional Japanese painting doctorate program for several years at Tokyo University of the Arts with several notable artists such as Takashi Murakami and Hiroshi Senju. His bicultural arts education led his style towards a fusion between fine art and abstract expressionism, together with the traditional Japanese art of Nihonga and Kacho-ga (bird-and-flower painting tradition). Fujimura's art has been featured widely in galleries and museums around the world, and is collected by notable collections including The Museum of Contemporary Art in Tokyo, The Huntington Library as well as Tikotin Museum in Israel. His art is represented by Artrue International in Asia and has been exhibited at various venues including Dillon Gallery, Waterfall Mansion, Morpeth Contemporary,  Sato Museum in Tokyo, Tokyo University of Fine Arts Museum, Bentley Gallery in Phoenix, Gallery Exit and Oxford House at Taikoo Place in Hong Kong, Vienna's Belvedere Museum, Shusaku Endo Museum in Nagasaki and Jundt Museum at Gonzaga University. He is one of the first artists to paint live on stage at New York City's legendary Carnegie Hall as part of an ongoing collaboration with composer and percussionist, Susie Ibarra.  Their collaborative album "Walking on Water" is released by Innova Records. 
As well as being a leading contemporary painter, Fujimura is also an arts advocate, writer, and speaker who is recognized worldwide as a cultural influencer. A Presidential appointee to the National Council on the Arts from 2003-2009, Fujimura served as an international advocate for the arts, speaking with decision makers and advising governmental policies on the arts. His book "Refractions" (NavPress) and "Culture Care" (IVPress) reflects many of his thesis on arts advocacy written during that time. His books have won numerous awards His books have won numerous awards including the Aldersgate Prize for "Silence and Beauty" (IVPress). In 2014, the American Academy of Religion named Fujimura as its 2014 "Religion and the Arts" award recipient. This award is presented annually to professional artists who have made significant contributions to the relationship of art and religion, both for the academy and a broader public. Previous recipients of the award include Meredith Monk, Holland Cotter, Gary Snyder, Betye & Alison Saar and Bill Viola. Fujimura's highly anticipated book "Art+Faith: A Theology of Making" (Yale Press, with foreword by N.T. Wright, 2021) has been described by poet Christian Wiman as "a real tonic for our atomized time". Read more
Haejin Shim Fujimura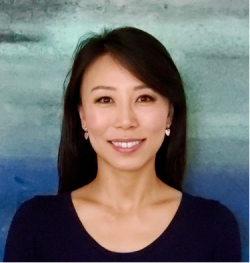 Haejin Shim Fujimura is a lawyer and an entrepreneur.  Ms. Shim is the managing partner of the law firm, Shim & Associates, which was founded on the vision of culture care and advocacy for the oppressed.  She has extensive experience litigating various civil lawsuits and representing companies ranging from startups to publicly traded companies.
Ms. Shim is also a co-founder and the CEO of Embers International, a global NGO protecting, restoring, and empowering the victims of injustice to end intergenerational oppression. 
Ms. Shim is also a co-founder and the President of Academy Kintsugi and is a frequent speaker on the topic of justice, beauty, generational stewardship, and whole person care.