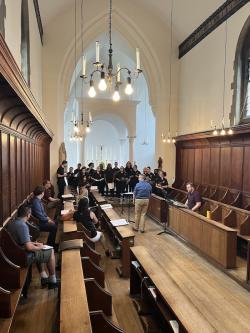 Participants will experience first hand an educational experience that is unique to Oxford University. That experience, one of total immersion in a residential college, will expose participants to an intense and exciting educational atmosphere. In addition to studying conducting and aspects of the choral art that will build musicianship in each participant regardless of prior experience levels, participants will become immersed in a community of musicians and faculty.
Full Conductors, Conducting Associates and Conducting Observers alike will engage in an immersive study of choral conducting and choral artistry, building musicianship and technique. All participants work closely with Program Directors James Jordan and James Whitbourn.
Full Conductors gain practical conducting experience and tuition at the podium, conducting the Choir of the Choral Institute at Oxford - whose singers are drawn from the GRAMMY-nominated ensemble Williamson Voices - within the beautiful acoustics of the chapels of St. Stephen's House.
Conducting Associates
The Conducting Associates program at the Choral Institute at Oxford offers a unique opportunity for musicians to study the philosophy, skills and techniques of choral conducting with world-renowned teachers in an environment ideally suited to the study and performance of choral music. Students learn through participation of all classes and lectures, through observational analysis of conducting masterclasses with a Grammy-nominated choir and through bespoke, practical conducting workshops.
The program for Conducting Associates is identical to that of the Full Conductors aside from the level of participation in the Practical Conducting seminars. All CIO students - Full Conductors and Conducting Associates alike - use observation and analysis of other CIO students as part of their own study. For all, observation of the faculty's teaching and of the artistic growth of other conductors brings focus to the development of their own musical growth. Additionally, the Full Conductors experience first hand the sonic response to their gesture and musical presence by conducting a first class choir in an outstanding environment. For the Conducting Associates, this element is replaced with additional conducting workshops given by members of CIO faculty, tailor-made to meet the particular needs of the group or individuals. These can include practical conducting opportunities, working with a pianist rather than a choir.
The CIO places much importance of the conductor's need for a thorough understanding of the music that is being performance and its wider context. It places as much emphasis on the preparation and study of musical style and of individual scores as on the implication of gesture. All CIO students therefore attend the study lectures delivered by key members of the Faculty of Music at Oxford University and by other guest lecturers. In past years, stimulating seminars, rehearsals and lectures by Edward Higginbottom, Stephen Darlington, Daniel Hyde, and Robert Quinney have been highlights of the CIO.
Associates can absorb and analyse the components which create the sound, artistry, and spirit of the Grammy-nominated Williamson Voices. Many from past years have treasured the inspiration and wisdom garnered from these singers and have taken back that knowledge for use with their own choirs.
Meals and tea breaks are taken together and these times often provide opportunities for further discussion of the day's events in the relaxed surroundings of the college dining hall or common room, or during a stroll round the college's beautiful cloister.
Conducting Associates are under the tutelage of one of Westminster's most inspirational teachers, Steven Pilkington in addition to the CIO Directors and other CIO faculty. Dr. Pilkington's lectures and insights are one of the annual highlights of CIO. The beautiful atmosphere of St. Stephen's House experienced by all is conducive to quiet personal study.
Three text books support the teaching format of the CIO, working with sound that is reactive and reflective not only of the conductor's gesture but also of spirit. The texts, Discovering Chant, Sound as Teacher and Conductor as Prism (James Jordan, GIA) were written to document and explain the magic that happens at CIO when, as the one text says "sound becomes teacher". To be able to observe, assimilate, experience and process is an educational opportunity that many past participants choose as their course of study either before returning as a full conductor or simply as part of their own process of learning.
The Conducting Associate program is open to all levels of conductors. All participants receive a formal Certificate of Completion signed by the CIO faculty at the conclusion of the course. Conducting Associates can enroll in the CIO for graduate credit.
Conducting Observers 
Conducting Observers participate in the same experience as Conducting Associates without the additional cost of room and board.