ROTC & Resources

Proud to be designated a Military Friendly Gold School!
---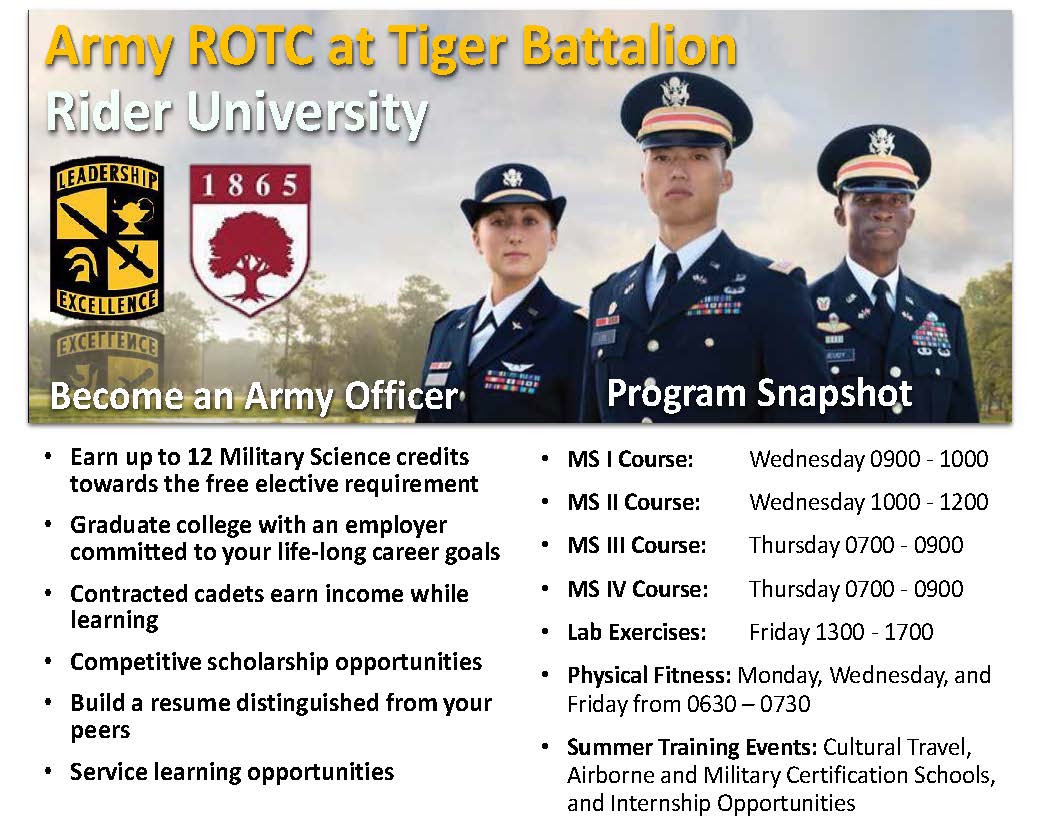 Army ROTC offers a cross-town opportunity for Rider students to become Army Officers while completing their degree. Princeton University is the host institution for local area partnership schools. ROTC classes for Rider students are offered at the nearby partnership college, The College of New Jersey, and taught by the experienced instructors of the Princeton ROTC Cadre.
ROTC
Army ROTC, Tiger Battalion
609-258-4225 [email protected]
Air Force ROTC—Information about the Air Force ROTC program.​
Army ROTC—Information about the Army ROTC program.
Naval ROTC —Information about the Navy ROTC program.
Naval ROTC/Marine Corps option —Information about the Marine Corps ROTC program.
Coast Guard CSPI—Information about the Coast Guard College Student Pre-Commissioning Initiative Scholarship Program
---
Resources
ACP Veteran Mentoring Program—(ACP) is a non-profit organization dedicated to helping military veterans successfully transition into a civilian career. Through a one-on-one, yearlong mentorship, ACP's veterans work with Mentors from one of many Participating Institutions in a career field of their interest.
American Corporate Partners—Mentorship for veterans to facilitate transition into the civilian workforce
DANTES—Main site for information about the Defense Activities for Non-Traditional Education Support; has up-to-date news about tuition assistance programs, information workshops, and testing.
DOD—Official site of the United States Department of Defense.
GI Bill—Veterans Administration site for information on GI Bill educational benefits for active and former service members; contains online forms needed to apply for benefits.
GI Go Fund—nonprofit charitable organization that provides transition assistance to veterans of Operation Enduring Freedom and Operation Iraqi Freedom.
Iraq and Afghanistan Veterans of America—a place for OIF/OEF veterans to connect to what's important to them.
Military.com—A very well researched and complete site covering a large assortment of military related topics including benefits of service.
MilitaryOneSource—a comprehensive website for all military related questions or concerns.
Military Officers Association of America—find scholarships, grants, and loans.
New Jersey Department of Veterans Affairs—all NJ State Veterans Affairs resources.
Operation College Promise—centralized transition information for service members on a user-friendly web portal.
Student Veterans of America—This site provides military veterans with the resources, support, and advocacy needed to succeed in higher education and following graduation.
Today'sMilitary.Com—A good site for anyone considering a military career, with information on over 4,000 military jobs plus links for students, parents, counselors and teachers.
USMilitary.Com—Very extensive and helpful site containing numerous links to all aspects of the military, including career and educational information. A must visit!
Veterans Administration—Official site of the Department of Veterans Affairs; contains links for information on major programs and benefits.
Veteran Resource Central—VRC utilizes mentors to assist veterans with their transition to civilian life. They provide useful advice regarding their own experience and expertise.