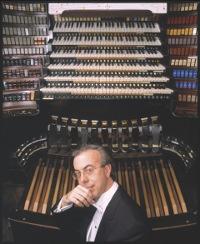 Peter Richard Conte (Adjunct Assistant Professor, Organ) teaches Organ Improvisation I and II. He is the 2008 recipient of the Distinguished Alumni Award from the Indiana University School of Music, Bloomington, where he studied Organ Performance with Robert Rayfield and Larry Smith. Conte is Grand Court Organist of the Wanamaker Organ in Macy's, Center City, Philadelphia, where he performs concerts twice daily, six days each week on the largest fully-functional musical instrument in the world, with its nearly 29,000 pipes. He was appointed Wanamaker Grand Court Organist in 1989, and is only the fourth person to hold that title since the organ first played in 1911. Mr. Conte is also Principal Organist of Longwood Gardens, Kennett Square, PA, where he performs on the magnificent 10,000-pipe Aeolian organ; additionally, he serves as Choirmaster and Organist of St. Clement's Church, Philadelphia, where he directs a professional choir in an extensive music program in the Anglo-Catholic tradition.
Mr. Conte is highly regarded as a skillful performer and arranger of organ transcriptions. He has been featured several times on National Public Radio and on ABC television's "Good Morning America" and "World News Tonight." He has two radio shows: "The Wanamaker Organ Hour", which airs on the first Sunday of each month, at 5 PM (Eastern), and can be heard via the internet at WRTI.ORG; on each Wednesday evening at 7 PM, his Grand Court concert is streamed live on YesterdayUSA.com. Mr. Conte performs extensively throughout the United States and Canada under the management of Phillip Truckenbrod Concert Artists, has appeared as a featured artist at American Guild of Organists' National and Regional Conventions, and at the International Organ Festival in Aosta, Italy. He has performed with the Philadelphia Orchestra, Peter Nero and the Philly Pops, and with the Pacific, Delaware, Canton and Allentown Symphonies.
Peter Richard Conte is an Associate of the American Guild of Organists, and has presented Guild workshops on improvisation and transcriptions. In 2011, the Philadelphia Music Alliance honored him with a bronze plaque on the Avenue of the Arts' Walk of Fame. His numerous recordings appear on the GOTHIC, JAV, ProOrgano, DORIAN and DTR labels.