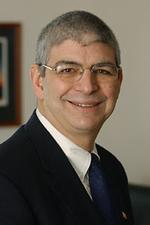 Dr. Larry Newman currently serves as Co-Executive Director of EXCEED (Rider's Executive Center for Education and Development). EXCEED offers customized consulting services and executive education for businesses and government organizations throughout the region. Newman served as Dean of the Norm Brodsky College of Business from 2004 – 2012. Prior to his appointment as Dean of Rider's Norm Brodsky College of Business, Newman was a member of the Rider faculty for more than 20 years. At Rider, Newman served as chair of the marketing department from 2001 – 2004. During his service as dean, the college completed two successful AACSB International maintenance of accreditation reviews for both business and accounting, established five Centers of Excellence, built two solid international partnerships, launched highly relevant new programs, and revised all of our curricula.
As an associate professor of marketing, he taught graduate courses, such as marketing management, problems in marketing management, marketing communications and strategic market planning. On the undergraduate level, he taught principles of advertising, marketing research, media strategy and planning, advertising campaigns, principles of marketing and healthcare marketing.
Additionally, he has served as a member of the Bucks County Community College Board of Trustees for more than 17 years (two years as chair). He has been a member of the Association of Governing Boards of Universities and Colleges Council of Board Chairs, and an active consultant on strategic planning and marketing to higher education institutions and businesses.
Over the years, he has been active in professional organizations and is highly published in professional journals.
Background Information
Doctor of Philosophy, 1981, The Pennsylvania State University, Marketing
Master of Business Administration, 1976, Drexel University, Marketing
Bachelor of Science, 1972, The Pennsylvania State University, Marketing
Presentation of Refereed Papers
International
Newman, C. M. (2017). Assessing Undergraduate Marketing Capstone Courses: A Content Analysis.  Marketing Management Association Fall Educators' Conference, Pittsburg, Pennsylvania.
Newman, L. M. (2013, September). An Investigation into the Role of the Family in the College Decision Choice Process.  Academy of Business Education International Conference, St. George, Bermuda.
National
Newman, L. M. (2014, October). Mission, Accreditation and Strategic Direction.  International Education Conference, Las Vegas, Nevada.
Honors-Awards-Grants
Awards
2014: 2014 Summer Research Fellowship, Rider University
2013: Summer Research Fellowship, Rider University
2013: Davis Fellowship. Rider University, Norm Brodsky College of Business. 2013-2014