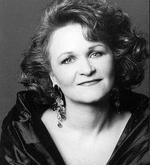 In the words of one reviewer, Katherine Johnson was "the absolute singing actress". During her career she was heard at The Metropolitan Opera, Los Angeles Music Center Opera, Houston Grand Opera, Dallas Opera, Baltimore Opera, New Orleans Opera, Opera/Columbus, Edmonton Opera, Manitoba Opera, Pacific Opera(Victoria), New Jersey State Opera, Florida Grand Opera, L'Opéra de Nice, Opera Orchestra of New York, Canterbury Opera (Christchurch, N.Z.), and L'Opéra de Québec, in a wide range of repertoire including the title roles of Tosca, Elektra, and Jenufa. Ms. Johnson has presented her solo cabaret 'Weill, Weiber and Gesang' throughout North America and at the London Opera Festival. Her concert career included singing many of the greatest choral masterpieces including Beethoven's Missa Solemnis, Shostakovich's Symphony No. 14, Rossini's Stabat Mater, Mahler's Symphony No. 4, and the Verdi Requiem with organizations including the Boston Philharmonic, Spokane Symphony, L'Orchestre Metropolitain (Montreal), Edmonton Symphony, Winnipeg Symphony, Orchestra London (Canada), and the National Arts Center Orchestra (Ottawa).
Kate retired from her singing career in 1997 and established a voice studio in New York City where she teaches both classically oriented singers and those working in the field of musical theater and cabaret.
From September 2003 until May 2006, Kate was an Adjunct Voice Teacher at the University of Miami, where she had a full studio of singers, and where she also taught their Music Theater Workshop - the art of bringing songs to life on stage.
In September 2006, Kate began her position as Adjunct Professor of Voice at Westminster Choir College, a job that entails training classical and music theater singers, as well as tomorrow's music educators.
In June 2005 Kate Johnson and N David Williams celebrated their first summer season as Artistic Directors of MUSIC THEATER ITALY, a four week intensive training course in Conegliano, Italy. 16 American students traveled to Italy for four weeks of daily dance, acting, voice, musical coaching and Italian lessons. The course culminated with a free concert for their new Italian friends - to much critical acclaim. This summer program is now in it's third season.