Class of 2020 Commencement
This website outlines the new commencement plans for the Class of 2020. Please watch this webpage and your rider.edu email address for updates.
Sunday, May 16, 2021
Commencement will be held on the Lawrenceville Campus, time to be determined. This will be a separate ceremony from the Class of 2021.
Commencement is always a proud day for students and families as we celebrate the achievements of our bachelor, master and doctoral degree graduates.  Now more than ever, this symbolic occasion of graduation is important to the entire Rider community.
Commencement will be held in compliance with state and institutional health and safety guidelines regarding capacity, masks, social distancing, and sanitation. The in-person commencement ceremonies are planned with the assumption that we can return to large in-person gatherings by spring 2021. To meet gathering guidelines, the University will offer multiple ceremonies. Graduates will be assigned a ceremony time based on their degree and college/school.
To participate in Commencement you will be required to RSVP.
In mid-March 2021 you will be sent a registration link to your @rider.edu email account.  You must indicate your intention to participate by April 2, 2021.  There will also be a virtual element to the celebration, so you will be asked to upload a photo if you choose to do so. No late registrations or walk-in ceremony participants will be permitted.
The start time for each ceremony will be determined by the number of RSVPs received and will be announced by May 1, 2021.  You will be sent an email with your assigned ceremony time and link to etickets for your guests.  
The following ceremony plans are subject to change:
Graduate and guest seating will be under an outdoor tent, with up to 150 graduates and 300 guests per ceremony.  Each graduate will be seated six feet apart.
Each graduate will receive two guest tickets. Guests will be seated individually or in pairs, six feet apart from other guests. Ticket information will be emailed to graduates who RSVP they will participate in the in-person ceremony. No additional tickets will be provided due to state-mandated event capacity limits. No walk-in guests will be permitted.
Each ceremony will last approximately 60 minutes including graduates being individually recognized crossing the stage.
Face coverings are required for all graduates, guests, faculty, and staff.
Ceremonies will be held rain or shine. Severe weather conditions may incur ceremony delay or cancellation.
All ceremonies will be live web-streamed and available to view at rider.edu/commencement.
Degree conferral for the:
Norm Brodsky College of Business
College of Education and Human Services
College of Liberal Arts and Sciences
Westminster College of the Arts, School of Fine and Performing Arts
College of Continuing Studies
Pre-order Academic Attire
If you have not already ordered your cap and gown, academic attire may be ordered online before March 19, 2021. Academic attire will be distributed prior to the May ceremony beginning April 22, 2021 at Senior SendOff.  More information will be communicated about the distribution process in the spring.
Only students who have fulfilled graduation requirements in December 2019, January 2020, May 2020 and August 2020 can walk in the May 2021 Commencement Class of 2020 ceremony. December 2020 graduates should plan to walk in the May 2021 Commencement Class of 2021 ceremony.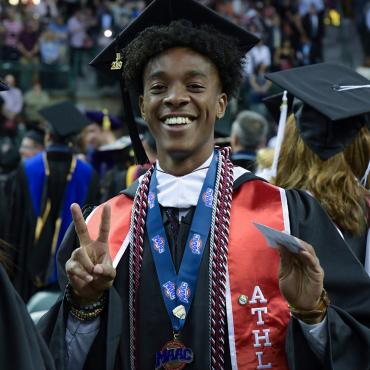 Celebrate the Class of 2020!
View a highlight video and congratulatory remarks.
See More
Questions
Please contact the Commencement office at 609-896-7700, Option 1, or e-mail [email protected].
Questions on Commencement day should be directed to 609-896-5000.