Class of 2020 Commencement
Saturday, May 15 or Sunday, May 16, 2021
Ceremony location, date and time to be determined
Separate ceremony from the Class of 2021
Degree conferral for the:
Norm Brodsky College of Business
College of Education and Human Services
College of Liberal Arts and Sciences
Westminster College of the Arts, School of Fine and Performing Arts
College of Continuing Studies
The in-person commencement ceremonies are planned with the assumption that we are able to return to large in-person gatherings by that point in time. Should the coronavirus pandemic continue into spring 2021, we will need to re-evaluate our plans.
This website outlines the new commencement plans for the Class of 2020. Please watch this webpage and your rider.edu email address for updates.
Pre-order Academic Attire
If you have not already ordered your cap and gown, academic attire may be ordered online before March 19, 2021. Academic attire will be distributed prior to the May ceremony beginning April 22, 2021 at Senior SendOff.  More information will be communicated about the distribution process in the spring.
Only students who have fulfilled graduation requirements in December 2019, January 2020, May 2020 and August 2020 can walk in the May 2021 Commencement Class of 2020 ceremony. December 2020 graduates should plan to walk in the May 2021 Commencement Class of 2021 ceremony.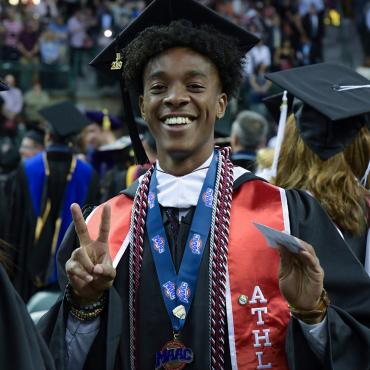 Celebrate the Class of 2020!
View a highlight video and congratulatory remarks.
See More
Questions
Please contact the Commencement office at 609-896-7700, Option 1, or e-mail [email protected].
Questions on Commencement day should be directed to 609-896-5000.