About the Department
The organ department at Westminster consists of undergraduate students as well as graduate students. Degrees are offered in Organ Performance and Sacred Music. For the Organ Performance degree, students study organ specifically, exploring all facets of the instrument including: performance, history, literature and organ building. This degree focuses primarily on preparing the student to become a recitalist and/or teacher. The Sacred Music degree prepares students in church music, not only focusing on organ playing, but conducting, choral techniques, service planning, church liturgy and history as well.
Aside from working with Westminster's outstanding organ faculty, guest artists are invitied each semester to work with students in masterclasses, private lessons and workshops. Recent guests have included Olivier Latry, Todd Wilson, Cherry Rhodes, Joan Lippincott, and numerous others.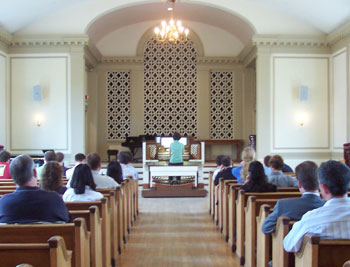 There are many opportunities for students to perform at Westminster. On campus, students are required to perform several times in organ performance class each semester. Undergraduate organ performance majors give two recitals, one each their junior and senior years. Graduate organ performance majors give either one memorized or two unmemorized recitals, and sacred music majors give a recital as well. Often, the department will perform a departmental recital. For example, in Fall 2006, the department performed the complete Orgelbüchlein by J.S. Bach. Outside the department, students are often asked to accompany recitals for other students or perform new organ works composed by WCC composition students.
The majority of organ students at WCC hold part-time positions at churches in the area. For these, students manage the program at the church which includes playing the organ and conducting the choirs. This is highly encouraged by the faculty because of the valuable experience it provides students, working in the field they are studying. The Sacred Music office is aware of open positions in the area and keeps the organ students informed.
WCC organ students are occasionally called upon to perform recitals at surrounding churches, including those in New York City and Philadelphia. Students have played in recital series at such places as The Church of Saint Mary the Virgin and Saint Bartholomew's Church in New York City.

The nature of this department is a supportive one, on the part of both faculty and students. We strive for collegiality in the best sense of the word, not only respecting, but indeed supporting and learning from one another. Students are encouraged to play for one another, to discuss interpretations and style, to attend concerts together, to challenge one another's ideas, and finally, to applaud one another's achievements.