GEMS Alumni Information
If you wish to add or update information about yourself or other alumni, please contact Jonathan Husch at husch@rider.edu or 609-896-5330.
A
John Alexander '14 recently started working for AMEC Environment and Infrastructure in their Hamilton, NJ office. He also just completed the 40-hour OSHA HAZWOPER course and has begun working on soil and groundwater samples in order to evaluate metal contamination. John works with two other GEMS alumni at AMEC, Ken Kacperowski '06 and Frank Petrino '09. It's a small world. John can be contacted at work at john.alexander@amec.com or at 609-689-2834. (Listing updated 8/28/14)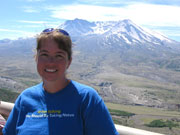 Stacy Aron Grady '97 has had a very busy last 12 months! First and foremost, she married Hank Grady and they are expecting their first child in October (it's a girl!). Stacy also received her Masters Degree in Geosciences from Mississippi State University and she just completed her 12th year of teaching earth science, biology, and oceanography at Delaware Valley Regional High School in Frenchtown, NJ. Well deserved congratulations on all accounts! As if that weren't enough, and as part of her MSU degree requirements, Stacy took a Western Washington University geology field course and had the opportunity to visit Mt. Saint Helens (see photo; we love the shirt by the way) and Mt. Rainer where there was over five inches of snow and people were still skiing in July. She says it was the trip of a lifetime. Stacy can be reached at work at stacygrady@dvrhs.org or at home at slm759397@yahoo.com (Listing updated 7/22/11)
B
Tom Bambrick '83 is Director of Site Investigation and Remediation for First Environment, Inc. in Boonton, NJ. Tom can be reached at work at TCB@firstenvironment.com or 973-334-0003. (Listing updated 11/30/15)
Robert Baron '00 was promoted recently to Senior Marine Biologist at Coastal Planning & Engineering, Inc., Marine Sciences & Biological Research Department, in Boca Raton, Florida. Rob says he loves his job and that he finds it diverse and challenging. Prior to starting work, Rob completed his Masters degree in marine biology from Nova Southeastern University in July, 2002. His thesis topic dealt with the impact of beach nourishment projects on nearshore fish populations. Rob and his wife, Susan, are expecting their first child in November 2007. Rob can be reached at work at 561-391-8102 or at rbaron@coastalplanning.net. (Listing updated 5/28/07)
Caroline Baptist '12 was recently accepted into Columbia University's Bridge to Ph.D. Program in the Natural Sciences. For the nexty two years, Caroline will be a full-time Research Assistant for two professors at Columbia's Lamont-Doherty Earth Observatory in Palisdaes, NY, while also taking a course in her area of interest (Marine Sciences) each semester; this fall she'll be taking a class on terrestrial paleoclimatology. The goal of Columbia's Bridge to the Ph.D. Program is to enhance the participation of students from underrepresented groups in Ph.D. programs in the natural sciences. To achieve this, the Bridge Program provides an intensive research, coursework, and mentoring experience to a select group of post-baccalaureates from around the country seeking to strengthen their graduate school applications and to prepare for the transition into Ph.D. programs. Congratulations to Caroline for her acceptance into this very prestigious program! Caroline can be reached at caroline.baptist@yahoo.com. (Listing updated 9/10/12)
Kevin Becker '06 is a Project Geologist, doing geotechnical inspections, for Earth Engineering Inc. in West Berlin, NJ. He can reached at 856-206-2517 or at kevinbecker217@yahoo.com. Also check out his company's web site at http://www.earthengineering.com/. (Listing updated 10/16/08)
Steven Bell '79 recently brought us up to date on what he's been up to over the past 30 years. Without a doubt, he is enjoying a most successful, interesting, and rewarding life. After Rider, Steve received his masters degree in geology from the University of Southwestern Louisiana and also his MBA from the Wharton School of Business - Univeristy of Pennsylvania. Most of his professional career has been spent with a number of companies within the energy and production sector, including Sun Oil Company, EnCana, Apache Corp., BHP Billiton Petroleum, and most recently, Remora Energy. Steve is President & Chief Executive Officer of Remore Energy and leads the management team of the company. Over his professional career, Steve has explored for energy resources on six continents, doing fieldwork from jungles to deserts and mountain ranges, while also negotiating with heads of state and government ministers from many countries. He also sits on a number of boards of various organizations, including the American Association of Petroleum Geologists, the American Geological Institute, and the University of Pennsylvania. Splitting his time between Houston and Colorado, Steve also somehow manages to find the time to enjoy his hobbies, which include rock climbing (naturally!) and fly fishing. As a result of all his career activities and success, Steve will be inducted into the Rider University Science Stairway of Fame on June 12, 2010. Congratulations! Steve can be reached at sbell@remoraenergy.com and you can check out a short biography at www.remoraenergy.com/stevebell.html. (Listing updated 5/14/10)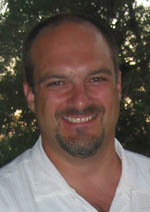 Erik Bender '85 received his doctorate in 1994 from the University of Southern California where he completed a thesis entitled, "Petrology of Early Proterozoic plutons from southeastern California, western Arizona and southern Nevada: Implications for crustal growth of the southwestern United States." Dr. Bender is now Professor and Chair of Geology at Orange Coast College (OCC) in Costa Mesa, California. In addition to teaching many different geology courses at OCC full time since 1994, Erik also has taught courses at Chaffey College, Chapman University, California State University at Fullerton, California State University at Long Beach, Mount San Antonio College, and Pasadena City College. Erik and his wife, Linda, are the proud parents of three wonderful daughters, Victoria, Jacquelyn, and Alexa. Erik can be reached at OCC at 714-432-5681 or at ebender@occ.cccd.edu. You might also want to check out his personal web site and complete biography at http://occonline.occ.cccd.edu/online/ebender. (Listing updated 11/30/15)
Cindy Benkert Parmentier '95 married Tim Parmentier in December, 2006, and are enjoying their son, born in September, 2007. Congratulations on both accounts! Cindy and Tim live in St. Petersburg, Florida and can be reached at cbparmentier6@yahoo.com. (Listing updated 2/25/08)
Will Bogetti '03 is now a Geographic Information System Manager for ALK Technologies, located in Princeton NJ. At ALK, he manages a team of 20 people who create navigation software that keeps track of roads and highways across North America. The primary user of the software is the trucking industry, which is not only trying to find the best routes, but also reduce fuel consumption at the same time. Prior to his position at ALK, Will worked for the New Jersey Department of Environmental Protection where he had interned while at Rider. Find out more about Will by reading about him in the Spring 2014 issue of the Rider Alumni Magazine. Will can be reached at work at 609-683-0220. (Listing updated 3/27/14)
Louise Bolge '97 successfully defended her Ph.D. thesis on the geochemistry and petrogenesis of Hawaiian and Central American volcanics in October 2005 at the Department of Geological Sciences, Rutgers University, New Brunswick. Congratulations Dr. Bolge! After completing her doctorate, Louise initially worked as a research technician for the Earth Sciences Department at Boston University where she was in charge of their ICP-MS, ICP-ES, and related laboratory equipment. Louise now is on the research staff at the Lamont Doherty Earth Observatory of Columbia University in Palisades, New York. She's in charge of running their multicollector and single collector ICP-MS units, their laser ablation system, and the lab in which the instruments are housed. Louise is happily living in northern New Jersey and can be reached at work at bolge@ldeo.columbia.edu. (Listing updated 8/22/07)
Denise Breen '11 is now an Associate Project Scientist with Weston Solutions, Inc. in their Edison, NJ office where she works under Weston's START3 Contract for the USEPA's Region 2 Sites Assessment Team. Denise travels to potential Superfund sites and basically plays "environmental detective," looking at possible sources and pathways of contamination for all sorts of compounds, including lead, PCE/TCE, radioactive waste, etc. She's worked on projects from Niagara Falls to Puerto Rico and has also decided to go back to earn her Master's Degree through an online program. Prior to her position with Weston, Denise was a Regional Health and Safety Coordinator at Handex Consulting and Remediation, LLC in Monroe Township, NJ. Denise can be contacted at deniseann.breen@gmail.com. (Listing updated 1/19/14)
Daniel Brown '10 is a Program Technician for the Florida Program for Shark Research at the Florida Museum of Natural History in Gainesville. Along with assisting in various shark-related research projects, Dan is responsible for maintaining and updating the program's website and its image gallery. A really cool video about the work Dan is doing to help increase the numbers of the endangered smalltooth sawfish can be viewed at http://vimeo.com/45092187. Prior to his work at the Florida Museum, Dan was a member of the AmeriCorps Environment Education Community Outreach (EECO) Program at the New Jersey School of Conservation where he did environmental education, as well as community outreach. One interesting, though little known, fact about Dan is that his resume is the sample resume Rider Career Services provides to science students. Who knew? Dan can be contacted at work at dbrown@flmnh.ufl.edu or 1-352-392-1959. He also can be reached at browndani166@gmail.com. (Listing updated 8/8/12)
Tanya Brown '03 moved recently from Lafayette, LA, where she started a Ph.D. program in marine biology at the University of Louisiana in 2011, to Miami, where she is continuing her doctoral research on coral immunity at Florida International University (her research advisor switched institutions and Tanya was asked to go with him) Prior to going to Louisiana, Tanya completed her master's degree in biotechnology at SUNY Buffalo's School of Medicine, where she studied differential gene expression of an Anthox-like gene in the Gorgonian coral, Pseudopterogorgia elisabethae, and then worked as a lab technician for the University of Buffalo's School of Pharmacy and Pharmaceutical Sciences. Tanya also is certified as a scientific diver and worked with the Buffalo Underwater Reef Research (BURR) Lab. Tanya can be reached at tbrow102@fiu.edu. (Listing updated 8/24/12)
Russell Burke '02 just completed his first year as an Assistant Professor of Organismal and Environmental Biology at Christopher Newport University in Newport News, Virginia where he is continuing his work on restoring oyster populations in Chesapeake Bay; he just was awarded an U.S. Army Corps of Engineers subcontract to support his studies. Russ received his doctorate in Marine Science in the Fisheries Science Department at the College of William and Mary's School of Marine Science, Virginia Institute of Marine Science (VIMS) in May 2010. His Ph.D. research centered on the use of alternative substrates to restore native oyster populations in Chesapeake Bay. In 2009, Russ was a co-author of a research paper published in Science Magazine dealing with improved methods for restoring the native oysters in the Great Wicomico River, Chesapeake Bay. Because of its potential economic and ecological ramifications, the article was the subject of numerous news stories around the country, including one in the New York Times Science Section. Additionally, the Governor of Maryland cited the Science Magazine article in his decision to dramatically change Maryland's oyster restoration program from fishery-focused to sanctuary-focused, with up to 40% of the best-performing former oyster grounds preserved as permanent sanctuaries. Russ also was part of team that won the 2009 Coastal America Award, the only award for ecology presented by the White House, for another oyster restoration project constructed in the Lynnhaven River System (Virginia Beach, VA). Our congratulations to Dr. Burke on all accounts! Russ can be reached at russell.burke@cnu.edu. (Listing updated 5/9/12)
C
Dan Carlson '09 stopped by the recent faculty/staff reunion party and filled us in on what he's been up to since he graduated. From June 2009 until June 2013, Dan was an Associate Project Scientist for Weston Solutions at their Edison, NJ office under an EPA contract to conduct environmental investigations and risk assessments for Region 2 to determine Superfund site eligibility. In June 2013, he accepted a new position with the Antea Group, an environmental consulting firm outside of Baltimore, as a Project Professional where he'll be managing up to 15 separate projects, mostly involving site assessment and remediation. In addition, Dan is halfway through a Masters of Science Degree in Environmental Assessment that he's taking through a distance education program at North Carolina State University. He also mentioned that he would be very interested in hosting a Rider GEMS student at his job as part of the University's Shadowing Experience Program. Dan can be reached at danielcarlson26@gmail.com. (Listing updated 7/8/13)
Nicole Chakowski '12 is now an Associate Chemist working directly for BASF at their Union, NJ facility. She is testing precious metal samples utilizing an Inductively Coupled Plasma (ICP) Emission Spectrometer (she learned how to operate one at Rider) to determine their purity. In particular, Nicole will be analyzing material extracted from automobile catalytic converters for platinum, palladium, and rhodium. She also mentions that BASF has lots of internship and part-time work opportunities for undergraduates looking for experience. Nicole can be contacted at chakowski.nicole@gmail.com or at 551-206-8640. (Listing updated 6/3/13)
Dawn Chicano '96 is living in Vero Beach, Florida and teaching Marine Sciences at the Indian River Charter High School. Before that she worked as a biologist for the company, Oceans, Reef & Aquariums, at the Harbor Branch Oceanographic Institute, breeding and raising ornamental marine fish. Dawn can be reached at reefgirl05@hotmail.com. (Listing updated 12/14/06)
Mike Ciaramella '09 recently completed his Masters of Veterinary Science: Pathology and Microbiology at the University of Prince Edward Island in Canada. Congratulations! After completing his degree, Mike was an instructor this past summer at the Newfound Harbor Marine Institute in Big Pine Key, Florida. Mike is now in the Food Science doctoral program at Mississippi State University, looking at changes in cultured catfish muscle quality caused by various culture stresses. Apparently, he still is eating his data! Mike can be reached at ciaramellam@gmail.com. (Listing updated 8/13/12)
Cheryl Coffee '93, her husband, Jorge Gomez, and daughters (Laura, 19, and Sarah, 16) are still living in Yardley, PA. Cheryl has worked for Clean Earth Inc. (www.cleanearthinc.com) for the last seven years where she recently was promoted to Director of Environmental & Compliance. In that position, Cheryl manages various aspects of environmental permitting and reporting on a company-wide basis. When she is not working, Cheryl can be found with a camera in her hand (http://cheryllcoffee.com). Cheryl can be reached at 609-731-2906, or at ccoffee@cleanearthinc.com. (Listing updated 9/21/15)
Elissa Connolly-Randazzo '11 is still living in the Florida Keys (well someone has to!) where she has worked as a science instructor and naturalist. Initially, Elissa educated young minds and adults about the organisms and processes of the ocean at John Pennekamp State Park. She also assisted with several organizations in shark tagging, fish census, and coral restoration, as well as working on her SCUBA diving skills and certification. This past spring, Elissa completed a six-month internship with the Student Conservation Association and National Park Service where she spent almost all of her time in the remote Dry Tortugas National Park studying and counting endangered and threatened sea turtles. Her work was the object of an article in the Florida Key News, which can be viewed at http://keysnews.com/node/65187. Elissa can be contacted via email at ElissaCR01@yahoo.com. (Listing updated 7/6/15)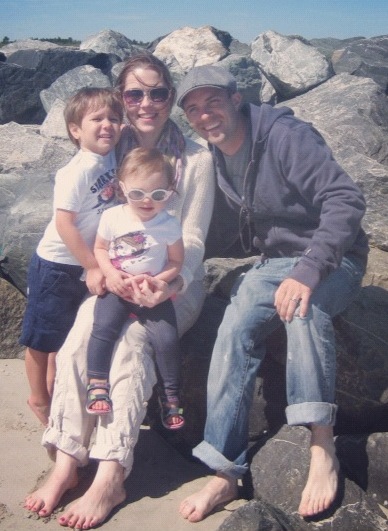 Jonathan Cooper '03 wrote recently to say that he has been working for a turf and plant care company since 2004. Jonathan is the company's lead consultant and salesman in all matters of plant care. He says his job is very rewarding, as well as an outlet for innovation in the science and business world, especially since the company bases it's care of turf and plants on environmentally responsible methods. Jonathan also says he is fortunate enough to have married Stephanie Cooper and to have two wonderful children, Lucas and Catherine (see photo). The family enjoys weekend vacations to either the NJ shore or PA mountain getaways. When time permits, Jonathan enjoys writing and playing original music. He plays the guitar (self taught) and is currently taking on the difficult task of teaching himself the drums. Jonathan also is working on completing and releasing his second full-length independent album, recorded in his home studio. We can't wait to hear it. Jonathan can be contacted at jonnycat55@yahoo.com. (Listing updated 3/14/13)
Rob Croskey '03 and his wife, Kathryn (Knauss, Rider '07), are now living in the Mount Holly, NJ area and Rob is back working with Aqua Survey, Inc. in Flemington, NJ as a Field Operations Specialist. He also is working on attaining his U.S. Coast Guard Six-Pack License (that just sounds so wrong!) to become a certified boat captain. At Aqua Survey, Rob is the company's Marine Ecologist, specializing in fisheries sampling and marine vertebrate and invertebrate taxonomy. Rob says he is greatly enjoying being back in the Mid-Atlantic region, and is spending all of his spare time down in Wildwood, both at the beach and fishing. Rob can be reached at 215-510-3627 or at rm.croskey@gmail.com or croskey@aquasurvey.com.
(Listing updated 7/8/10)
D
Greg Dietl '95 and Joanne Gore Dietl '95 are the proud parents of three children, daughter Samantha and sons Alex and Stephen. Greg completed his Ph.D. in Zoology at North Carolina State University where he studied predator-prey interactions between whelks and clams. After a post-doctoral appointment at Yale University, Dr. Dietl (sort of rolls off the tongue, doesn't it?) now is Director of Collections of the Paleontological Research Institution, Museum of the Earth, Cornell University, in Ithaca, New York. Greg gave a wonderful and moving tribute to Dr. Richard Alexander at Alex's memorial service. Greg also is assisting the department in ensuring that Alex's teaching and research shell collections are organized and preserved. Greg and Joanne can be reached at work at 607-273-6623 ext. 17 or at gpd3@cornell.edu. (Listing updated 1/27/07)
Bryan DiMaulo '11 is teaching Earth and Natural Science at Parsippany High School in Parsippany, NJ. He can be reached at bryandimaulo@gmail.com. (Listing updated 12/15/11)
Jennifer Durkin '00 is still working at the National Aquarium in Baltimore as the organization's School Programs Coordinator and Chair of the Internal Conservation Committee. After graduating from Rider, Jen interned at The Living Seas in the Epcot Center at Walt Disney World where she did a variety of school and visitor programs and assisted in the care and training of Atlantic bottlenose dolphins and Florida manatees. She also was scuba diving in the 6.2 million gallon aquarium, feeding its inhabitants and doing presentations. Prior to her present position and duties at the National Aquarium, Jen was an Education Specialist, doing a variety of school and visitor programs, as well as caring for, and training, animals. One of Jen's prior responsibilities involved leading Dolphin Discovery Immersion Tours, a behind-the-scenes look at the lives and behaviors of the National Aquarium's eight Atlantic bottlenose dolphins. Jen and the tours she led were the object of the January 31, 2003 Saturday's Child column in the Washington Post's Weekend Section. More recently, Jen was interviewed about conservation projects by WBAL, one of the local Baltimore television stations. The story and her interview can be viewed at www.wbaltv.com/video/16647710/index.html. Jen can be reached at the National Aquarium at 410-576-3871 or at jdurkin@aqua.org. (Listing updated 1/5/09)
E
Bill Edelman '82 wrote recently with an update of what he's been up to since graduating from Rider. After completing a Masters of Science degree in geophysics from North Carolina State University, Bill joined Conoco (now ConocoPhillips) in Houston, Texas as an associate geophysicist where he was responsible for several offshore commercial oil/gas discoveries. When the oil slump hit in the 1980s, Bill took an environmental and regulatory compliance supervisory position with Conoco in their drilling and production office in New Orleans. After moving back to Conoco's Houston office, he was the Health, Safety, and Environment (HSE) Manager and Company Security Officer for Marine Operations for ConocoPhillips' global fleet of oil tankers, tugs, barges, and other vessels. Bill is now the Director of Audits, Compliance & Special Projects with ConocoPhillips Global Security team. Bill has four sons and two step sons in a variety of career and academic stages of their lives. Bill can be reached at work at bill.d.edelman@conocophillips.com or at home at 281-787-3917. (Listing updated 7/11/12)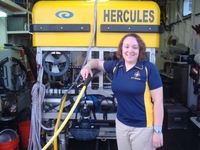 Bethany Eden Smith '05 received her Masters in Biological Oceanography in 2008 from the Virginia Institute of Marine Sciences (VIMS) of The College of William and Mary and married Jon Smith in November, 2010; they own a home in the historic tobacco port town of Urbanna, VA along the banks of the Rappahannock River. After working for the Virginia Marine Resources Commission (VMRC) in Newport News, VA as a Marine Specialist, Bethany has been teaching Marine and Environmental Science for the past five years to academically advanced high school students at the Chesapeake Bay Governor's School (CBGS) in Warsaw, VA. You can check out what CBGS is all about at http://www.cbgs.k12.va.us/. Congratulations on all accounts!
This past summer, Bethany participated as an Educator at Sea in Dr. Robert Ballard's (the rediscover of the Titanic) research, exploration, and education group, Ocean Exploration Trust (see photo). She spent 11 days in the Gulf of Mexico on board the research and exploration vessel, E/V Nautilus, as a member of the Corps of Exploration. Bethany was responsible for standing watch alongside scientists and engineers, as well as communicating with audiences on the mainland through Exploration Now. Exploration Now is a 24-hour online portal enabling future explorers to follow the action in real-time using telepresence technology. More details about Bethany's experiences on the E/V Nautilus can be found on the GEMS Alumni, Career, and Department Information page. Bethany can be reached at work at bsmith@cbgs.k12.va.us. (Listing updated 9/11/13)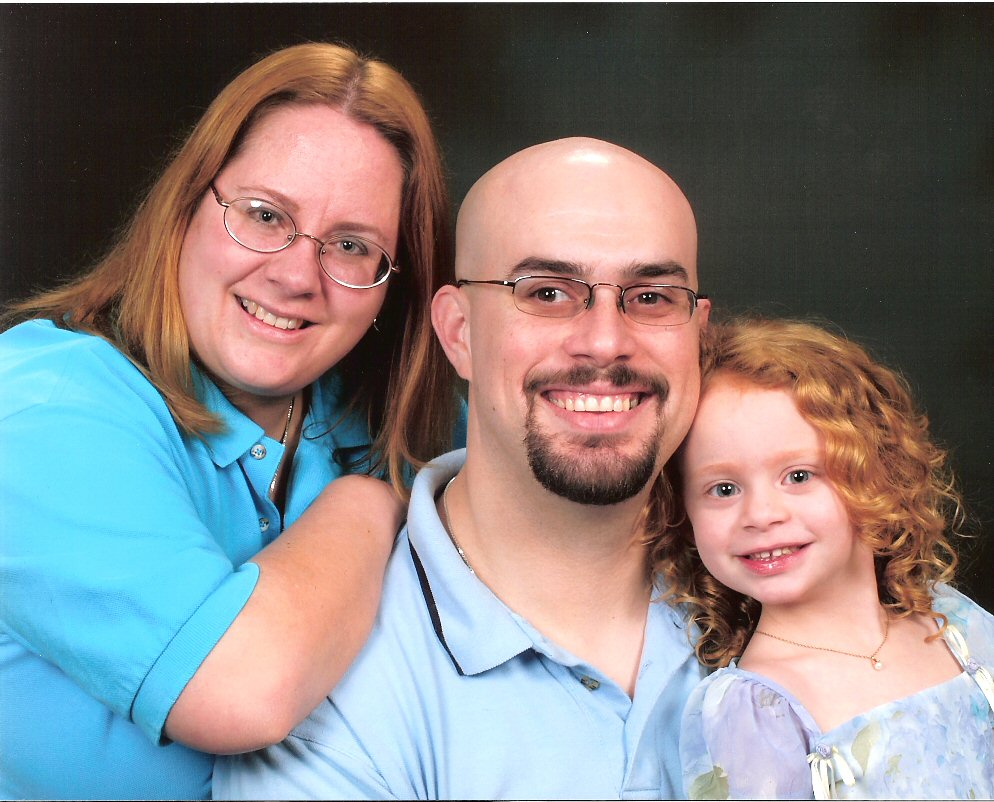 Mike Eldert '97 has undergone a career change, recently graduating from the Sentara School of Health Professions' Registered Nursing Program and receiving his RN license in November 2007. Congratulations! Mike, his wife, Tanya, and daughter, Sianna (see photo), live in Virginia Beach, VA. Mike now is working as an Emergency Department Nurse at Sentara Leigh Hospital. After 14 years as an EMT, he still is volunteering with Virginia Beach EMS, the largest volunteer EMS system in the United States, and teaching CPR to new incoming EMTs. Tanya is an entrepreneur helping small, family-owned businesses expand and optimize their companies using internet marketing while developing their long-term strategic goals. Mike, Tanya, and Sianna can be contacted at michael.eldert@cox.net. (Listing updated 1/28/08)
Robyn Epstein Katzenstein '86 writes that she is married, living and working in the Cleveland, Ohio area, and the mother of two children, Nikki, 10, and Michael, 7. After Rider, Robyn received her Masters of Geology degree, with a speciality in structural geology, from Bowling Green University. She then worked for five years for an environmental consulting firm, first in Dayton, Ohio and then Cleveland. Robyn then worked for a chemical manufacturer, selling soil and water immunoassay kits that tested for PCB, BTEX, and explosives. Currently, she is working for VWR International, a laboratory supplies distributor, as a Senior Sales Representative, handling most of the major accounts in the Cleveland area. Robyn can be reached at work at robyn_katzenstein@vwr.com. (Listing updated 8/9/07)
Elizabeth Evans '12 is back in California after spending some time in Maine at the Penobscot East Resource Center. While there, she had a chance to go to Belize City, Belize for a meeting of the Belize Federation of Fishers. Currently, Elizabeth is in charge of community outreach for Sustainable Silicon Valley's Net Positive East Palo Alto program, as well as serving on the board of the American Cetacean Society San Francisco Chapter. Elizabeth can be reached at elizabethlarelle@gmail.com. (Listing updated 11/30/15)
F
Jennifer Fager '00 is now a Project Geologist for Environmental Resources Management, an environmental consulting firm located in Ewing, NJ. Jen says her job responsibilities still generally consist of writing preliminary assessment and site investigation reports, groundwater sampling, soil boring and sampling, test pit evacuation, and monitoring well installation. Recently, she has been working on manufactured gas plant sites. Jen can be reached at work at 609-895-0050. Jen also can be reached at home at jenniferfager@yahoo.com. (Listing updated 3/1/06)
Pilar Ferdinando '15 is pursuing a Master's degree in Marine Biology at Nova Southeastern University in Fort Lauderdale, Florida. She is working in Dr. Amy Hiron's lab doing research on monk seals and other pinnipeds. Pilar can be contacted at pilar11792@gmail.com or at NSU at pf320@nova.edu. (Listing updated 9/21/15)
Jacki Frizano Beck '93, her husband, Robert Beck, and step son, Bobby (14) are still living in Allentown, PA. She stopped by Lawrenceville recently and says they play a lot of golf in the summer and bowl in the winter. She also said something about enjoying lots of leisure time and desserts. Some things never change! Jackie not only has her doctorate in environmental geology from the University of Pennsylvania, but also her Professional Geologist certification for the State of Pennsylvania. Dr. Frizano now is working as a project geologist for an environmental consulting firm, AECOM, located in Conshohocken, PA. She can be reached there at 610-832-6129, or at jacqueline.beck@aecom.com. (Listing updated 7/6/15)
Wayne Froehlich '84 is still working for EMSL Analytical, Inc., one of the nation's leading environmental testing firms, specializing in the identification and analysis of asbestos (of both the chrysotile and amphibole type) with electron microscopy. Wayne lives in Palmyra, NJ and can be reached at 609-977-0919 or waynefroehlich@comcast.net. (Listing updated 2/28/13)
G
Alison Golinski Goldberg '06 received her Ph.D. in endocrinology and animal biosciences from Rutgers University in May 2013. Congratulations Dr. Goldberg! Her doctoral dissertation was titled Evolutionary Plasticity in the Pleiotropic Regulation of Sexually Dimorphic Traits in Gekkotan Lizards. While at Rutgers working on her doctorate, Alison received a fellowship in 2008 from the Central Europe Summer Research Institute (CESRI), which was funded by the National Science Foundation and the International Institute of Education. As a CESRI fellow, she conducted research on the hormonal regulation of sexually dimorphic traits in gecko lizards with her collaborator, Dr. Lukas Kratochvil, at Charles University in Prague, Czech Republic. The following year, Alison received a Fulbright Fellowship to continue her work in Prague with Dr. Kratochvil. In 2011 Alison married her college sweetheart, Stephen Goldberg '06 (Biology), and they now live in Philadelphia, PA where Stephen is completing medical school. Again, our congratulations to both of them for all their success. Alison can be contacted at alisongolinski@gmail.com. (Listing updated 7/22/13)
Joanne Gore Dietl '95 (see Greg Dietl '95)
Brita Gove '13 currently is working as a contracted (via Astrix Technology) Research Technician for ExxonMobil. She's doing a lot of ICP and other elemental analysis work and really enjoys her project group and the analytical tasks they perform. Brita can be contacted at brita.gove@gmail.com. (Listing updated 1/21/16)
Matthew Greenberg '98 has been working as a Hydrologist for 11 year at CH2M, an environmental consulting firm located in Boston, MA. Matt married Grace Kim in October 2006, traveling to Hawaii for their honeymoon, with Volcano National Park being the highlight of the trip. Congratulations! Even though he has lived in the Boston area since 2001, Matt says he is still a Yankees fan. Matt can be reached at Matthew.Greenberg@CH2M.com. (Listing updated 11/30/15)
Karen Guido '82 is now residing in St. Augustine, Florida. She lives at 104 Southwind Circle, St. Augustine. FL 32080 and can be contacted at 904-471-3226 or at karen@antiquetiles.com. (Listing updated 3/25/07)
H
Dan Hewins '07 was awarded his Master's Degree with honors in Biology in 2010 and will be defending his doctoral dissertation on various aspects of desert organic matter decomposition next month at New Mexico State University (NMSU). Our congratulations to the soon-to-be Dr. Hewins! Dan already has presented the results of his research in the journal Ecosystems and at annual meetings of the American Geophysical Union and the Ecological Society of America. He also is co-authoring a number of additional papers that either have already been accepted for publication or are in preparation. While at NMSU, Dan was awarded an NMSU travel scholarship, a research scholarship from the Native Plant Society of New Mexico, a Preparing Future Faculty Fellowship from NMSU, a Howard Hughes Medical Institute Scientific Teaching Fellowship, and the NMSU Traylor Biology Graduate Student Scholarship.
Next up for Dan is a postdoctoral fellowship position at the University of Alberta in Edmonton, AB where he'll be working in the Department of Agriculture, Food and Nutritional Science with Drs. Edward Bork, Scott Chang, and Cameron Carlyle while studying the potential for greenhouse gas sequestration in Albertan rangelands. At this point, Dan thinks the ultimate purpose of his research will be to improve rangeland management practices for large land managers, as well as improving government policy and incentives. Dan's project will have access to ~120 field sites with varying management histories across 5 soil climatic zones and he will be sampling both above and below ground to better relate stocks of carbon to the various management practices. Find out more about Dan and his research by reading about him in the Spring 2014 issue of the Rider Alumni Magazine. Again, our congratulations on all accounts! Dan can be reached at hewinsd@gmail.com. (Listing updated 3/29/13)
Jessica Horton '12 is now working full time at Rutgers University's Haskins Shellfish Research Laboratory in Port Norris, NJ. She's been working recently on shellfish annual stock assessments and on the U.S. Army Corps of Engineers project for deepening the shipping channel of Delaware Bay and studying the effects the project is having on the resident oyster population. Jessica also is in her second semester of online graduate study at the University of Florida. She plans on graduating in 2015 with her Master's Degree in Fisheries and Aquatic Science. Jessica can be reached at jessica.horton6@yahoo.com. (Listing updated 10/8/13)
Marsha Hostetter Nix '93 moved back to Decatur, Illinois in 1996, married her college sweetheart, Bruce Nix, and completed her Masters Degree in Environmental Studies at the University of Illinois, Springfield, in June 1998. Her thesis, "A life history comparison of Daphnia obtusa from temporary ponds, cultured with a low-quality food," was published in Aquatic Ecology in 2000. After finishing graduate school, Marsha worked for the Macon County Solid Waste Department as an Environmental Educator. After that, she worked as an office assistant at Fairview Hospital for Animals, a job she truly loved. Marsha also found another passion – working, instructing, and helping the local dog obedience club train dogs in the sport of agility; the running of various obstacle courses (jumps, tunnels, dog walk, etc.). She and her basset hound, Ralphie, show in 3 venues: AKC (American Kennel Club); TDAA (Teacup Dog Agility Association); and CPE (Canine Performance Events), and have earned 9 titles. Way to go Ralphie! While in Decatur, Marsha and Bruce (and Ralphie!) lived in a 5-acre, 110 year-old farmhouse, which they gutted and restored, in the middle of corn and soybean fields. Recently, Marsha and Bruce relocated to Little Rock, Arkansas when Bruce was presented with a job offer he couldn't refuse. Marsha, Bruce, and Ralphie can be reached via e-mail at agilitybasset1@hotmail.com. (Listing updated 5/2/07)
Maria Huffine '10 will be working through August 2012 for the Maryland Conservation Corps and AmeriCorps at Assateague State Park in Maryland. This past summer, Maria worked for the Student Conservation Organization and AmeriCorps while living in Georgia at the Cumberland Island National Seashore. There, she assisted with guided nature and history hikes, received multiple CPR and First Aid certifications, and created science-based educational programs for visitors and children. Prior to her time at Cumberland Island, Maria worked for an engineering firm and at an after-school science program. Maria can be reached at mariahuffine@gmail.com. (Listing updated 10/6/11)
I
Norbert Iari '15 is now working as a Geologist/Field Technician at Earth Engineering, Inc, a geotechnical and environmental consulting firm located in eastern Pennsylvania and southern New Jersey. He started about a month after finishing his geology field camp requirement for graduation. Not bad, not bad at all. Norbert can be contacted at work at norbert.iari@earthengineering.com or at 610-967-4540 ext. 207. (Listing updated 8/21/15)
Jim Ierubino '82 was inducted, as part of the inaugural class, into the Science Stairway of Fame on June 24, 2006. The Science Stairway of Fame is meant "to honor alumni who were exemplary students and have achieved significant professional success in their chosen careers following graduation. The honorees have been loyal and generous supporters of Rider's science programs." Congratulations Jim and well deserved! Jim, who has worked for Mobil/ExxonMobil in various capacities at locations around the country and world since 1986, received his Masters in Petroleum Engineering from the Colorado School of Mines in 1986 and his MBA from the University Michigan in 1997. Since 2004, Jim, his wife, Colleen, a programmer/analyst, and their two children have been located in Doha, Qatar (Persian Gulf region) where he is the technical manager of RasGas, a joint venture between ExxonMobil and Qatar Petroleum. In that capacity, he is leading the effort to bring into full production one of the world's largest natural gas fields and to ship the resulting liquefied natural gas (LNG) to a number of countries, including the United States. Jim can be contacted at work at jim_v_ierubino@exxonmobil.com, by phone at (01) 974-553-6732, or in the U.S. at 4672 Bradley Court, Doylestown, PA 18901. (Listing updated 6/29/06)
Allison Ingram '13 just received her Master's in Geography from the University of Tennessee-Knoxville, where she worked with Dr. Henri Grissino-Mayer, who leads one of the largest tree-ring research labs on the east coast focusing on forest ecology in the southeast US. Congratulations! Prior to going to UTK, Allison spent the summer of 2013 as a Research Intern for Dr. Kelly Caylor, Department of Civil Engineering, in his Ecohydrology Lab at Princeton University. Allison worked on the Drought Open-Source Ecology (DOSE) project, analyzing the impacts of the 2012 drought on forest growth and mortality in sites across North America by measuring the ring-widths of tree cores. Allison can be reached at margniae@gmail.com. (Listing updated 5/16/16)
J
Paul Jackson '15 just started a new position as a Staff Professional for the Antea Group, an environmental consulting company in Marlboro, Massachusetts. He will be responsible for soil and water sampling and testing, as well as site assessment and remediation work. Paul can be contacted at pauljackson01810@gmail.com. (Listing updated 2/3/16)
Robert Jakubicki '94 is in the process of purchasing a well and pump company in Tucson, Arizona. In order to do so, he's had to pass the Arizona Sate Business Exam, obtain his contractor's license, and become a member of the National Ground Water Association. Eventually, he would like to become a certified geologist as well. Currently, Rob works full-time for the Arizona Air National Guard, whose mission is pilot training (that's why they haven't been sent to Iraq), as an aircraft mechanic. Rob can be reached at robert.jakubicki@aztucs.ang.af.mil. (Listing updated 1/27/07)
Nina Joffe '12 has started a doctoral program and a teaching fellowship in the Biology Department at New Mexico State University with an ecology concentration. Her advisor is Dr. Maria Castillo and Nina will be working with her on Hawaiian squid and their bacterial, bioluminescent symbionts. Dr. Castillo studies immunological responses of the squid to the symbionts, but eventually Nina would like to focus on ecological factors and how they may affect the specificity of the symbiont-host relationship. Nina can be contacted at njoffe28@gmail.com. (Listing updated 8/8/12)
K
Ken Kacperowski '06 received his M.S. in Geosciences at Montclair State University where he worked on deciphering the geologic history and geomagnetics recorded in a deep marine sediment core from eastern Antarctica. Ken also got married in September 2010 and bought a house in Hamilton, NJ. Congratulations! Ken is working for AMEC Environmental and Infrastructure in their Hamilton, NJ office along with two other GEMS alumni, John Alexander '14 and Frank Petrino '09. Ken can be contacted at kkacperowski@gmail.com. (Listing updated 8/28/14)
Kathy Keely Edmonds '93 and her husband, Shawn (Rider '93), had a son, Matthew, in 2006, joining older brother, Jack. Congratulations! The Edmonds live in Belle Mead, New Jersey where Kathy is a seventh grade science teacher at the Upper Middle School of the Montgomery Township School District. She can be contacted at work at 609-466-7603 or at kedmonds@mtsd.k12.nj.us. She also can be contacted at home at edmonds@patmedia.net. (Listing updated 8/9/07)
Michael Kelly '10 is now an environmental consultant for Brookside Environmental Consulting, LLC in Pennington, NJ. His tasks there range from collecting groundwater samples from temporary and monitoring wells to reviewing final reports for submission to the New Jersey Department of Environmental Protection. Eventually, Mike would like to become an Licensed Site Remediation Professional (LSRP). Mike can be reached at work at 609-818-1700. (Listing updated 12/21/2010)
Brian Kennedy '01 is now a Senior Project Specialist for the Natural Resources Department at ENSR, Inc. in Piscataway, NJ. His job responsibilities include permit writing and task management for freshwater wetlands, CAFRA and ACOE projects, stream encroachment, and waterfront development. Brian also assists other departments at ENSR with various geological needs, including soil classification, well installation, and soil and ground water sampling. Brian is now a Certified Subsurface Evaluator and is taking his Pennsylvania Professional Geologist exam this spring. Good luck! Brian can be contacted at 732-981-0200, ext. 3099, or at bkennedy@ensr.aecom.com. (Listing updated 10/31/2006)
Randy Kertes '84 was inducted into the Rider University Science Stairway of Fame on June 13, 2009. The Stairway of Fame, located in the research wing of the Science and Technology Center, honors individuals who were exemplary students and who have achieved significant professional success in their chosen careers following graduation. The honorees are also loyal and generous supporters of Rider's science programs. Our congratulations to Randy for this new and richly-deserved honor and recognition.
Randy now is Vice President of Operations and Business Development with INTEX Environmental Group, Inc., an environmental consulting firm located in Pipersville, PA. Randy also serves as an adjunct instructor and outside research advisor for our department with an expertise in environmental and watershed issues. We're very proud and happy to still have him with us in these capacities! Randy can be contacted at work at 215-766-7230 ext. 212 or at rkertes@intexenv.com. (Listing updated 11/30/15)
Kim Kessler '99 is a Senior Geologist for the NJDEP, Bureau of Inland Regulation in Trenton. She reviews all kinds of construction permits that may impact wetlands, open waters, floodplains, and waterfront areas. She also works on identifying and delineating freshwater wetlands. Kim recently completed a Master program in Environmental Policy at the New Jersey Institute of Technology in May. She can be reached at 609-633-6760 or at kkessler@dep.state.nj.us. Also check out her office's web site at www.state.nj.us/dep/landuse. (Listing updated 2/19/05)
Kevin Kilmartin '77 is the manager of the geology department at Tetra Tech NUS in King of Prussia, Pennsylvania. He's been with NUS for 12 years and is a hydrogeologist with responsibilities in hazardous waste site investigation and remediation for a variety of government clients, including the EPA, the Navy, and the Army Corps of Engineers. Prior to working for NUS, Kevin spent 9 years with Exxon in Houston as a biostratigrapher and regional geologist. While at Exxon, he worked with Richard Brown '76 and Henry Posamentier (Former Faculty). Kevin also has run into Hilary Johns '76 and Rob Fisher '78 over the years. Kevin and his wife, Jill, have two daughters, Catherine and Rebecca. Kevin can be be contacted at work at 610-491-9688 or by e-mail at kilmartink@ttnus.com. (Listing updated 2001-2002)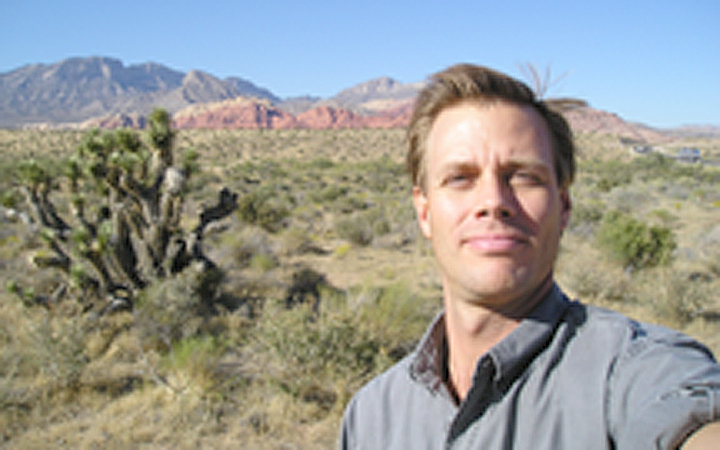 Darin Klewsaat '88 is now a Field Services Representative for the Harbison-Walker Refractories Company of Pittsburgh, PA. He's in charge of sales to all cement and lime plants in the southeast region. Darin says the job requires a good knowledge of mineralogy and high-temperature geochemistry, so he's very glad he kept all his geology textbooks (see, there is a reason). Darin says he has travelled recently to a number of "exotic" locales, including the desert west of Las Vegas, Nevada where the deep red Navajo Sandstone is exposed (see photo). Darin and his wife, Theresa (a Rider finance graduate), have two sons, Austin and Tristan, and a daughter, Jenna. Darin can be reached at work at 205-982-1636 or at darin.klewsaat@hwr.com. His mailing address is Harbison-Walker Refractories Company, 528 Oak Glen Trace, Hoover, Alabama 35244. Darin and family also can be reached at home at geosphere@mindspring.com. (Listing updated 11/14/05)
Kelly Krolik '14 is working towards her Masters Degree in marine biology at Montclair State University. She's also hoping to intern at the Stony Brook-Millstone Watershed Association. Kelly can be contacted at kellykrolik@yahoo.com. (Listing updated 1/29/15)
Taylor Krolik '14 also is working on her Masters Degree at Montclair State, although in geoscience, most likely specializing in sedimentology. Taylor can be contacted at taylorkrolik@gmail.com. (Listing updated 1/29/15)
Kate Krsnak '13 has been teaching since graduation at the Alexandria Middle School in Pittstown, NJ. She is the school's sixth grade science teacher, as well as the coach of the school's Solar Cars and Science Olympiad teams. Sounds like she's keeping very busy. Kate can be contacted at kate.krsnak@gmail.com. (Listing updated 9/23/14)
L
Ashleigh Layton '09 is working for Kleinfelder in their Hamilton, NJ office, along with Charlie Zielinski '10 (see below), where they are considered the groundwater sampling "dream team." Ashleigh just passed her six month, short-service employee exam (congratulations!), so she can now start "high risk" field work, such as monitoring well installations and soil borings. Both Ashleigh and Charlie are contracted out to ExxonMobil, so most of their work sites are at retail gas stations. She also has begun working on vapor intrusion investigations, where she goes into residential and commercial buildings and takes indoor air, ambient air, and soil gas samples to help determine if gasoline related vapors are present. Prior to her position at Kleinfelder, Ashleigh was with an environmental contractor at Fort Monmouth, NJ where her job responsibilities mostly involved quality checking analytical data reports resulting from the long-term soil and groundwater monitoring of potentially contaminated sites at the fort. Ashleigh also graduated from the fire academy and EMT academy and has been a volunteer firefighter for the town of Long Branch, NJ. Can't wait to see her on a 911 call! Ashleigh can be reached at layton.ashleighc@gmail.com. (Listing updated on 5/20/11)
Jacqueline Lehman '11 just started the Veterinary Technology Program at Harcum College in Bryn Mawr, Pennsylvania. In addition to her classes there, Jacqui will be doing practicums at the University of Pennsylvania Veterinary Hospital and at the New Bolton Center. She eventually may have a practicum at the Adventure Aquarium in Camden as well. Jacqui can be contacted at 610-505-5880 or as of 9/9/11 at lehmanja@rider.edu. (Listing updated 9/9/11)
Harmony Liff '06 completed her Master's in the Marine Sciences in 2009 at the University of South Carolina where she studied climate change through the use of satellite/remotely sensed data. Congratulations! Harmony now lives in Honolulu, Hawaii (well, somebody has to!) and is a contracted longline fisheries observer for Techsea, International, Inc. as part of the Pacific Islands Regional Observer Program run by the National Marine Fisheries Service (NMFS) and NOAA. Typically, she is out at sea for a month at a time (she now has more than 100 days at sea), observing commercial tuna and swordfish fishing practices while taking notes on protected species interaction, as well as any MARPOL ( International Convention for the Prevention of Pollution From Ships) incidents or violations. Oh yes, in her spare time Harmony still dances. Harmony can be contacted at hliff@hotmail.com. (Listing update 5/13/14)
Jill Loveland '07 is now a tenured Special Education/Biology teacher at West Hempstead High School in West Hempstead, NY. She also is the school's Environmental Club advisor, helping to promote environmental awareness among the students. During the summer, Jill also is an ocean lifeguard at Tobay Beach, Long Island. And, as if that weren't enough, Jill completed an Ironman race (in 13:51:11!) this past summer in Lake Placid, NY. Way to go! Jill can be reached at jloveland1111@gmail.com. (Listing updated 11/20/15)
Kelli Lucarino '07 is an environmental project scientist working for Weston Solutions, Inc., a global environmental consulting firm. She says her job is going really well and that she has spent a lot of time in the field at company projects in Puerto Rico and the U.S. Virgin Islands, as well as the World Trade Center site in New York City doing indoor air sampling. When she is in the office, Kelli works on site assessments reports for many of the Caribbean projects. Kelli can be reached at kelli.lucarino@westonsolutions.com. (Listing updated 12/7/07)
M
Don Machusak '90 is a Project Manager for Science Applications International Corporation (SAIC) in Harrisburg, PA. Don has been there since finishing his Masters in Geosciences at Penn State. In that time he's been involved in groundwater exploration, water resource assessments, acid mine drainage studies, and the hydrogeochemical impacts of landfills. Currently, Don is managing and coordinating a noise impact assessment, a wastewater system engineering plan, a flora/fauna survey, and a waste management plan. Whew, and we all wondered what you could do with a geology major! Don can be reached at 717-901-8817. (Listing updated 10/1/03)
Mark Manning '01 is a chemistry teacher at Hopewell Valley Central High School in Hopewell, NJ. Prior to his current position, he was an Analytical Chemist for Envirogen, Inc. in Lawrenceville, and then a science teacher at Nottingham High School in Hamilton, NJ. Mark lives in Hamilton with his wife and two children and can be reached at markmanning@hvrsd.org. (Listing updated 12/22/14)
Tammy Marquart Grillon '88 is a Senior Project Scientist with Weston Solutions, Inc. in their Edison, NJ office. Tammy, along with her husband and two daughters, live in Middletown, NJ. She can be reached at tamara.grillon@westonsolutions.com. (Listing updated 12/20/07)
Nicholas Masi '04 completed his undergraduate degree requirements at the University of Port Elizabeth, Republic of South Africa, and officially graduated from Rider in December 2004. In addition, Nick and his wife, Zenda, welcomed their first child in 2005. After working for ENSR in Piscataway, NJ, Nick recently started a new position with Sunburst Consulting on a natural gas prospect in western Pennsylvania. After training, he will be monitoring drilling progress, advising on where the most profitable directions and locations for gas extraction are to be found, and writing many, many reports documenting his work (and you thought all those lab reports we assigned were a waste of time!). Nick also mentioned that Sunburst Consulting is looking to hire additional recent graduates (or soon to graduate) for this type of work. Nick and Zenda can be reached at nmasi09@gmail.com. (Listing updated 11/18/09)
Julian Master '85 is an Associate for the SMITHGROUP, Inc., an architectural, engineering, and interior planning design company in Washington, D.C. Julian has spent the past year working on a project involving a state-of-the-art ambulatory care facility for returning wounded soldiers in San Antonio, Texas. Julian can be reached at work at julian.master@smithgroup.com or at 202-974-0802. (Listing updated 1/27/07)
Nicholas Mazza '12 recently switched jobs and now is working as a Staff Scientist for JM Sorge, Inc. where he is involved in a lot of GIS projects. Prior to his present position, Nick worked at Bluestone Environmental where he did field investigations, consisting of soil-core and water sampling. Nick can be contacted at nicholas.v.mazza@gmail.com. (Listing updated 12/7/12)
Kelly McAloon Lowe '98 married Martin Lowe on May 6, 2006. Congratulations! After completing her Master degree in coastal estuary studies at the University of Maryland, Kelly worked for the non-profit organization, Restore America's Estuaries, in Arlington, Virginia, and as an environmental scientist for Versar, Inc. in Springfield, Virginia. Recently, she accepted a new position with the United States Environmental Protection Agency (EPA) in their Health Effects Division, located in Arlington, Virginia. Her work there involves performing occupational and residential risk assessments for new pesticides and new pesticide uses. Kelly can be reached at the EPA at lowe.kelly@epamail.epa.gov or at home at kmm41076@yahoo.com. (Listing updated 8/7/06)
Laura Moritzen '15 is pursuing a Master's degrees in Marine Biology at the University of Massachusetts-Dartmouth with a full tuition waiver and a stipend. In addition to her coursework and dissertation research on possible cannibalism within populations of the invasive Asian shore crab, Hemigrapsus sanguineus, Laura is a teaching assistant for an Anatomy and Physiology course. Congratulations on all accounts! Laura can be contacted at lmoritzen@umassd.edu. (Listing updated 11/25/15)
Jason Morson '04 has been a Fisheries Lab Researcher at the Rutgers University Haskin Shellfish Research Lab (HSRL) in Port Norris, NJ since 2007. Over that time, he has worked on a number of research topics and programs with most trying to fill in data gaps impairing the best management of important recreational and commercial fisheries in the region. Some of Jason's recent work at HSRL have focused on Atlantic sturgeon, black sea bass, ocean quahogs, oysters, summer flounder, and surf clams. Prior to his present position at HSRL, Jason completed his Master's in Biology at Hofstra University, where he investigated the weak electric organ in the little skate, Leucoraja erinacea, and then worked for the NJDEP Freshwater Fisheries Bureau as a Fisheries Technician; he also served as president of the Mid-Atlantic Chapter of the American Fisheries Society in 2009-2010. Jason, his wife, Crystal (nee Keepper, Rider '05), and their son, Jason Jr,. live in Williamstown, NJ and he can be contacted at work at morson@hsrl.rutgers.edu or 856-785-0074 ext. 4316. (Listing updated 5/2/12)
Brandon Muffley '96 completed his Masters in Fisheries Science at the University of Maryland in the spring of 2001 and then started working on multispecies management issues and studies throughout Chesapeake Bay as a fisheries biologist with the Maryland Department of Natural Resources. Brandon and his wife, Kimberly (also a Rider grad) moved back to New Jersey in late 2003 when he started working as a research scientist with the New Jersey Marine Fisheries Administration within the Division of Fish and Wildlife. Brandon has worked on coastwide and New Jersey specific fisheries stock assessments, modeling, and survey design focusing primarily on striped bass, bluefish, Atlantic menhaden and blue crabs. In 2008, Brando was promoted to Bureau Chief for the Bureau of Marine Fisheries and now oversees all of the Bureau's operations, budgets, personnel, regulation development, and fisheries research and interstate management programs. Brandon and Kim have a 5 year old son, Dylan, and live in Little Egg Harbor, NJ. Brandon can be contacted at work at brandon.muffley@dep.state.nj.us or at 609-748-2020. (Listing updated 12/21/10)
N
Michelle Nannen '98 completed her Master degree in Marine Environmental Sciences at SUNY Stony Brook. She is now a Marine Ecologist for EEA, Inc., an environmental consulting firm. Michelle conducts fishery studies in New York Harbor and surrounding waters. Michelle can be reached at 631-751-4600 or at mnannen@eeaconsultants.com. (Listing updated 12/1/04)
Carl Natter '09 completed his Masters in Geology at Montclair University this past summer and is now working for Woodard and Curran, an environmental consulting firm in East Windsor, NJ. Congratulations on both accounts. Carl can be contacted at carl.natter@gmail.com. (Listing updated 10/13/11)
Pamela Neeb Wade '99 and her husband, Patrick, celebrated their second wedding anniversary in October 2004. They live in Monterey Bay, California where Pam is an education specialist at the Monterey Bay Aquarium. (Listing updated 6/13/05)
Matthew Nelson '09 is an Injection Specialist with Geo-Cleanse International, an environmental remediation company specializing in the in-situ chemical oxidation/reduction of pollution spills. Matt oversees the underground injection of hydrogen peroxide, which oxidizes organic contaminants into non-hazardous compounds. In addition, he's the on-site Health and Safety Officer and also does some boring analysis when the injection wells are being drilled. Matt says it's all very cool and because of work he's been traveling around the country and is scheduled to go to Belgium this summer! The best news, at least as far as we're concerned, is that Matt also mentioned that he was much better prepared for all aspects of the job than other new hires who came from bigger, more prestigious schools. Matt can be reached at mnelson@geocleanse.com. (Listing updated 4/1/10)
Tracy Nestor Schilling '98 married Matt Schilling in November, 2000. Congratulations! Matt is in the Navy, currently stationed at Atlantic Beach, Florida where he is attached to a helicopter squadron. Tracy is now working for the Florida Department of Environmental Protection as a Level 1 Environmental Scientist/Researcher. Her job responsibilities include site inspections, permitting, and court liaison activities. Tracy and Matt can be reached at tracyschilling@aol.com. (Listing updated 2002-2003)
O
Ruth Obergfell Leing '00 and her husband, Peter '01 (CIS), live in Ewing, NJ. Ruth is a lab technician at Medical Diagnostic Lab and Peter is a Webmaster at Cenlar. (Listing updated 6/13/05)
Jennifer O'Reilly '01 was inducted into the Rider University Athletics Hall of Fame on January 20, 2007. Jen was twice the Rider University Female Athlete of the Year, was a three-time Andrew J. Rider Scholar, was named one of the top 25 Performers in the 25-year history of the Metro Atlantic Athletic Conference (MAAC) and graduated with a perfect 4.0 gpa! She graduated with a total of 24 MAAC gold medals, including four straight 100 freestyle MAAC Championships, eight team records, four Rider pool relay records and two MAAC relay records. Jen became Rider's first-ever Barry Goldwater Scholarship Award recipient in 2001 and is still the only Rider student-athlete to be awarded an NCAA Postgraduate Scholarship. Congratulations Jen and well deserved!
In other news, Jen finished her Master thesis in Marine Sciences at the University of North Carolina - Wilmington in 2003. After graduation she worked at the University's Aquatic Ecology Laboratory, performing water quality work in a variety of environments, from tidal creeks, estuaries, and rivers to offshore marine sites. In 2004, Jen switched jobs and became an Analytical Chemist, working on nutrient cycling in river flood plains, for the United States Geological Survey in Reston, Virginia, where she also lives. Recently, she took a new position with the Virginia Department of Environmental Quality. Jen still swims in Master (i.e. old people) meets, including the 2006 FINA Masters World Championships in Palo Alto, CA, goes mountain biking, and competes in triathlons (whew!). Jen can be reached at oreilly_j@hotmail.com. (Listing updated 1/27/07)
P
Frank Pandolfo '14 is working as an Environmental Field Technician at the West Windsor, NJ office of Handex Consulting and Remediation. He can be reached at work at 609-336-2590 or at frankpan@aol.com. (Listing updated 5/13/16)
Phillip Pappano Jr. '90 and family stopped by GEMS this past summer to see all the changes on campus and in the department. Phil is a Principal Geophysicist with Statoil ASA, a Norwegian oil, gas, and energy production company with global operations, and is based in their Houston, Texas office. Prior to Statoil, he worked in various management and geophysical roles for a number of energy production companies, including Amoco and ExxonMobil. Phil and his wife, Peggy, just celebrated their 22nd wedding anniversary (congratulations!) and have three children, Phillip, 18, Maggie, 14, and Joey, 10. Phil can be reached at 713-485-2073 or at phjr@statoil.com. (Listing updated 8/26/11)
Julie Pasternak Santaniello '01 married Drew Santaniello, a Rider accounting grad, in October 2004 (congratulations!) She also switched jobs last year and is now a project scientist for ARCADIS in their Boston office (actually located in Lowell, MA). Julie's primary responsibilities include data evaluation and reporting for sites with on-going remediation, including systems, in-situ treatments, and phytoremediation. She also is responsible for tracking all of her office's sites through the Massachusetts waste site clean up program and staying current with changes to the regulations. Julie can be reached at ARCADIS at 978-937-9999 ext. 315, or at JSantaniello@arcadis-us.com. (Listing updated 10/6/06)
Amrita Paul '10 is a Laboratory Manager or EMSL Analytical, Inc, in Fort Lauderdale, FL. She can be contacted at work at apaul@emsl.com or 954-786-9331. (Listing updated 11/30/15)
Michelle Pelc '96 has been working for Baxter Healthcare in Cherry Hill, NJ for the past five years as a Scientist in the Technical Services Department. She recently bought her first house in West Deptford, NJ where she lives with her three "children," a dog, Brody, and two cats, Quint and Hooper (yes, all three are named after characters in the movie Jaws). Michelle also volunteers a couple of weekends a month as a science interpreter at the Franklin Institute in Philadelphia. Michelle can be reached at either seachelle212@hotmail.com or michelle_pelc@baxter.com. (Listing updated 11/29/06)
Sara Pethick '09 is now working as a middle and high school educator (and even for some college groups from time to time) at the Marine Science Consortium at Wallops Island, Virginia. She teaches class on marshes, dunes, maritime forests, plankton, marine invertebrates, and intertidal environments. Sara says she loves teaching, living on the coast, and spending most of her time in the field. Before teaching at Wallops Island, Sara taught classes at Camp Orkila, a YMCA educational facility located on Orcas Island, Washington, 70 miles north of Seattle. Sara said the island and its surroundings were absolutely gorgeous, and on a clear day you could see Vancouver Island, Canada, the Olympic Mountains, Mount Baker, and Mount Rainer all at the same time! Sara can be reached at scpethick@gmail.com. (Listing updated 4/12/11)
Elise Proctor '09 currently is working at the U.S. National Aquarium in Baltimore, MD as an Aquarist Aide in the Fishes Department. Since joining the National Aquarium in 2010, initially as a volunteer, Elise has worked on a number of exhibits, including Atlantic Coral Reef, Surviving Through Adaption, Wings in the Water, and the new (opened July 2013) Blacktip Reef. Among her many duties, she is responsible for the daily care and upkeep of literally thousands of individual animals, including numerous species of sharks, rays, eels, fish, and corals. In addition, Elise works with cold, tropical, fresh, brackish, and quarantine water systems in both large tank and small tank installations. She even gets to assist in medical procedures and necropsies! As if that weren't enough, Elise also is involved with Aquarium VIP guest tours and Making Connection Talks, which are designated times when Aquarium staff step out into the public areas and talk about the animals they are responsible for and educate visitors about marine environments. Obviously, she loves her job. Elise can be reached at work at EProctor@aqua.org or contacted at home at marinebioforever@yahoo.com. (Listing updated 7/15/13)
Diane Pupa '84 is now an Environmental Administrator for the Florida Department of Environmental Protection (FDEP), working in their Compliance Assurance Program (Air and Domestic Wastewater), located at their West Palm Beach office. She's been there since March, 2014. Prior to that, Diane worked for the New Jersey Department of Environmental Protection (NJDEP) in various programs, including the Site Remediation Program, which oversees the clean up of contaminated sites, and the Water Supply Program, which is responsible for ensuring that clean and safe drinking water is supplied to the over eight million residents of the Garden State. She also has been a Certified Hazardous Materials Manager (CHMM) since 2001. Diane can be reached at FDEP at Diane.Pupa@dep.state.fl.us or 561-681-6782. (Listing updated 11/30/15)
Q
R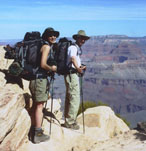 Joey Amanda Rabin Pace '97 and Vincent Pace were married on October 4, 2003 in Great Smoky Mountain National Park. Joey is now a Project Manager/Projet Hydrologist in the Waste Programs Division, Remedial Projects Section, Voluntary Remediation Program Unit (VRPU) of the Arizona Department of Environmental Quality. Vince is still an Environmental Business Manager for BP Oil, although now he has to fly in order to commute back and forth to work. In 2004, Joey and Vince spent three days in the Grand Canyon hiking the Bright Angel and South Kaibab trails (see photo). Joey says rock climbing in Yellowstone is next! Joey can be reached at work at 602-771-4574 or at Pace.Joey@azdeq.gov, and at home at jp1027@cox.net. (Listing updated 5/20/08)
Samantha Robbins '10 is a ninth grade environmental science teacher at World Communications Charter School in Philadelphia, PA. Samantha can be contacted at srobbins@mywccs.net. (Listing updated 11/20/15)
Kaitlyn Rose '13 has been working for the past three years at the Hudson Highlands Nature Museum in Cornwall, NY as an Environmental Educator, as well as an Animal Caretaker. She teaches guests of all ages about environmental issues, as well as possible solutions for the Hudson Valley region. Kaitlyn also maintain animal habitats and enclosures while keeping a close eye on their welfare and health. Kaitlyn can be contacted at kaitrose26@gmail.com. (Listing updated 11/30/15)
Lori Roth '00 will be defending her Master thesis on November 8, 2004 at the University of Maryland (Good Luck!). However, she already has begun her new job as a Research/Lab Technician at the Cancer Research Institute in Honolulu, Hawaii. Lori's project there involves the impacts of micronutrients on the prevention of cancer. She also has applied to teach chemistry, oceanography, or environmental sciences at Honolulu Community College for the spring semester. Lori can be reached at work at lroth@crch.hawaii.edu. (Listing updated 11/1/04)
Doug Ruhlin '81 is an Environmental Consultant at Resource Management Associates (RMA), Inc. in Forked River, NJ where he has owned and operated RMA for over 15 years. Doug's company specializes in environmental and operational consulting for the construction materials industries. As a result, RMA provides consulting and services to just about every mining, asphalt, and concrete facility in New Jersey and for many others throughout the country. Doug is on the Board of Directors of the New Jersey Concrete and Aggregate Association, where he serves as Chair of the Environmental Committee. He's also involved with the National Ready Mixed Concrete Association and the National Stone, Sand and Gravel Association. Doug also develops and teaches training courses, dealing with regulatory compliance, water quality management, pollution prevention, environmental management, etc., for the concrete industry. Doug lives in Lanoka Harbor, NJ with his wife of 25 years and three children. The oldest son is a sophomore at Monmouth University (my how the time does fly!). Doug can be reached at work at 800-964-3250 or at druhlin@verizon.net. (Listing updated 1/27/07)
S
Muhammad Sarwar '15 has been working for the Delaware Riverkeeper Network this past summer. However, starting later this month, he will be working as an Assistant Geologist in the Site Remediation Program for the New Jersey Department of Environmental Protection. Congratulations on the new job and for getting it so quickly. Muhammad can be contacted at sarwarm@gmail.com. (Listing updated 9/3/15)
Carl Scharpf '88 has been working around the world in the petroleum industry since graduation, first as a petroleum geologist with Amoco in Houston, Texas, and Ho Chi Minh City and Hanoi, Vietnam. He then became the Lead Far East Geologist with Union Texas Petroleum back in Houston with much of his time spent in China. After that, Carl became the China Exploration Manager for Burlington Resources International, the largest independent petroleum company in the U.S., where he split his time between their Houston and Shekou, China offices. Carl then returned to Houston to work for Marathon Oil in their Southeast Asia New Ventures division and presently is in the process of moving to Jakarta, Indonesia where he will be the Vice President for Exploration, Marathon Indonesia Oil Company (whew, got all that!?). Carl and his wife, Nhan, have two daughters, Anna and Sarah. Carl can be reached at Marathon Oil Company, Attn Jakarta Office, P.O. Box 1228, Houston, TX 77251-1228 or at cscharpf@marathonoil.com. (Listing updated 12/22/06)
Steve Schwartz '15 is working as a staff geologist for Golder Associates, a global company providing consulting, design, and construction services in earth, environment, and energy production. Steve has been leading a drilling team at a Super Fund site in Bound Brook, NJ and says that he loves the work and that he is "shocked" with how much petrology he has to use on the job. See, there is a reason to learn all that rock stuff! Steve can be contacted at s.was.schwartz@gmail.com. (Listing updated 7/12/16)
Reed Schwimmer '84 and his wife, Sarah, have two daughters, Kelsey and Madelyn (Maddie), and live near campus in Lawrenceville, NJ. Sarah is a teacher for the Princeton School District, while Reed, who completed his Ph.D. in coastal geology at the University of Delaware in 1999, is a tenured Associate Professor of Geological and Marine Sciences in our department. Reed can be reached at rschwimmer@rider.edu. Congratulations to Dr. Schwimmer on his promotion and tenure in 2007, and it's great to have you at Rider, hopefully for years to come! (Listing updated 12/20/07)
Craig Sinkler '15 has taken a position as a staff scientist with EarthRes, an environmental consulting company located in Pipersville, PA (central Bucks County). He will be traveling around the region taking water and soil samples from various sites, mostly involving mining and solid waste. Congratulations on the new job, and only a month after graduating! Craig can be reached at craigsinkler@gmail.com or 267-884-3153. (Listing updated 7/10/15)
Leeann Sinpatanasakul '11 will be pursuing a Master's in Public Administration in Environmental Science and Policy at Columbia University starting Fall 2012. She also was accepted into public policy/administration programs at Georgetown, Johns Hopkins, and Rutgers, but decided that Columbia was the best fit for her. Congratulations! Leeann can be reached at sinpatanasakul@gmail.com. (Listing updated 3/22/12)
Carey Sliko '08 is working for Cargill Inc. at their Wilbur Chocolate Company plant in Lititz, Pennsylvania, her hometown. She is the Microbiology Program Supervisor for Wilbur, where she is in charge of all their microbiology testing, including testing for things like Salmonella and E. coli. Carey also works on Wilbur's environmental monitoring program, which ensures their three plants remain clean for food production. As her group's motto says, "We are making chocolate safe for the world." Well, someone has to. Carey also is involved in a number of community service projects, including the Cargill Cares Council, as well as being a on the Board of Directors of VisionCorp of Lancaster County, an organization that helps the blind and visually impaired. And, if that wasn't enough, Carey just got engaged to a very lucky guy she met through work. Congratulations from GEMS on all your accomplishments! Carey can contacted at casliko@gmail.com. (Listing updated 10/24/14)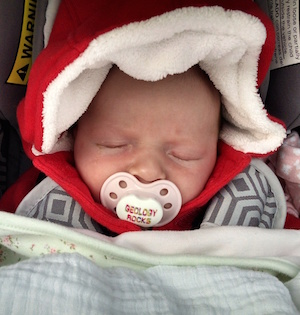 Jenn Sliko '00 and her husband, Mike Meyer, recently moved to the Washington, DC area and welcomed the arrival of their daughter, Samantha, in October 2015. Looks like Samantha is destined to be a geologist like both her parents (see picture). Congratulations! Jenn received her Ph.D. in geology (with a heavy focus in paleoclimatology) in 2010 from the University of South Florida, and currently she is a Lecturer of Earth and Geosciences at Penn State-Harrisburg in their Civil Engineering program. Prior to Penn State, Jenn was an Adjunct Professor in the Geosciences Department at Virginia Tech University. Jenn's present research focuses on paleoenvironmental reconstructions and geoscience education. Current projects include finding more effective ways to teach non-majors about the "Grand Challenges" in the earth sciences, as well as testing the effectiveness of non-traditional course delivery methods, such as online and "flipped classes." Jenn can be reached at Penn State at jls1093@psu.edu or at jsliko@gmail.com. (Listing updated 12/4/15)
Steven Snopkowski '03 is working for the New York City Department of Environmental Protection, Bureau of Water Supply, helping to monitor the city's drinking water supply. As he points out, supplying the huge volumes of water the city requires involves a vast and complex water distribution system, one few people are really aware of or appreciate. Steve can be reached at work at 516-924-2245 or at steves@dep.nyc.gov. (Listing updated 11/19/09)
Christine Sookhdeo '12 is working as an Environmental Scientist at Property Solutions Inc., a national environmental consulting firm, in their Edison, NJ office. Christine can be contacted at csookhdeo@propertysolutionsinc.com. (Listing updated 8/8/12)
Jessica Stephen '96 received her Masters in Marine Sciences from the University of South Carolina. Since then she has been employed by the South Carolina Department of Natural Resources as a fisheries ecologist. She currently is working full-time while simultaneously pursuing her Ph.D. in Marine Sciences. Jessica's current work investigates the effects of commercial fishing pressure on the life-histories of fish populations, with particular emphasis on the potential for evolutionary responses through fishing mortality. Jessica can be reached at work at 843-953-9827 or at stephenj@dnr.sc.gov. (Listing updated 12/13/06)
Doug Sturgis '83 has moved yet again! His work for Exxon Mobil Production Company now has taken him to Yuzhno, Sakhalin Island, Russia. Prior to this assignment, he had moved back to Houston after being a Supervisor of a North Africa and Europe Field Studies and 4D Seismic Interpretation Team, located in London, from 2008 until 2012. Doug has nearly 30 years with ExxonMobil and spent three years (2001-2004) for them in Malaysia, where he also was able to travel to China, Thailand, Nepal, New Zealand, and Australia. Doug says the best part of being in Malaysia was hiking in the Himalayas and diving and snorkeling on the island of Sipadan and on the Great Barrier Reef with his family. Doug and his wife, Melissa, have two adult children, Nathan and Jennifer. Doug can be contacted at work at doug.s.sturgis@exxonmobil.com, or at home at mbsactress@mac.com. (Listing updated 6/4/14)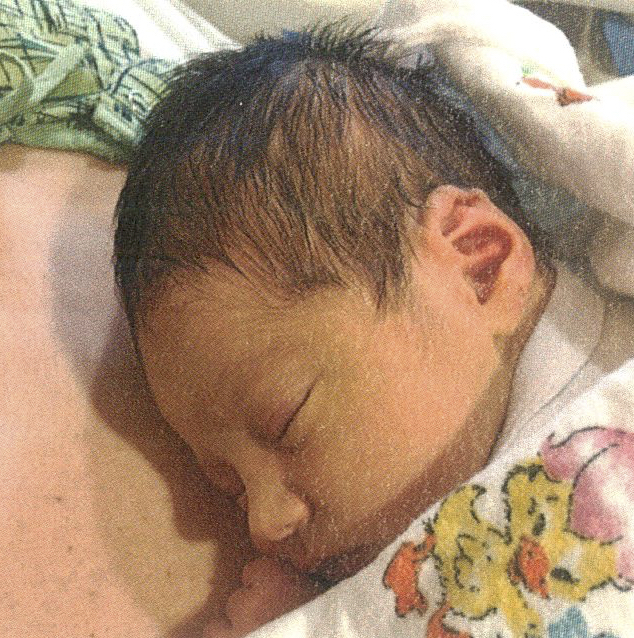 Tim Swavely '07 and Brandi Novak Swavely '07 have informed us that they welcomed the newest addition to the Swavely household, William James, on March 22, 2016 (see photo). Weighing in at 6 lbs 13 oz, and 19 inches long, William is already learning about the Earth and being prepped to become a GEMS and Rider legacy (class of 2038!). Tim, Brandi, and William live in Reading, PA now and can be contacted at blswavely@gmail.com. (Listing updated 4/12/16)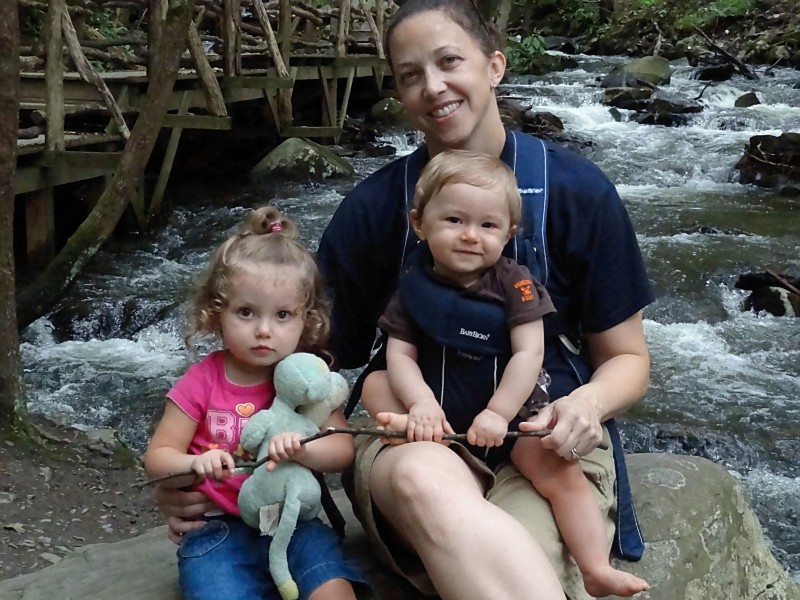 Kerry Szemple Drennan '96 and Bill, a Bayonne, NJ fireman, recently moved from Bayonne to a new house in Berkeley Heights with their two children, Paige and Graham (see photo). She says the suburbs are great, but that you can't get a decent pizza, at least not like one from Bayonne! Kerry is working part time as an Assistant Project Manager with Sovereign Consulting Inc. in their Parsippany, NJ office. Kerry can be contacted at roscoe95@yahoo.com or at work at kdrennan@sovcon.com. (Listing updated 10/30/13)
T
Chuck Trione '85 is now living in Arlington, Virginia and working for EarthTech, Inc., a global engineering, construction, and environmental consulting firm, in their Alexandria, VA office. He's very interested in hearing from, or getting information about, Mark Eliason (as are we!). So if you know something, get in touch with Chuck (and us) at 703-549-8728. (Listing updated 2/3/07)
Serena Turner '02 is working as a Senior Research Technician for the Center Quantitative Fisheries Ecology at Old Dominion University in Norfolk, Virginia. She'll also be taking graduate courses there. (Listing updated 2002-2003)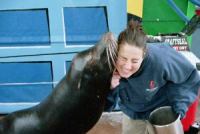 Megan Tutera '98 is now a Marine Mammal Trainer, working with dolphins, at the National Aquarium in Baltimore. Prior to that, Megan was a parrot trainer (!) at the Rain Forest Cafe in Las Vegas, Nevada. Before it closed in April 2004, Megan worked at Sea World in Ohio where she was responsible for training sea lions. As you can tell from the picture to the right, Megan enjoyed her work there almost as much as her friend seemed to have enjoyed Megan. Megan can be reached at Mt22176@yahoo.com. (Listing updated 4/25/05)
Lauren Tyler '93 is living in St. Petersburg, Florida. She received her MBA with a marketing concentration from the University of Tampa in 2002. Congratulations! After graduation Lauren left her position in zoo education at Busch Gardens to work as an Environmental Communications Consultant in Gainesville, FL. However, she missed the zoo and aquarium world so Lauren now is back at the Florida Aquarium as their Education Programs Manager where she develops and manages fee-based education programs. Lauren can be reached at work at ltyler@flaquarium.org or at 813-367-4017, or at ltyler4@tampabay.rr.com. (Listing updated 6/1/07)
U
V
Kristin Van Nest Romanok '95 has been a Hydrologist with the USGS in West Trenton, NJ for the past 11 years, specializing in water quality. She and her husband, Craig, a Rider '94 marketing graduate, live in South Brunswick and have two children, Clayton and Samantha. Kris mentioned that her office is always looking for summer interns and part-time or volunteer student workers. Kris can be reached at kromanok@verizon.net. (Listing updated 10/2/07)
Robert Verrastro '80 wrote recently to bring us up to date on what he's been up to for the past 32 years. After graduating from Rider, Bob attended the University of Louisiana-Lafayette on a teaching assistantship and received his Master's Degree in Geology in 1982. He then worked in petroleum exploration for Conoco (now ConocoPhillips) in Lafayette and Houston for 7 years. In 1989, Bob and his wife, Marcy, moved to Palm Beach, Florida and began a career in the environmental/hydrogeology field. For the past 13 years, Bob has been working for the South Florida Water Management District, the state agency responsible for planning and controlling water levels throughout the southern half of the Florida peninsula; he now is the program manager for a large component of the massive Everglades Restoration Project, overseen by the State of Florida in partnership with the U.S. Army Corps of Engineers. His program involves the testing and construction of very large, deep wells that are intended to store massive quantities of water in underground aquifers. Bob can be contacted at work at 561-682-6136 or at bverras@bellsouth.net. (Listing updated 10/9/12)
W
Jodi Wendt McDonald '96 is the now Chief, Flood Risk Management and Ecosystem Restoration Section, Plan Formulation Branch, U.S. Army Corps of Engineers, New York District. Her job responsibilities include producing decision documents/feasibility studies that demonstrate to Corps Headquarters, Congress, and/or the Administration whether Federal participation in flood risk management or ecosystem restoration projects within the Hudson River Watershed is warranted. Some of the projects Jodi is working on include an aquatic ecosystem restoration study for the Hudson-Raritan Estuary, which examines opportunities to restore the aquatic environment within a 25 mile radius from the Statue of Liberty, and a flood-risk management study looking at the feasibility of reducing the flood risk for residents of the Peckman River Basin, which is a tributary to the Passaic River in northern New Jersey. She also recently agreed to participate in Rider's Shadowing Experience Program for our students, which is greatly appreciated by all of us at GEMS. Jodi can be reached at work at 917-790-8720 or at jodi.m.mcdonald@usace.army.mil. (Listing updated 1/4/12)
Matthew Wojtko '02 is working as a Geologist for Earth Data, Inc., a groundwater and environmental consulting firm located on the Eastern Shore of Maryland. He can be reached at 410-758-8160 (ext. 231) or at mwojtko@earthdatainc.com. (Listing updated 2002-2003)
Jaime Wuelfing'98 works as an Associate Geologist for Groundwater & Environmental Services, Inc. in Wall, NJ. She can be reached at 732-919-0916 (ext. 164) or at jwuelfing@gesonline.com. (Listing updated 2002-2003)
X
Y
Amanda Young '13 is working as an Environmental Specialist at the New Jersey Department of Environmental Protection (NJDEP) in Trenton, NJ. Since starting her job with the NJDEP, Amanda completed the 40 Hour HAZWOPER course and splits her time between the office and field sites. Amanda can be reached at 215-207-7935 or at Amanda.Young@dep.nj.gov. (Listing updated 11/30/15)
Z
Charlie Zielinski '10 is now working for the New Jersey Department of Environmental Protection (NJDEP) in Trenton. He and his wife, Emma (Rider Biology '10) also just bought a house in Lawrence Township where Emma is teaching biology at the high school. Prior to his position with NJDEP, Charlie was a staff geologist with Kleinfelder at their Hamilton, NJ office. Most of his responsibilities there centered around groundwater sampling, although he also was involved with drilling, soil boring, and excavation operations. Charlie can be reached at charles.zielinski@dep.nj.gov. (Listing updated 8/5/14)